Our calendar scheduling tool offers a ton of flexibility
Completely customize and style your booking form to suit you and your customers.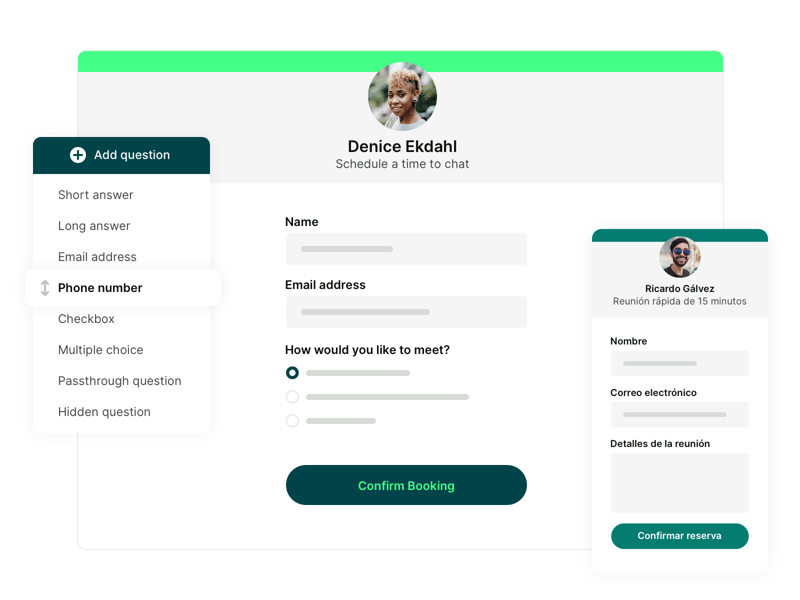 Multiple-choice
Pick between dropdown lists, checkboxes, and radio buttons. Let the booker select one or multiple options.
Short answer
Ask for quick bits of information such as a booker's name and company.
Long answer
Designed for more detailed questions. Use it to ask bookers what they want to discuss or if they have any questions.
Email and Phone number
Ask for your booker's email address and phone number so that you can send notifications about the booking. The phone number field will detect a booker's location to ensure they use the proper format and comes in handy for sending SMS notifications.
Passthrough
Prepopulate certain fields so the booker doesn't have to do it themselves. This can include name and email. Booking from your CRM? Prefill as much info as you can to speed up the booking process.
Hidden
Similar to passthrough questions but with the added bonus of being hidden from the booking form. Gain insights by automatically gathering info such as where the booker was referred from. Based on the answers you receive, use the data to trigger certain actions in your workflow.
Use booking form data to excel at your job
Maximize the results of every meeting by collecting and analyzing data to improve your offering.
Automatically customize notifications
YCBM's online scheduling tool lets you instantly personalize all messages without sacrificing a ton of time. Assign a shorthand code to each question in your booking form to automatically pull up the correct data in your confirmation, reminder, and follow-up messages.
Export your data for analysis
View, manage, and export your booking data into a CSV file. Every meeting provides valuable information that you can use to improve the services you offer.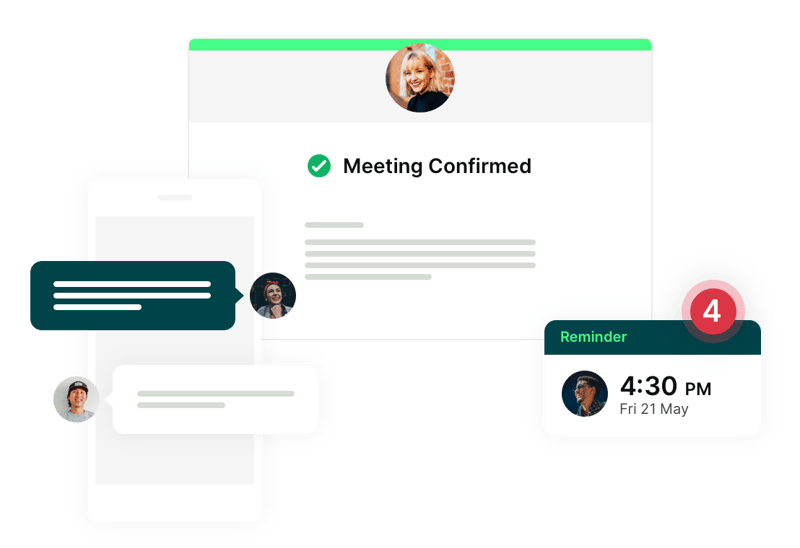 Instantly send information to your CRM
Through YCBM's integration with Zapier, all information can be directly passed into your CRM or marketing platform to further automate your workflow.
Collect payments before you meet
Your services are valuable. Make sure you get paid for them by integrating Stripe. Simply set your rate and receive payment before each booking is confirmed.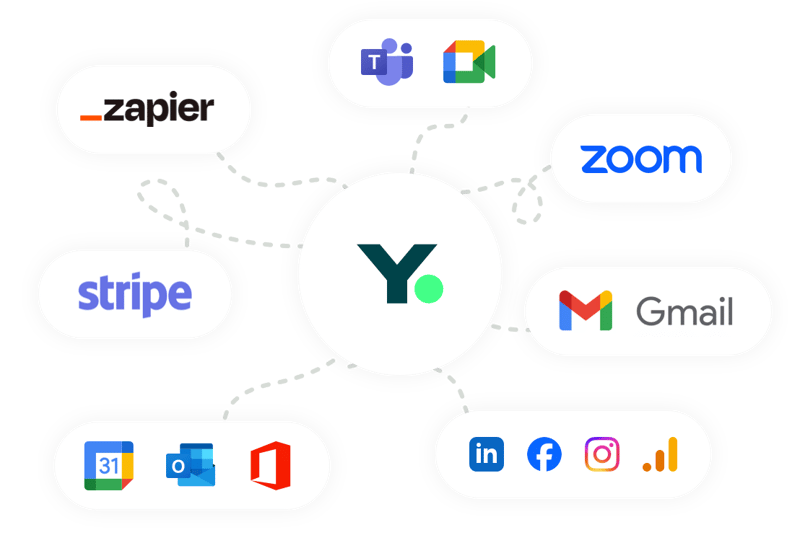 Create your perfect confirmation page
Decide what information to share on the confirmation page. Customize our built-in page to say thank you, add your contact info, or lay out any crucial next steps.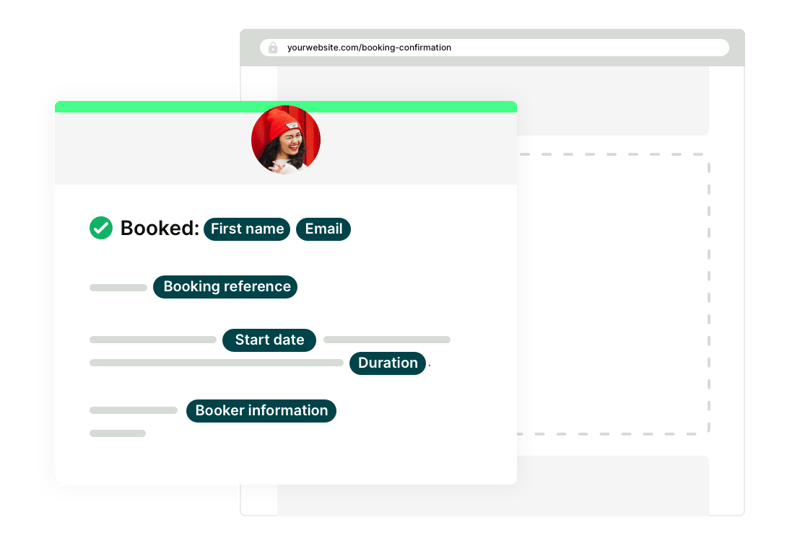 Redirect customers to your website
For a seamless white-labeled journey, build your own custom confirmation page and redirect customers to it. Track your booker's activity on your page and use meetings to boost conversion on your site.
Check our why our users love these features
Thousands of people have already simplified their online appointment scheduling with YouCanBookMe.
Will you be next?
Best software that links multiple booking forms to one calendar. This is great, it means if I'm booked for 1 thing at a certain time, the other booking forms will sync and show this time as unavailable.
Powerful tool to automate scheduling even for complex use cases. I love how YCBM allows users to customize every part of the scheduling process.
YCBM has been so easy to use, especially being able to manage our calendar, bookings and create customizable booking forms for each service we provide. It's been a huge help to our operation.
When a lead fills out a contact form, the thank you page turns to a youcanbook.me. This helps keep everyone organized and ensure ontime delivery.
I love how easy it is to schedule my appointments and the booking form to get an idea of what my students appointments are about.
I also make sure to ask multiple questions on the booking form so I am aware ahead of time of what my students want to meet about. It allows me to better prepare for my meetings.