Display your availability in a month, week or day view on any device. You decide what bookers see to best fit the way you work.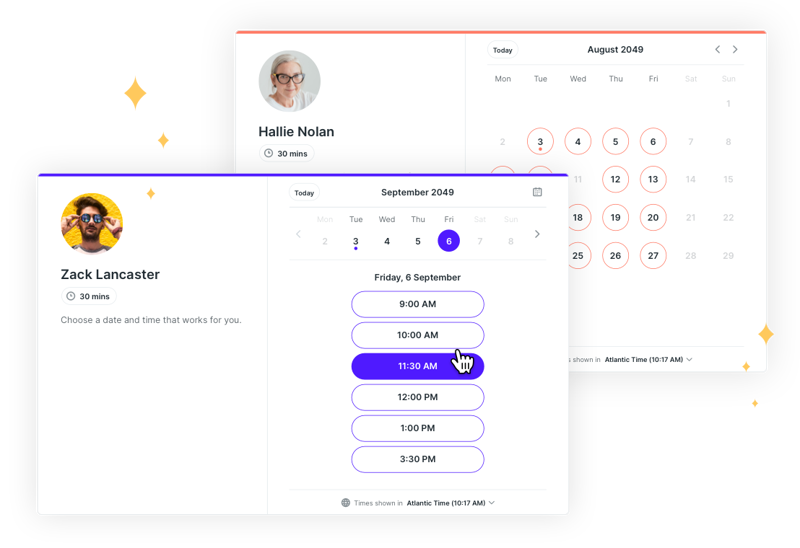 Customizable automated email workflows
Unlimited reminders, follow-ups and no-show emails that include your company logo, color and all the information your customers need, based on their booking choices.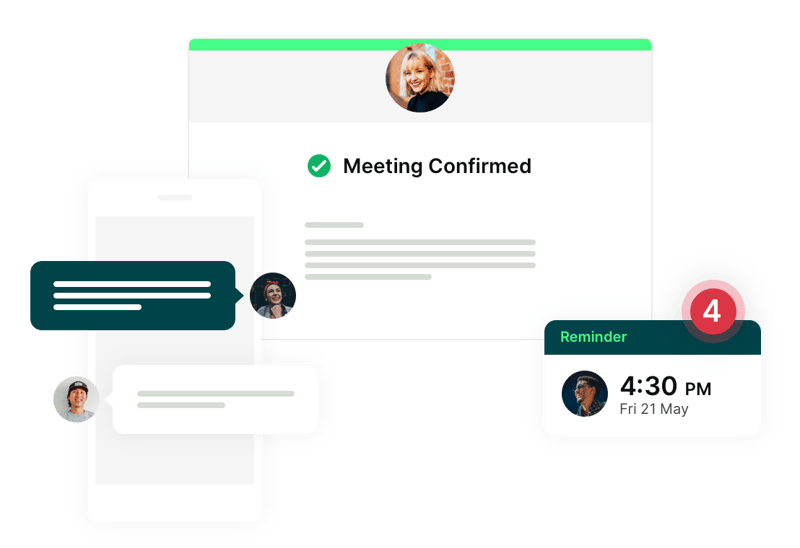 Display your availability where your customers will find it
Paste suggested times in an email
Embed in your website
Share on social media
Add a QR code to a flyer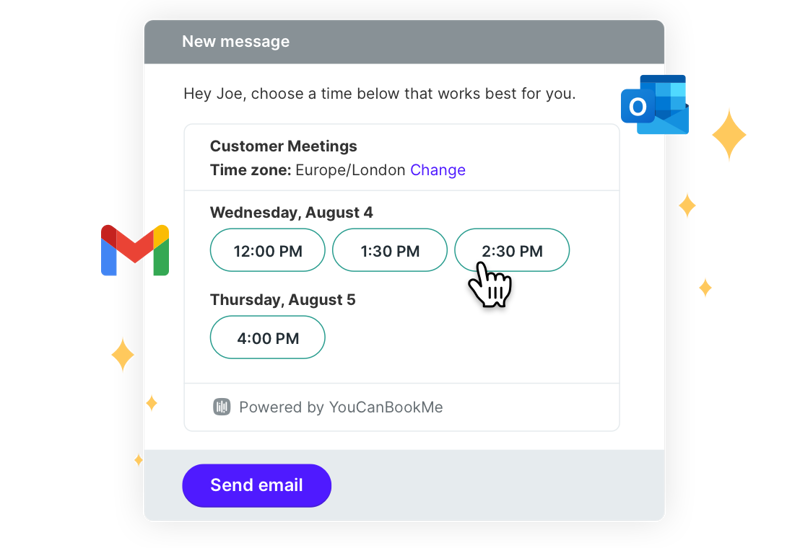 Your bookings, your way
Scheduling that works the way you do.
One link, lots of options
Display multiple appointment types, resources or team members on one page.
Limit bookings per day
Set daily limits on meetings, and protect your time.
Request-only bookings
Accept or decline meeting requests and automate your responses.
Single-use links
Send targeted booking links that expire after use.
Custom booking forms
Prepare for every meeting with configurable booking forms.
Availability overlay
No more switching between your availability and theirs for YCBM accounts.
Fully localized scheduling
Create booking pages in 44 languages including right-to-left
Take payment in your own currency
Auto-detect a booker's language to display the correct time/date formats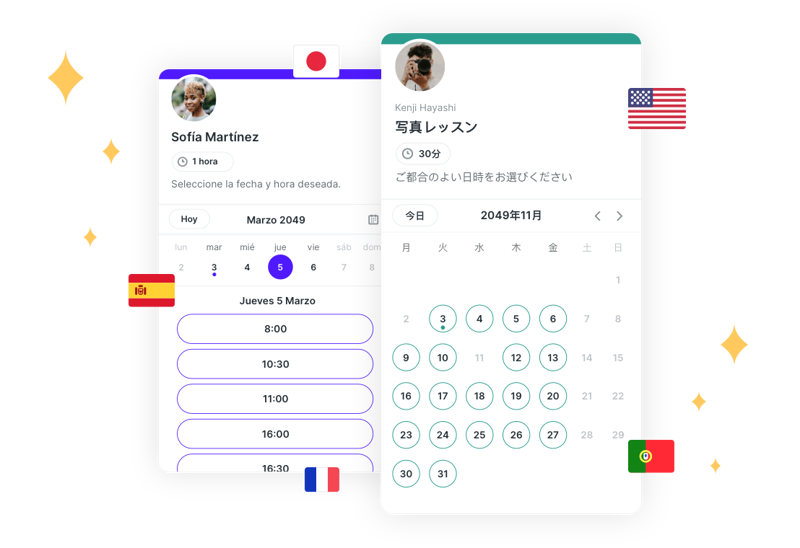 Fits seamlessly into the way you work
Thousands of integrations to save you time, reduce duplication and boost your productivity. Google and Microsoft calendars, Zoom, Google Meet and Microsoft Teams, Stripe, Gmail, Zapier and so much more.
Easily share your links from Chrome
The easy way to share individual times or send a link to your booking page without the battle of switching between tabs. Add to Chrome — it's free
We're ranked as one of the best scheduling software options
Hear from hundreds of happy customers about why they love using YouCanBookMe
"YouCanBookMe has been a game changer for our team. It truly has taken hours out of our workday."

"YouCanBookMe has taken so much off my plate. My clients love it and it has really simplified my life. It's a non-negotiable. I have to have it."

"There are calendaring options that are already part of Student Information Systems but there are none that have the flexibility or customizability that YouCanBookMe has. We were able to integrate YouCanBookMe with our Student Information System and that was a huge factor in the decision to use it."

"YouCanBookMe has a clean interface, allows SMS notifications, works great for teams, and is a highly effective sales and communication tool – we absolutely love it."

"We use YCBM to schedule Sales calls, Customer Success meetings, and to streamline our process for scheduling paid customer training sessions."

"YCBM has been an integral part of our business for a number of years now, and the new additions have allowed us to really drill into the data, and provide more cover and options for our prospects. We highly recommend this product and the supportive team!"

"YouCanBookMe is like having a personal secretary for organizing meetings. I use it to schedule interviews with customers. It removes the hassle of scheduling and managing contact with people. Simply great if you need to book meetings."

"We've been using YouCanBookMe for years. It's a huge saver of our team's sanity and time. Our business wouldn't function as smoothly without the solid functionality and reliability of YCBM. They have never let us down — totally recommended!"
View all testimonials