Thousands of colleges & universities trust YouCanBookMe for friction-free bookings
It's the number one school scheduling software choice for educational institutions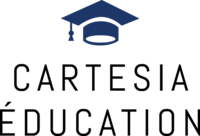 Deliver high-value impact with YouCanBookMe
Measurable results that make a day-to-day difference for higher education teams
50%
Reduction in office staff dealing with student appointments

5
Hours saved per week, per team member
25%
Reduction in student emails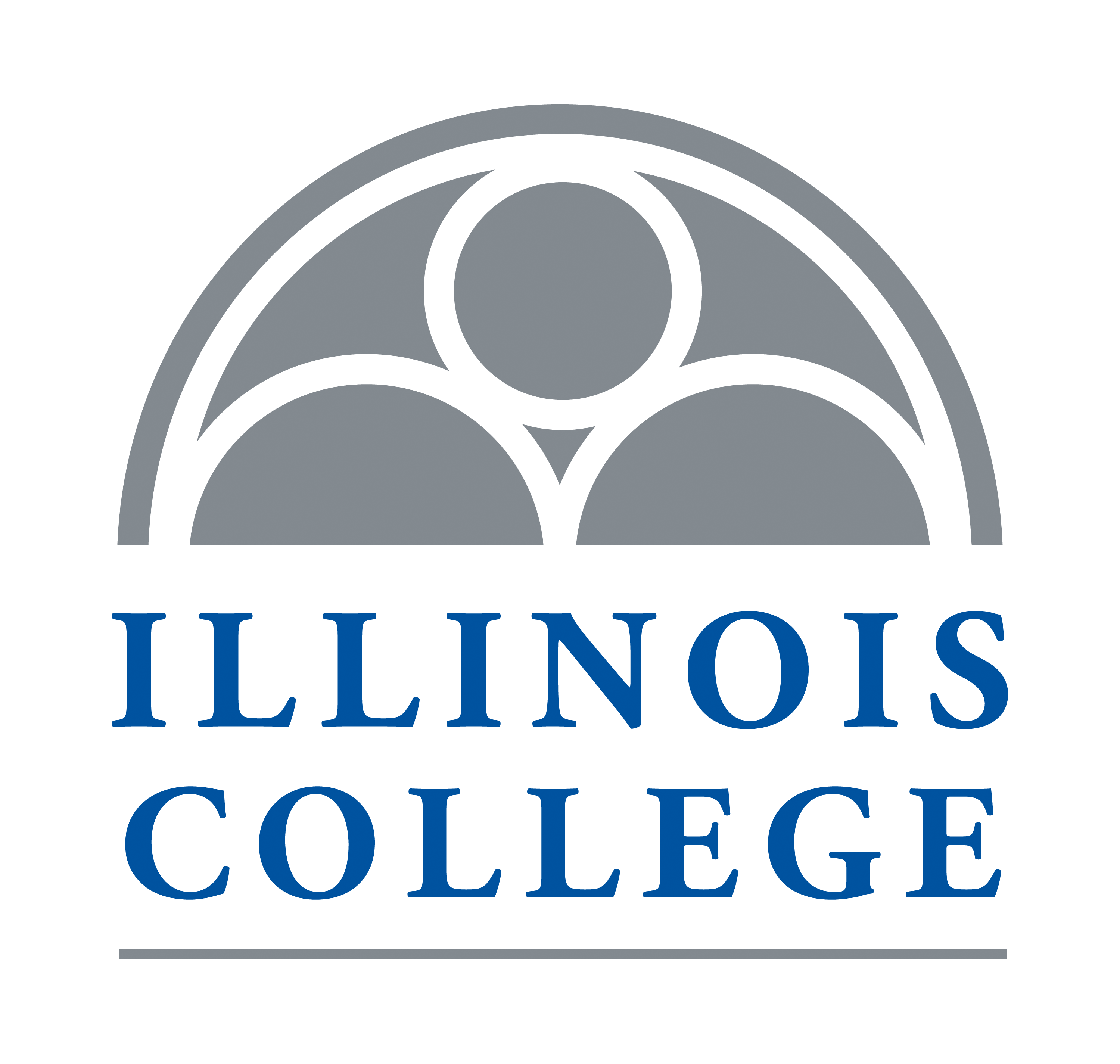 What can YouCanBookMe deliver for your team?
Appointment scheduling software that saves you time and improves your student experience
Effortless accessible bookings 24/7
No back and forth to find a time. Students can make online bookings from any device, day or night in just a few clicks. Simple, automated rescheduling options. Data protection (GDPR) and WCAG 2.0 (Level AA) compliant.
More productive student meetings
No hanging around for office hours. A streamlined scheduling process gives you more time. Prepare for upcoming appointments with customizable booking forms. Unlimited reminders reduce no-shows.
Take control over your day
Easily manage when students can book with you. Syncs directly with your calendar for up-to-date availability every time. Padding and minimum notice periods give space between meetings
Student Financial Services
Add hyperlinks to your booking page to share financial aid documents and resources
Integrate a Gmail account

to send confirmation emails and reminders from a shared inbox
Appointment types clearly signpost your financial aid services
Students can self-cancel/reschedule appointments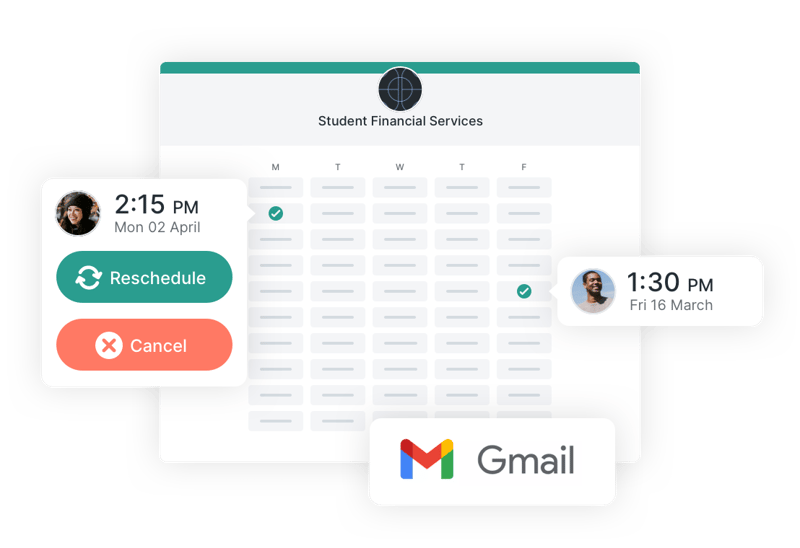 Make sure those first weeks are as smooth as possible

Provide a

reusable booking link students can use every time they need to meet
Add your whole team to the link and

let students choose who to meet with, or pre-select it for them
Get information about what they want to discuss so you can prepare
Unlimited reminders and SMS (SMS at an extra fee) to

reduce no-shows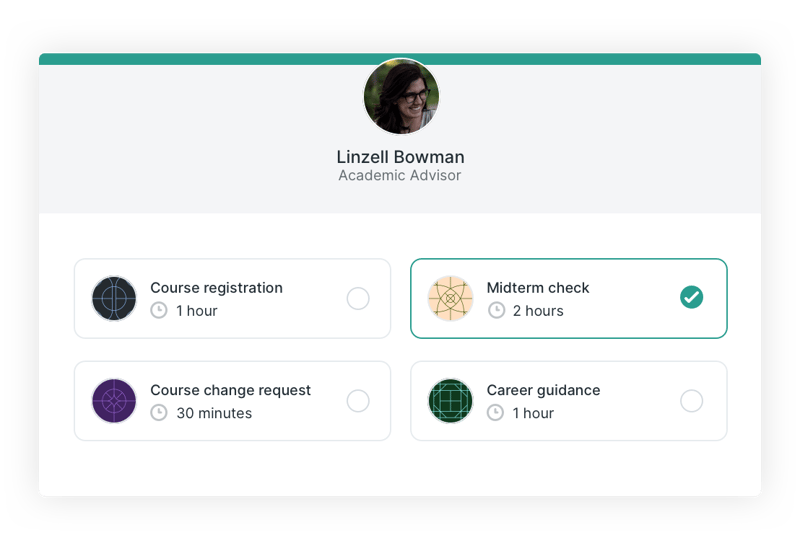 Give them what they need to succeed
24/7 access to bookings

means students don't have to wait to reach out

Easily adjust your schedule for week-to-week changes

Add meeting-specific instructions to emails

so students come fully prepared
Find out what they need at the time of booking

so you can deliver more effective coaching
Unlimited email & SMS reminders (SMS at an extra fee) to

reduce no-shows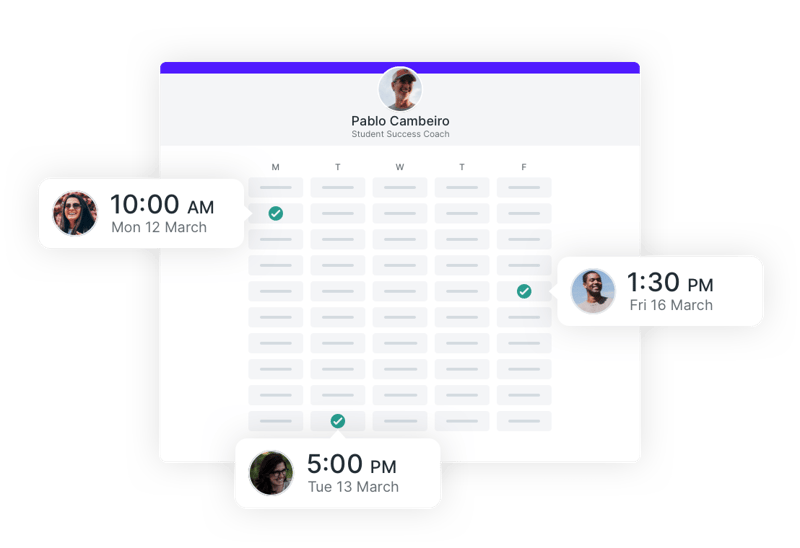 Student admissions & Campus Tours
A great first impression for prospective students
Add booking page links to email signatures and on documentation to give prospective students an easy way to contact you

Offer in-person and video sessions

Automatically send prospective student information into your CRM

Unlimited reminders and SMS (SMS at an extra fee) letting them know directions, what to expect & next steps

Ask specific questions when they schedule to make sure they get the most relevant information

Easily control the times and dates of tours throughout the season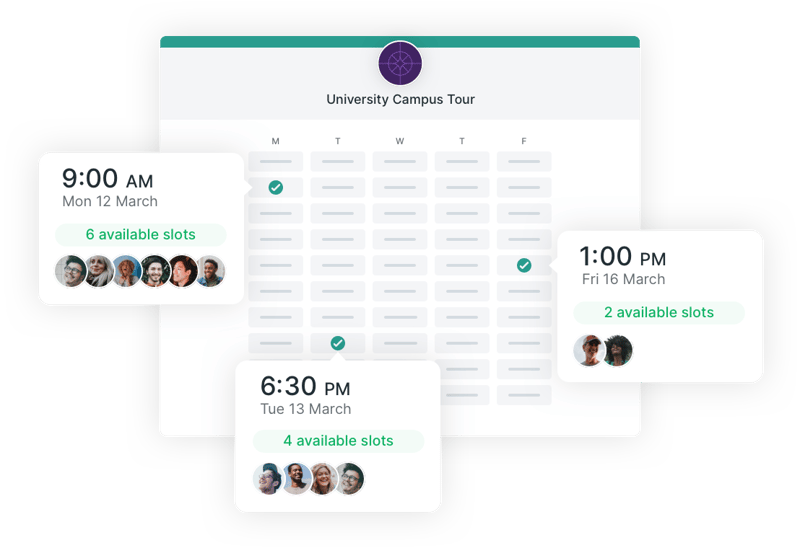 Trying to onboard your whole university?
If you'd like to introduce online booking software campus-wide, get in touch and we can guide you through the process. Contact sales
Know who is coming ahead of time
Display available times for the whole term.
Easily adjust your schedule for week-to-week changes
Accommodate all students by offering

in-person

and

remote sessions
Provide instructions and set expectations

on your page so students can get ready to meet

Ask relevant questions at the time of booking so you can fully prepare

Unlimited reminders and SMS (SMS at an extra fee) to

reduce no-shows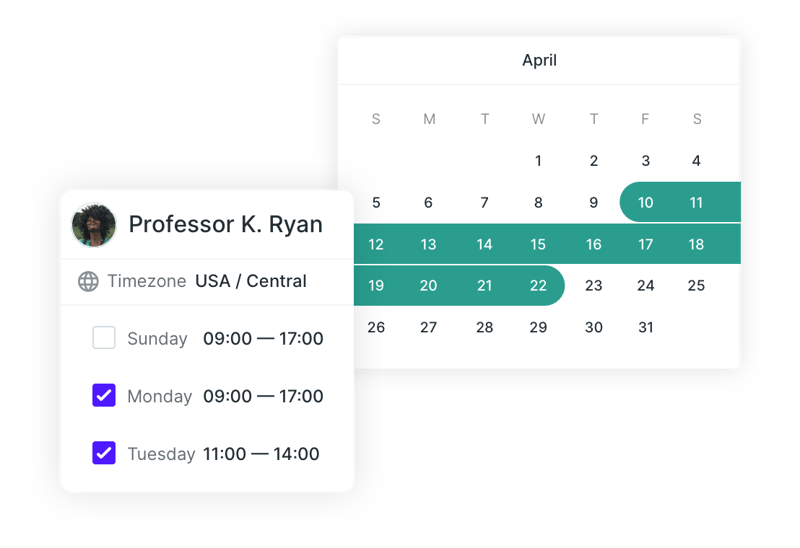 Available 24/7 for the help they need
Add a QR code to your office door

or in student facilities for

one-click access
Add all service options to the same booking link

so students can pre-select their requirements
Automatically

update your student database with meeting details
Add booking details directly to student calendars
Unlimited reminders and SMS (SMS at an extra fee)

reduce no-shows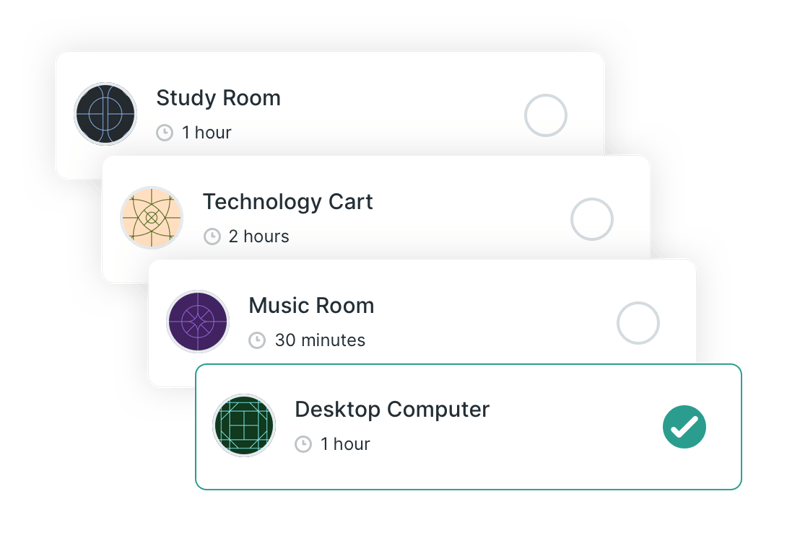 Receive 30% off with our education discount
We offer an education discount for universities and non-fee-paying schools. Sign up with an .edu, .ac.uk or .edu.au email address to receive the discount. Learn more
Real stories, by real customers
Find out how scheduling with YouCanBookMe drives positive change for teams like yours
"When we implemented YouCanBookMe, I had a full staff booking advising appointments. Pretty quickly, I went from six students down to two. Now the phone hardly ever rings. It really helps with efficiency."

View customer story

"When we moved to YouCanBookMe, it was a breath of fresh air to be booking people within minutes."

View customer story

"The reason I am here is to allow faculty to spend less time worrying about the technology, and more time helping their students. YouCanBookMe helps me accomplish that goal."

View customer story
Favourite features for thriving education teams
Used by universities and colleges to get maximum impact from YouCanBookMe
Frequently asked questions
Deciding between the Paid plan or Free?
Compare the features
!
How are you notified when a student selects an appointment time?
As well as seeing new events appear on their connected calendar, advisors receive confirmation emails for new bookings. You can also add SMS notifications (SMS at an extra fee) to send to advisors for any new bookings they get.
Is it possible to add specific links in email signatures and program websites?
Yes, to direct students to a specific advisor, you can add extra information to your YCBM booking link. This extra information will take students straight to that advisor's availability.
How do you manage your meeting availability?
Once each advisor has shared their calendar with you, they manage their availability on that calendar. They don't need to log in to YouCanBookMe.
Does YCBM send auto-generated emails, such as reminder emails? If so, how much control do we have over these?
Yes, you can set up emails and SMS notifications (SMS at an extra fee) to automatically trigger at every stage of the booking process. These are completely customizable, you can tailor them to each advisor, and you can send as many or as few as you like.
Does YCBM work with a hybrid schedule?
Yes! Using conditional statements we can ensure students know exactly where to meet with you.
Can we offer group appointments?
Yes! using our units per slot feature, you can set up group counseling, online classes, tours, and more.