Microsoft Booking Alternatives
Microsoft Bookings is a great scheduling tool. But it's pretty restrictive and simple. If it has been struggling under the weight of your booking needs, consider these Microsoft Booking alternatives.
We've tested each tool based on its:
Ease of use
Integrations
Value for money
Booking page customization
Here's our verdict on Microsoft Booking alternatives.
Best Microsoft Booking Alternatives: Executive Summary
You'll miss the least features if you switch to Google Calendar.
You'll get the most personalization power if you switch to YouCanBookMe.
You'll upgrade in every aspect - from scale to features if you switch to Calendly.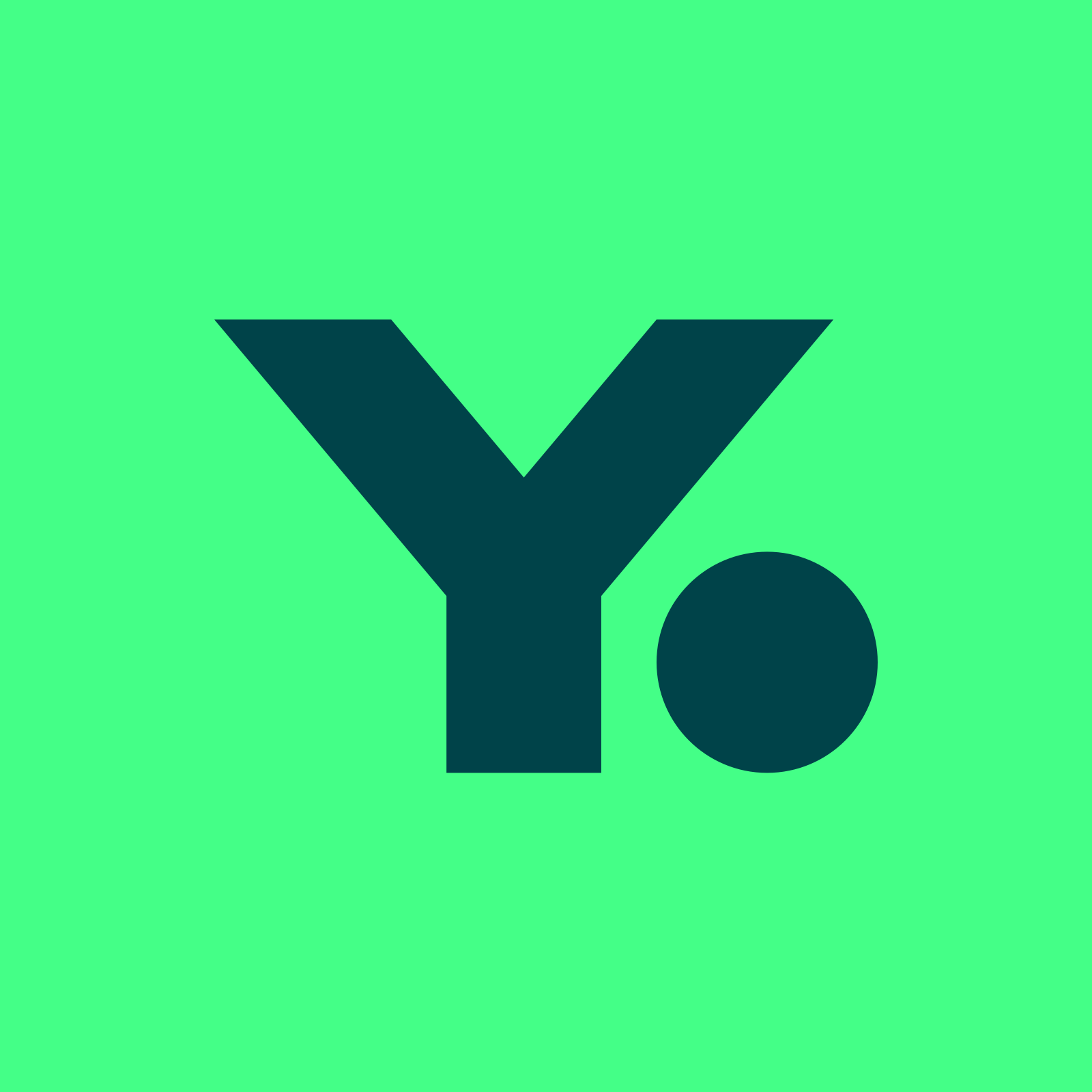 Best Overall
Runner-up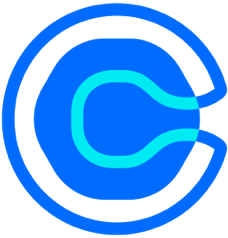 Best for Enterprises
YouCanBookMe

Best For Mid-Size Business Owners With International Clients
Google Calendar
Best Direct Alternative To Microsoft Bookings
Calendly
Best Alternative For Large Teams
Buying Guide & How We Rate The Tools
Every appointment scheduling tool has a "specialty" that makes it ideal for a specific audience. However, all booking tools have four basic dimensions, and we've used those to curate this list.
Ease of use: This score reflects how easy the tool is to use and how quick it is to learn. This is especially important if you're looking for a tool for your team, as the quicker everyone can learn it, the faster will your productivity increase.
Integrations: How well can the tool integrate into your existing tech stack or workflow?
Value for money: Based on its features, is the tool reasonably priced?
Customization: Your booking page should reflect your brand. This score refers to how much freedom a tool gives you in customizing your booking page (in terms of colors, logos, footer, embeddability, etc.).
Note: low scores aren't always bad.
Again, each tool has a specialty. For example, if a tool is made for large enterprises, it's going to be inherently more complex to use. So at the end of the day, it all comes down to determining the combination of features you want out of your online scheduling software.
Now let's walk through a mini-review of each.
1. YouCanBookMe
- Best For Personalized Booking Experiences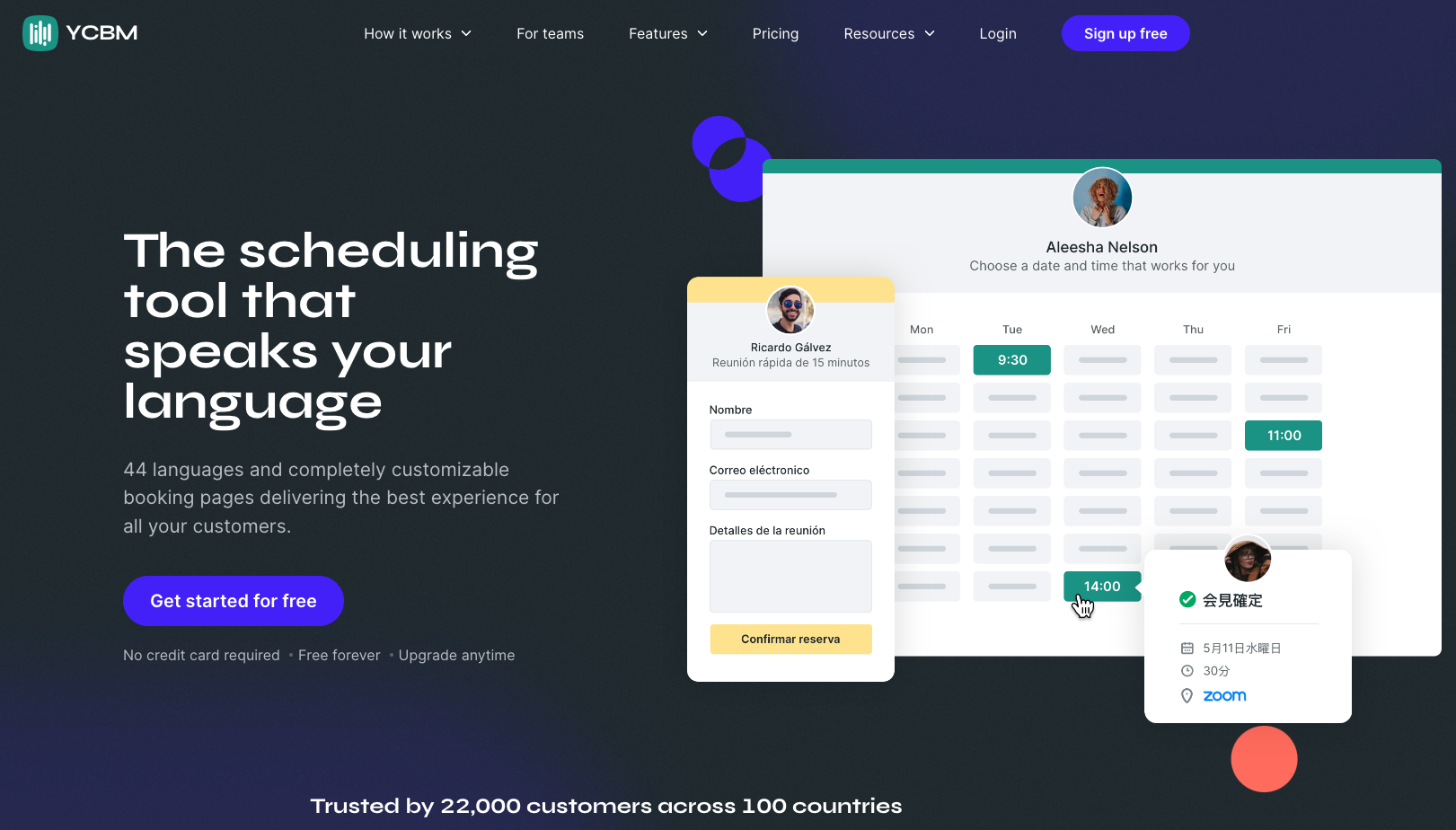 YouCanBookMe was founded in 2011 with a simple goal: make scheduling as simple and customizable as possible.
Although YCBM has the best balance between ease-of-use, features, and affordable pricing, it truly shines as a booking tool that offers the best personalized experiences to your customers. First, YCBM booking pages are fully customizable—from the logo, colors, footer, fonts, size, and layout—and come with a handy "live page" preview so you can see the edits you're making in real-time. Next, the booking page can be translated into 44 different languages (including right-to-left scripts like Arabic and symbol-based languages like Japanese). YCBM can do this automatically after detecting your customer's location. To top it off, YCBM also has SMS & email reminders, confirmations, and follow-ups that can be tailored based on how you make appointments with customers.
YouCanBookMe also has a non-modular workflow, which allows you to spin up new booking pages fast, without any complex steps or confusing terminologies.
This makes YCBM ideal for teams of up to 20 people — especially if you're working in a multinational setting and want to impress customers in different countries with a fully personalized booking experience.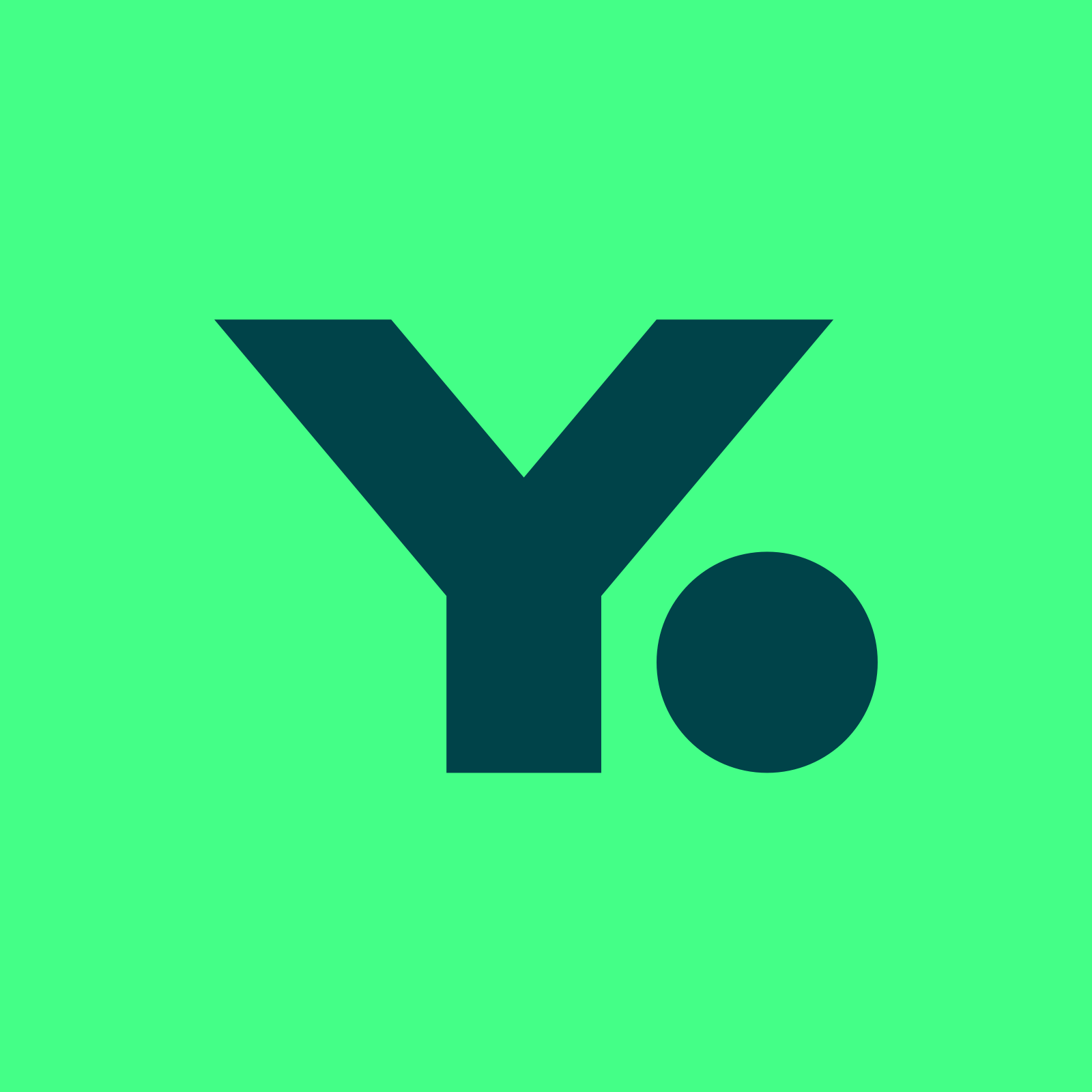 YouCanBookMe Pros
YouCanBookMe Cons
Intuitive pricing structure
Pooled availability for teams
Booking page auto-translation to 44 languages
YouCanBookMe vs. Microsoft Bookings
YCBM offers auto-translated booking pages, while Microsoft Bookings offers limited language features
If you have customers from different countries, then you're going to love YCBM. It lets you create booking pages in 44 languages based on the location of the user. This includes symbol-based languages — like Japanese — as well as right-to-left scripts like Arabic.
Microsoft Bookings also allows you to change the language of your booking page, but there's no auto-translation feature. However, you can use different languages for different services on your booking page. This isn't as great as YCBM's auto-translate, but it is an option.
YCBM offers powerful customization features, while Microsoft Bookings offers only color and logo customization
Everyone wants their booking pages to look perfect. After all, they mark an important step in the buyer's journey and should create a great impression.

Microsoft Bookings offers only 2 customization features — you can change the color theme of your booking page and upload your logo.

YCBM, on the other hand, is a customization powerhouse. It lets you:
Add your logo to the page
Add style to your booking page text, such as bolds and italics
Remove YCBM's branding from the bottom of the page to make it look truly professional
Add a customizable footer to your booking page, where you can add important company information
Choose the primary color of your booking page — the rest of the page will automatically shade in variations of that color
YCBM's email notifications are completely customizable; Microsoft Bookings? Not so much
Booking tools send a confirmation email to prospects whenever they book an appointment. With Microsoft Bookings, you can edit the content of this email, but that's just about it.

With YCBM, however, you can:
Stylize the text of your email confirmations with all the necessary appointment details
Add your logo to confirmation emails
Choose the time interval between the booking and the email
Add images to your emails to make them more readable
Customize the 'from' email address, as well as the subject line of the email, to make it more human and personalized
Add hyperlinks if you want to share something important before the appointment — such as your company's success stories
Personalize the email reminders with customer information from the booking page or form
YCBM costs $12/calendar/month, Microsoft Bookings starts at $6/user/month
Microsoft Bookings comes only with Microsoft 365 subscriptions, the cheapest of which is $6/user/month. But, if basic scheduling features and functionality, one personalized booking page, and one linked business calendar are enough for you, YCBM has a plan that'll be free forever!

While Microsoft Bookings may seem to be the cheaper option, remember it comes with four important drawbacks — a serious lack of integrations, an inability to work with Google Calendar (which is what most teams use today), missing customization features, and no auto-translation.
Use YCBM if:
You want to make a highly customized meeting scheduler quickly
You want your scheduling tool to work seamlessly with Google Calendar
You want to offer different event types
You want to take online payments for your bookings
Your team (or prospects) speak different languages and can benefit from auto-translated booking pages

2. OnceHub - Best Alternative for Lead Qualification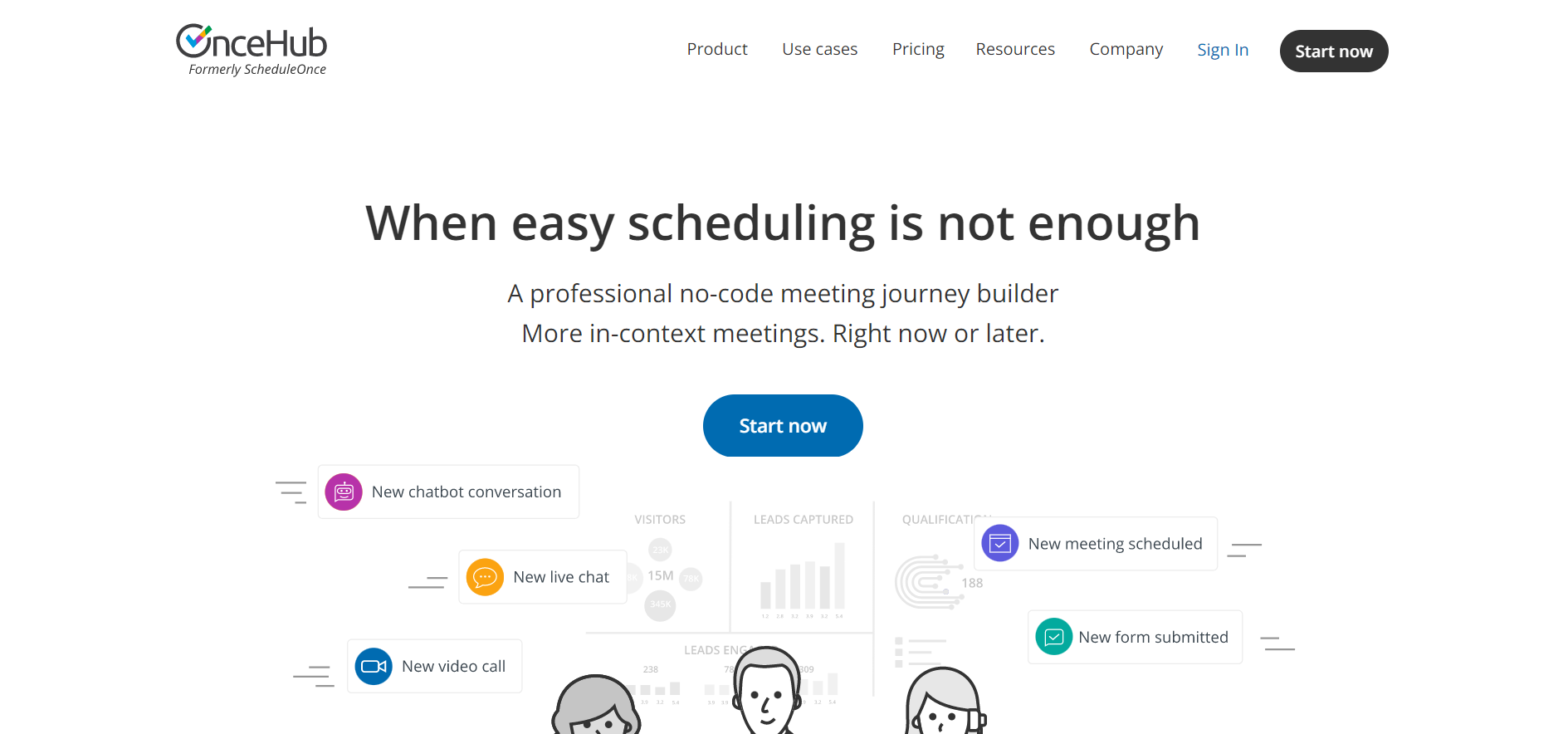 OnceHub — previously called ScheduleOnce — started out in 2006 and turned into a global and virtual company that doesn'y want to confine its team to a physical office.

It's basically a meeting journey builder and works something like this:

Your lead visits your website, where OnceHub's lead capture bot will qualify it
Once qualified, your leads get two engagement options — an instant live meeting or a scheduled meeting
If a lead chooses a scheduled meeting, OnceHub becomes a scheduling tool like Microsoft Bookings
Given its focus on lead engagement and acceleration, OnceHub is ideal for enterprises that are looking to automatically filter and auto-qualify leads form more efficient sales workflows.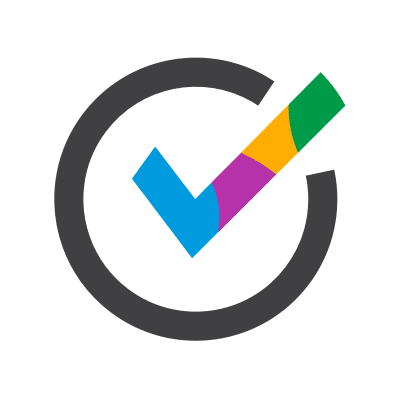 Oncehub Pros
Oncehub Cons
No-code journey builder to help you catch, qualify, and meet with lead
Overwhelming for beginners
Excellent customer support
Occasional glitches that disconnect calendars
Offers lead engagement and meeting analytics
Limited customer support and security on the free plan
Integrates with most popular tools
OnceHub vs. Microsoft Bookings
OnceHub is like Microsoft Bookings but with an additional lead engagement functionality.
OnceHub's standalone booking pages work very similarly to Microsoft Bookings. It also has similar scheduling and customization features, such as the ability to change your meeting times and use custom colors on your booking page.
However, OnceHub goes a step further and offers intelligent chatbots and lead capture forms. With the tool's no-code journey builder, you can use these elements to capture a lead and convince them to book appointments with you.
OnceHub pricing
Starter
Growth
Enterprise
Price
$0/moth
Scheduled meetings: $10/user/month
Live engagements (e.g. chatbots):
$10/user/month
Custom pricing
Features
3 users
3 booking pages
3 chatbots
3 forms
Unlimited users, booking apges, chatbots, and forms
All Growth features plus complaince and support features
Use OnceHub if:
You have a good marketing budget
You want to automate qualification
You want to accelerate leads down the funnel
Doodle was founded in 2007 with a simple question: when?
That is, when is everybody free for a meeting? As such, it's a simple yet powerful scheduling tool that has excellent team scheduling features. It offers three types of scheduling in general: a booking page, 1:1 meetings, and group polls. Doodle also integrates with many popular online tools, such as Zoom, Google Meet, Outlook, Teams, and Zapier. When it comes to booking pages, Doodle comes with all the bells and whistles, such as:
Custom meeting times
Meeting buffers
A limit to the maximum number of bookings per day
Automatic appointment reminders to participants
Automatic time-zone adjustment
Doodle's most powerful feature is its easy-to-use group polls, which make it ideal for internal team meetings (rather than scheduling with external clients or leads).
Integrates with many popular tools
A free forever plan for one user
Sources availability data from multiple calendars
Doodle vs. Microsoft Bookings
You can think of Doodle as a more lively and team-oriented version of Microsoft Bookings.
Microsoft Bookings is a formal tool with a "corporate" vibe. Doodle, meanwhile, has a more casual user interface that's as easy to use as Microsoft Bookings. Doodle also places a greater focus on scheduling internal team meetings — its group polls feature is super-helpful in determining when everyone's free.
Pricing: Doodle offers a free forever plan for one user with one booking page. Its paid plans start at $6.95/user/month with features like no ads, unlimited group polls, unlimited booking pages, and custom branding. At $8.95/user/month, you also get activity reports, an admin console, and the ability to set roles and permissions.
Use Doodle if:
You conduct a lot of internal team meetings
You're looking for a free scheduling solution for a single user
You want a more casual version of the formal Microsoft Bookings
4. Acuity Scheduling — Best Alternative For Small Brick-And-Mortar Service Providers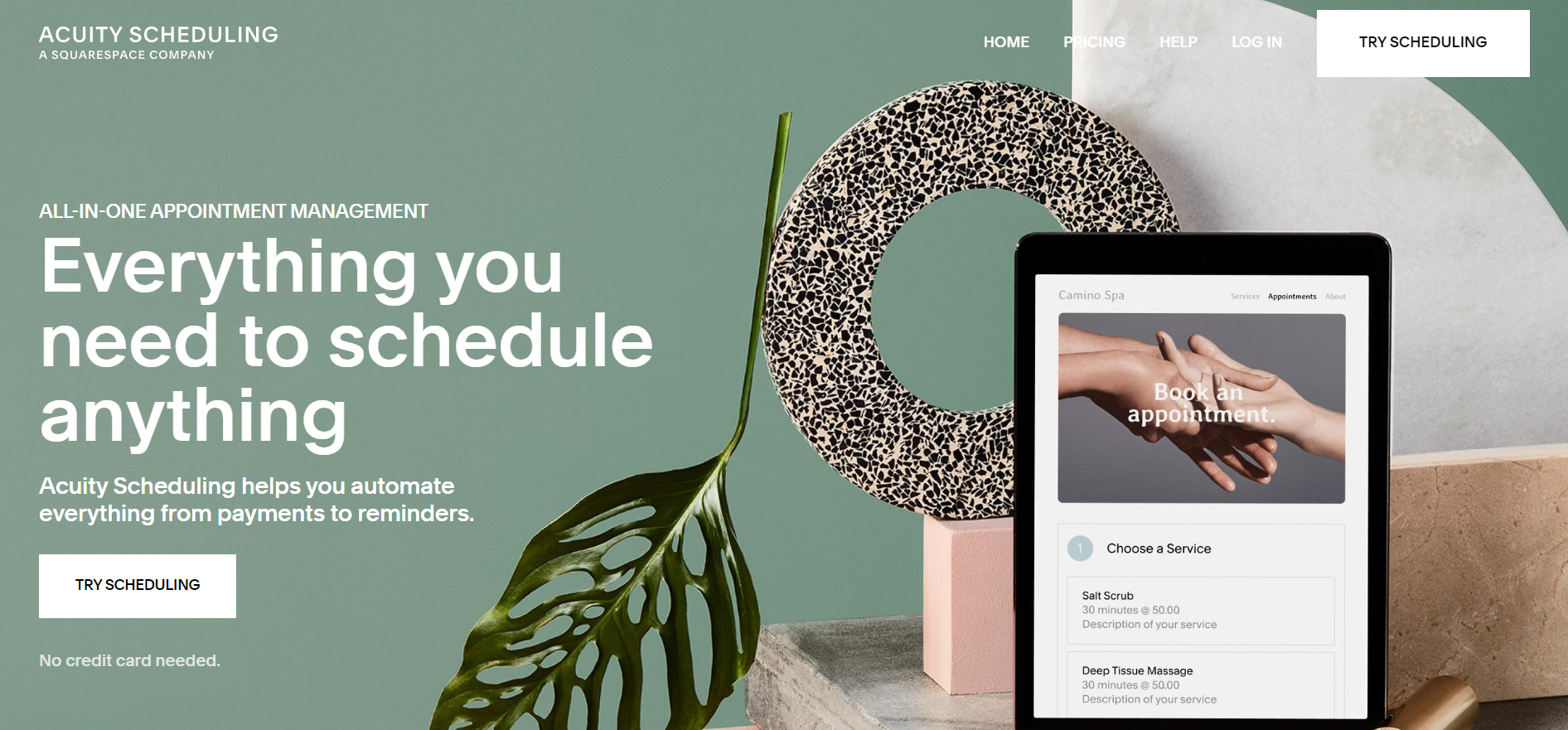 Acuity was founded in 2006 and then acquired by Squarespace in a bid to help its customers build businesses in addition to great websites.
As a result, Acuity Scheduling has grown into an all-in-one scheduling platform that can help you automate everything from appointments to online payments. The scheduling tool itself comes with all the bells and whistles that Microsoft Bookings has — such as appointment buffers, automatic text reminders, and auto-adjustment for time zones. But Acuity goes a step further with more advanced features like integrations with Stripe, PayPal, and Square so you can charge your customers for appointments.
Given its ability to collect payments (and tips), Acuity Scheduling is ideal for small brick-and-mortar service providers, such as online tutors and masseuses.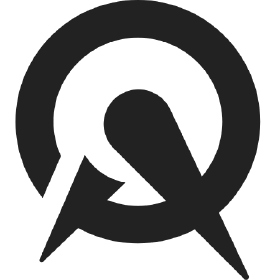 Can collect payments for appointments
Pricier than many other tools
World-wide text message reminders
QuickBooks and Freshbooks integrations for invoicing and accounting
Acuity vs. Microsoft Bookings
Add online payment options to Microsoft Bookings and you get Acuity.
There's not much difference between the scheduling features that both tools offer. But unlike Microsoft Bookings, Acuity is a better calendar app for brick-and-mortar service providers because it allows users to collect payments and integrate their scheduling tool with accounting platforms. It also offers greater integration options than Microsoft Bookings but is way more complex to use.
Pricing: The starter plan costs $14/month and offers 1 staff/location, unlimited appointments, the ability to accept payments, confirmation, reminder, and follow-up emails, and branding and customization tools. The mid-tier plan costs $23/month and the most expensive plan costs $45/month, scaling up all starter features.
Use Acuity if:
You're a small brick-and-mortar service provider
Your business is spread across multiple time zones
You want to charge customers for scheduling an appointment with you
5. Calendly — Best Alternative For Large Teams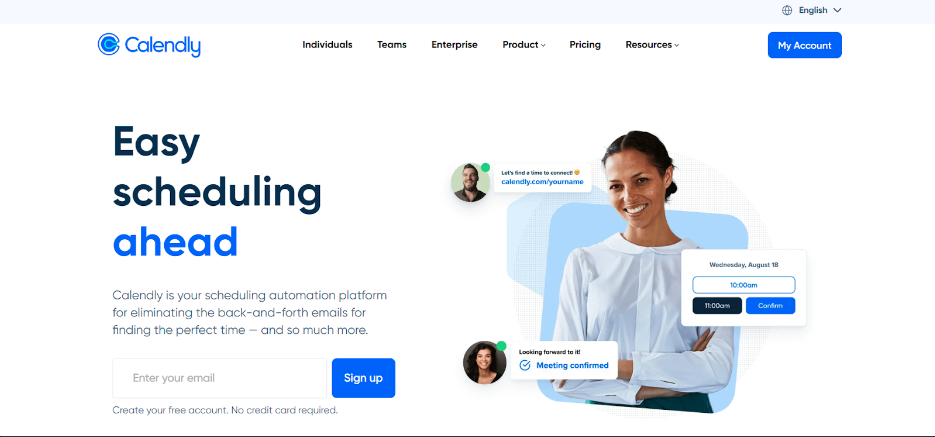 When it first started in 2013, Calendly was just a simple scheduling link.
But fast forward to today and the platform has evolved into a comprehensive appointment scheduling software, managing appointments for more than 10 million businesses. Calendly places great emphasis on team collaboration, providing powerful features such as pooled meeting times and customizable booking pages for hosting team meetings, webinars, or online classes. Additionally, it offers an impressive number of native integrations that cater to larger teams with complex workflows. The company's most recent addition is its analytics feature that not only lets you see upcoming appointments, but also find out the most popular meeting type, or the team member with the most appointments.
All of these features make Calendly a perfect tool for very large teams that want to book appointments with external parties at scale.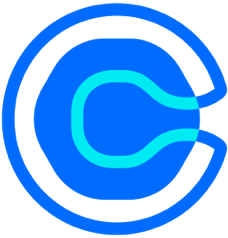 Calendly Pros
Calendly Cons
70+ native integrations for a smoother workflow
Can accept payments via PayPal
Lets users remove the company's branding from booking pages
Calendly vs. Microsoft Bookings
You can think of Calendly as Microsoft Bookings on steroids.
It offers everything that Microsoft Bookings does — including integration with Outlook — but does it in a more powerful way. For example, Calendly offers workflows to automate the booking process. This is something not available with Microsoft Bookings. Similarly, when it comes to video conferencing, Calendly integrates with Zoom, Google Meet, Microsoft Teams, Webex, and GoToMeeting (vs Microsoft Bookings which only supports Teams).
Pricing: Simply put, Calendly is way more expensive than Microsoft Bookings. The paid plans start at $10/seat/month, meaning the more team members you have, the more expensive it becomes. To access features that teams often need, you'll have to opt for one of the more advanced plans, which cost $15 and $20 per seat per month.
Use Calendly if:
You are a large team with a good budget
Your business model heavily relies on scheduling
You mostly host group meetings, such as webinars and round-robin meetings
6. Google Calendar — Best Alternative If You Want To Migrate To The Google Ecosystem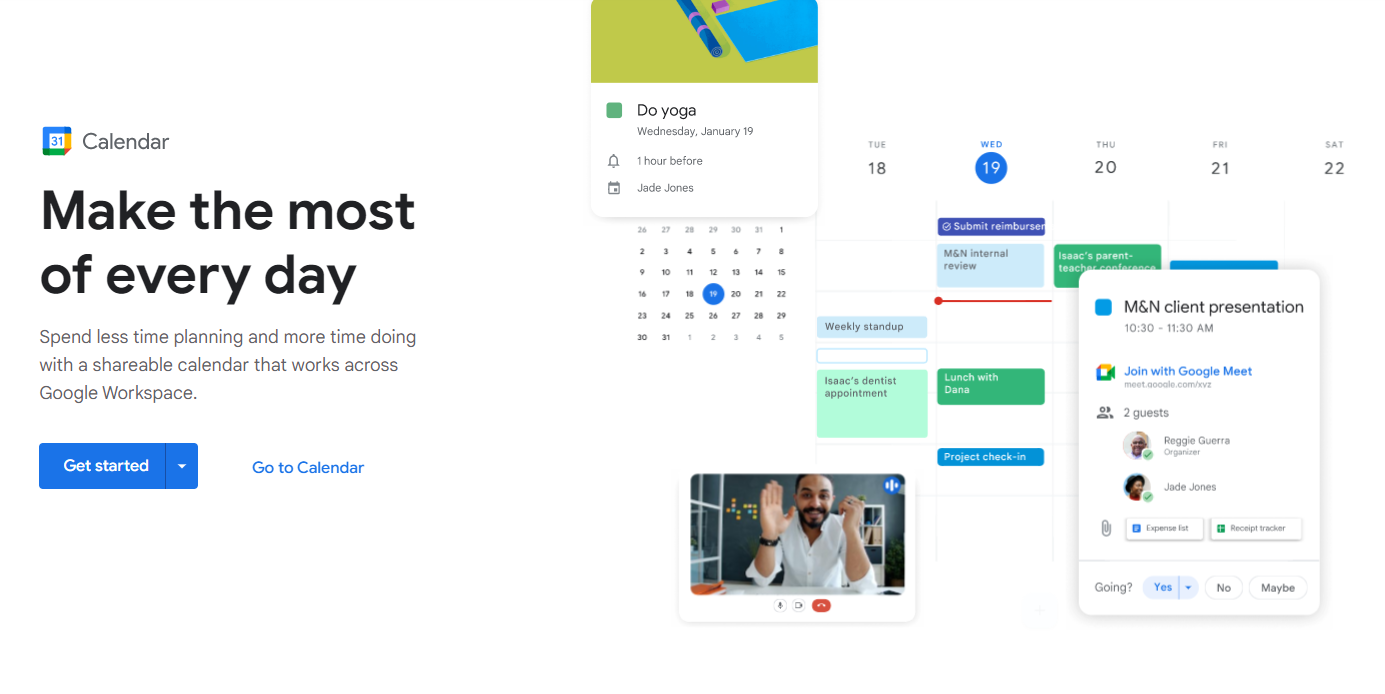 Google introduced appointment scheduling to its Workspace calendar in 2022.
And the best way to describe Google's scheduling feature is: simple but comprehensive. That's because it offers all the basic scheduling features you'd like, such as:
A shareable booking page with your name and picture
Automatic integration with Google Calendar and Google Tasks to avoid conflicts
Booking page questions
Appointment buffers
Maximum appointment duration and number
However, you don't get anything more advanced with Google Calendar like you do with other tools. For example, you can't add custom colors to your booking page and you can't customize the email confirmations and appointment reminders for a meeting.
This makes Google Calendar ideal for teams that are already using Google Workspace and need a lightweight and basic scheduling tool. It's also the perfect Microsoft Bookings alternative for teams who want to migrate from Microsoft's ecosystem to Google's.
If you were to compare Google Calendar and Microsoft Bookings in one word, it would be: "same".
Both tools offer extremely similar features, with the only major difference being the calendars each tool works with. This means if you're already using Microsoft Bookings, it wouldn't make much sense to move to Google Calendar just for features (and vice versa).
Pricing: You need a Google Workspace subscription to use Google's scheduling feature. This starts from $12/user/month, and just like Microsoft Bookings, you'll also need to use other tools like Google Business Email to make the investment worthwhile.
Final Verdict
As you can see, each tool has its own pros and cons. So, choosing the perfect tool really comes down to what you're looking for.
Also, don't forget that many tools offer a free trial, so test them out before saying goodbye to Microsoft Bookings.
But based on our testing, we recommend:
For any small to medium-sized business that relies on meeting with clients to do their work and wants highly personalized, multilingual booking pages: YouCanBookMe
For businesses looking to migrate to the Google ecosystem: Google Calendar
For large organizations with complex scheduling needs: Calendly