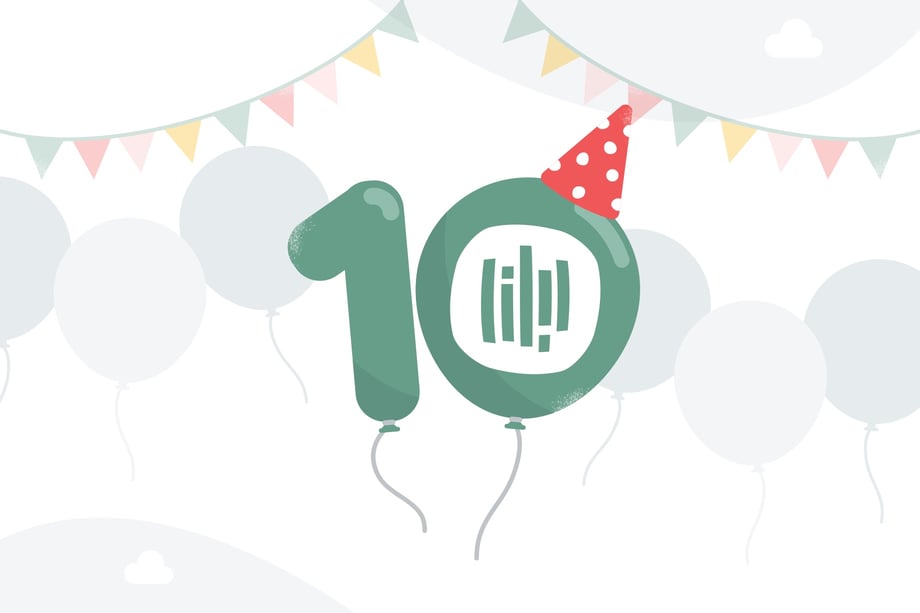 Doing it differently: 10 years of growing a scheduling tool
"It takes 10 years to become an overnight success."
That quote - and others that say it takes even longer - is attributed to a lot of different people. Because it's true. And Bridget and Keith Harris, co-founders of YouCanBook.me, are testimony to that.
When Keith and Bridget started working on what eventually became YouCanBook.me back in 2007, they weren't looking for the big bucks from VCs or trying to be a unicorn - before 'that' version of the rarest of creatures was even a thing.
They just thought they might have found a way to solve a problem they, their family and friends, were seeing everywhere. Do you remember the time before mobile phones, when people would make precise plans on when and where to meet? There was also a time before electronic calendar invites when everyone was still writing things in their diaries. No one knew when anyone else was free.
Keith (a computer programmer and endless tinkerer of technology) and Bridget (a seasoned political and campaigns advisor) decided to build the solution. Preferably one that would allow them to make a so-called 'passive income' while juggling work and home.
They had developed other productivity tools before. Tickboxer was a form-building app, PricePerSquareFoot helped people compare house prices. There was even "i Fall in Love" - a very charming "find my [girl/boy] friend"-type tool that was an early entry into the then brand new iPhone App Store.
"Everything happens because of problems," says Keith. "Bridget and I are ruled by this kind of thinking. People have problems: little problems, big problems. What SaaS entrepreneurs do is solve problems."
So when a former colleague went to study in the US and mentioned how hard it was to find a time that everyone could meet, it struck a nerve. Keith went to work creating a scheduling tool called WhenIsGood.
WhenIsGood is a very simple tool that finds a common time that a group of people can meet. Its simplicity and results immediately filled a need and it spread like wildfire around offices and university campuses in the US. It is still being used today to create half a million events a year.

Users loved it. But it was hard to monetize and it didn't fill every need.
Customer-centric from the very beginning
A lot of WhenIsGood users were trying to use it to schedule one-on-one meetings. They were looking for a user-friendly way to let someone choose a time to meet, and then block that time so no one else could choose it.
After he (in)famously declared, "I can build that in a weekend!", Keith got started. YouCanBook.me was born in 2011.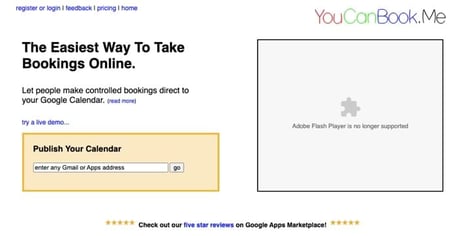 At this stage, Keith was a one-man band: developing the tool, managing payments, and talking to customers.
Those customers don't know how lucky - and how impactful - they were.
Keith is a lovely combination of software developer and people pleaser. So if someone wanted to offer different length appointments, Keith built it. If a user felt they needed more freedom over what their page looked like, Keith added it. If someone wanted to approve bookings before they were confirmed, or have emails in different languages, Keith said yes!
Clearly, this isn't a sustainable product growth strategy but in the early days it was golden. Keith heard straight from the horse's mouth how customers were using YouCanBook.me and what they needed to make it better. And the product was developed in direct response. That customer-centric approach has been in the company's DNA ever since.
YouCanBook.me's earliest customers were early adopters and cutting-edge business people looking for an easy way to schedule meetings. There was a driving instructor and a tutoring business in Australia, a psychotherapist in London, and loads of early tech businesses in Silicon Valley.
These were organizations that were leading the way in terms of productivity and customer experience. Many of them are still using YouCanBook.me today.

Not only were customers valuable for building YouCanBook.me, but they were also a big motivator in tough times.
"We had to keep going," says Bridget, "because we had customers who'd just given us money. And that's a non-trivial contract to undertake. It doesn't matter if it's $10 or $10,000, they've paid you and they expect you to give them the service. That's an obligation as far as we're concerned."
Google Calendar opens doors
A key contributor to the tool's growth was its seamless integration with Google calendar, and Google's near-monopoly in the Education sector. Back in the early 20-tens, most US schools and universities used what was then called Google Apps for Education. It was an entire tech ecosystem for schools that gave every teacher their own email address and calendar.
The simplicity of linking that calendar to a YouCanBook.me page to schedule office hours or Parent-Teacher conferences led to strong early growth. Add to that the fact that teachers gotta teach: they were evangelizing about YCBM in conferences, forums, and chat rooms around the country.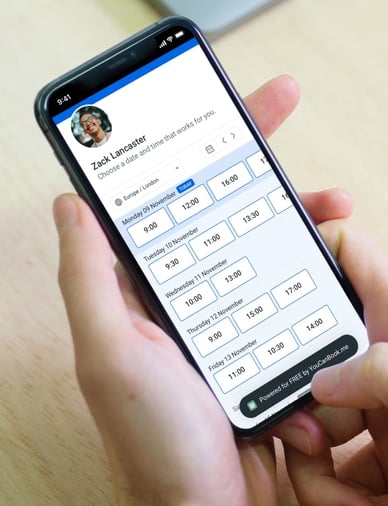 We also saw growth from the parents who booked their Parent-Teacher conferences using YouCanBook.me. More than once, the Support team heard, "I booked a meeting with my child's teacher and immediately thought I could use this scheduling tool in my business."
The free forever version of YouCanBook.me continues to attract educators and small businesses around the world. Free booking pages carry a "Powered for free by YouCanBook.me" button that continues to be a valuable source of new customers.
Back to 2012.
Customers were loving their unlimited contact with Keith, but their questions were taking him away from developing the tool, so he brought in a customer support agent. But there was still so much to be done. There was clearly a demand for the service that YouCanBook.me provided and Bridget and Keith could see they had a viable business here. But how to take it forward?
In early 2013, they understood they had to take a leap in order to create a sustainable business.
Bridget and Keith have spoken in more detail about how they made that decision on the YouCanBook.me podcast Get More Done.
You can listen to their journey of automation and determination here:



Bridget quit her job as Special Advisor to UK Deputy Prime Minister Nick Clegg (who eventually followed her into the tech world and now works at Facebook) and became CEO. Keith became CTO.
The first Engineering hire soon followed. Antonio - now Head of Infrastructure - was based in Seville, Spain and the company's passion for remote employees was ignited. Why limit themselves to people who live in their own small town in England, when they could hire incredible employees anywhere in the world?
The first few years were lean. Most of the revenue went to pay staff and Bridget and Keith didn't take a paycheck. This is the hard part of bootstrapping.
But whenever they considered taking money from investors, they could see it would conflict with the goal to be their own boss. Taking outside money means you have to start to deliver someone else's business plan.
They knew they wanted to be bootstrapped and product-led.
"Automation and really solid systems allowed us to build a business infrastructure for customers without having to hire an army of bookkeepers," says Bridget. "Automation, writing software to fix problems instead of spending money, and really good HR and recruitment systems. This helped us get a very, very small company off the ground."
There were plenty of hurdles on this journey. One of the biggest was people. Getting the hiring right and finding good people was a significant challenge for a bootstrapped company, one that Bridget speaks eloquently about today.
A key hire at the time was current COO Jonathan Clift. He spearheaded the modernization and improvement of the website and made high-impact changes to our project management process. On the November 2015 day that Jonathan joined YouCanBook.me, we hit the milestone of 10 million all-time bookings. Definitely an auspicious start!
Without a Board or VC advisors, the team relied on supportive contacts in the SaaS world, like the heads of Balsamiq and Wildbit, and expert business books for advice. Two very influential favorites at this time were Turn the Ship Around and Crossing the Chasm, the latter helped the company to develop its laser focus on providing scheduling solutions for large teams.
Decisions around YouCanBook.me's pricing structure and how to invest in systems were also pivotal moments for the tool.
In 2014 we moved to AWS for our infrastructure requirements. This was a game-changer in terms of stability and security.
And moving from the standard 3-tier subscription plan to pricing on a per-linked calendar basis in 2016 wasn't easy but it made a huge impact in terms of the company's growth and profitability.
And profitable it did eventually become. Our customers were excited to use a product that saved them so much time. Here is some of the "YCBM buzz" on Twitter from those years - comments that we still hear today:

Where we are now
In the last 5 years, the company has grown dramatically both in terms of customers and employees. By mid-2021, YouCanBook.me had hit 70 million all-time bookings. That's more than a million bookings per month for more than 22,000 customers and half a million users.
There are 25 employees in 8 countries. There is something very special about working at YouCanBook.me.
"Everyone is moving together for the same goal: to ensure the success of the Customer and the Product. Everyone plays a role in the company's success."
Perhaps it's that the team is so close-knit, even when they're physically far apart. Or it may be the way the company truly lives its values of simplicity, transparency (including pay), excellence, and tolerance. It always strives to do the right thing and it supports great causes. YCBM walks the walk.
And the best part is that all those years of hard work are finally getting the recognition they deserve.

Customer reviews have helped YouCanBook.me to consistently top the charts on G2 Crowd and other review sites. Our Customer team is regularly cited as best in class.
In June 2021, YouCanBook.me was awarded Silver in the SaaS Company of the Year category by Global Business Tech Awards.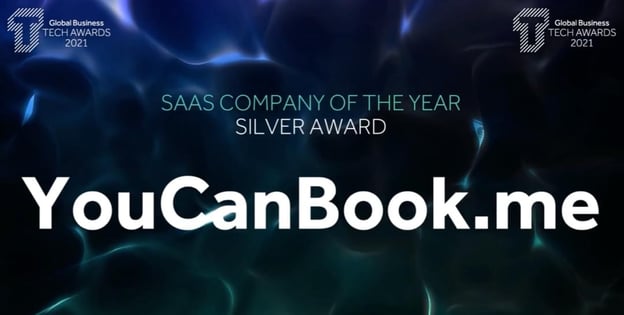 In 2021, Bridget and Keith can look back at those early goals: they've created a tool that adds value and provides solutions for a very real problem, they make a living working for themselves, not having to answer to anyone else, and they have the freedom to build the company they are proud of today.
The decade(s) to come
So if their "overnight success" has finally happened, what is next for YouCanBook.me? Hold onto your hats!
"YouCanBook.me is not a finished problem," says Keith. "We've still got an awful lot of ideas in this space, about what the company could go on to do, where the product should be. It's not a finished story at all, there's a huge amount to do."
With that in mind, YouCanBook.me began its second decade with a massive growth spurt. A significant investment in people saw the company expand by 40%, growing every department - and some new ones.
New Chief Product Officer Tim Woods has been tasked with developing visionary ideas for YouCanBook.me to ensure it remains the best solution for our users.
"The incredible growth in YCBM's user base has broadened our horizons for the kinds of problems we can solve for our customers," Tim says. "We're all so excited by these opportunities and we're expanding our team with the best talent we can find.
"We're so grateful to the customers who have helped us over the last decade to focus on what's important, to not be distracted from creating value for them. And we hope for another decade of the same."
Engineering is at the heart of any SaaS solution and requires a really good balance for maximum efficiency.
"It's impressive what we have achieved with such a small team so far," says new Head of Engineering Veronica Lopez. "But in order to make sure we offer what our customers need, it's time to grow bigger! We're adding fresh perspectives to our experienced engineering team so we can deliver on the exciting product vision."
And, after years of growing by word of mouth, a Marketing team is now working on a more focused growth strategy.
"The marketing team is brand new to YCBM and we're so excited," says Head of Marketing Romana Siracusa. "We have an incredible opportunity to bring this brand to a whole new level, serve our customers better and reach out to even more companies looking to improve their team's productivity.
"We have an exciting vision for the future that includes a lot of educational content. Watch out for updates on LinkedIn and Twitter!"
A particular privilege of working at YouCanBook.me for the last decade has been experiencing firsthand the dramatic rise in SaaS tools across the globe. Having started as one of the very few scheduling options, today's crowded and dynamic online scheduling space continues to stimulate and inspire the team. We are looking forward to discovering the future in the next ten years.
YouCanBook.me Timeline

10 things YCBM employees love about working for YCBM
YCBM "walk the talk" and sticks to its core values
"We have zero politics here which is no accident and is the direct result of the core values. No one is out for themselves and no one gives the impression that they are the most important."
Opportunity to have an impact on the success of the company
"Everyone is given the opportunity to have a direct impact on the success of the company regardless of whether they joined last week or 5 years ago."
It's a small team that does big things
"The enthusiasm and energy from everyone in the company makes it such an enjoyable place to work. I like being a part of a small team who are doing brilliant things."
It's a diverse and talented group of people
"Working with a diverse and talented group of people. Everyone has a passion to make the product the best it can be."
Opportunities to improve and feel appreciated
"I love that as a company, we are hyper focussed on customers. I love that I'm constantly given opportunities to improve, challenge myself, and learn. I know I am appreciated."
Flexibility to work from anywhere
"Working remotely means the flexibility to work from anywhere with an internet connection. I have autonomy to do my best work. There is freedom to fail and improve for next time."
Everyone shares a common goal: the success of the Customer and the Product
"Everyone is moving together for the same goal: to ensure the success of the Customer and the Product. Everyone plays a role in the company's success."
Every employee is not only valuable but valued
"Never before have I worked somewhere where each and every employee is not only valuable but valued. I can't say enough good things about the company!"
Support to nurture and grow
"I found my home at YCBM. It's a company that values its employees, and supports and helps nurture them professionally. Great vision for the future of the product and all teams are working towards a common goal. I would choose to be these people's friends even if I didn't work here."
Want to know more about working for YCBM?
Check out reviews from the YouCanBook.me employees in Glassdoor.
Help us make the next decade even better! Check our open positions here.
Subscribe to our newsletter
Get productivity tips, news, articles and resources.