Calendly Alternatives
Calendly is one of the most popular scheduling tools due to its premium features. Yet businesses today need more flexibility and Calendly can't cater to every specific booking need. That's why we've compiled this list of 7 Calendly alternatives according to different use cases.

We tested and rated each tool based on its:

Ease of use
Integrations
Value for money
Booking page customization
Here's a quick summary…

Best Calendly Alternatives: Executive Summary
You'll get disrupted by meetings the least with Clockwise.
You'll get the most lead qualification tools using Chili Piper.
You'll be able to create better booking experiences if you switch to YouCanBookMe.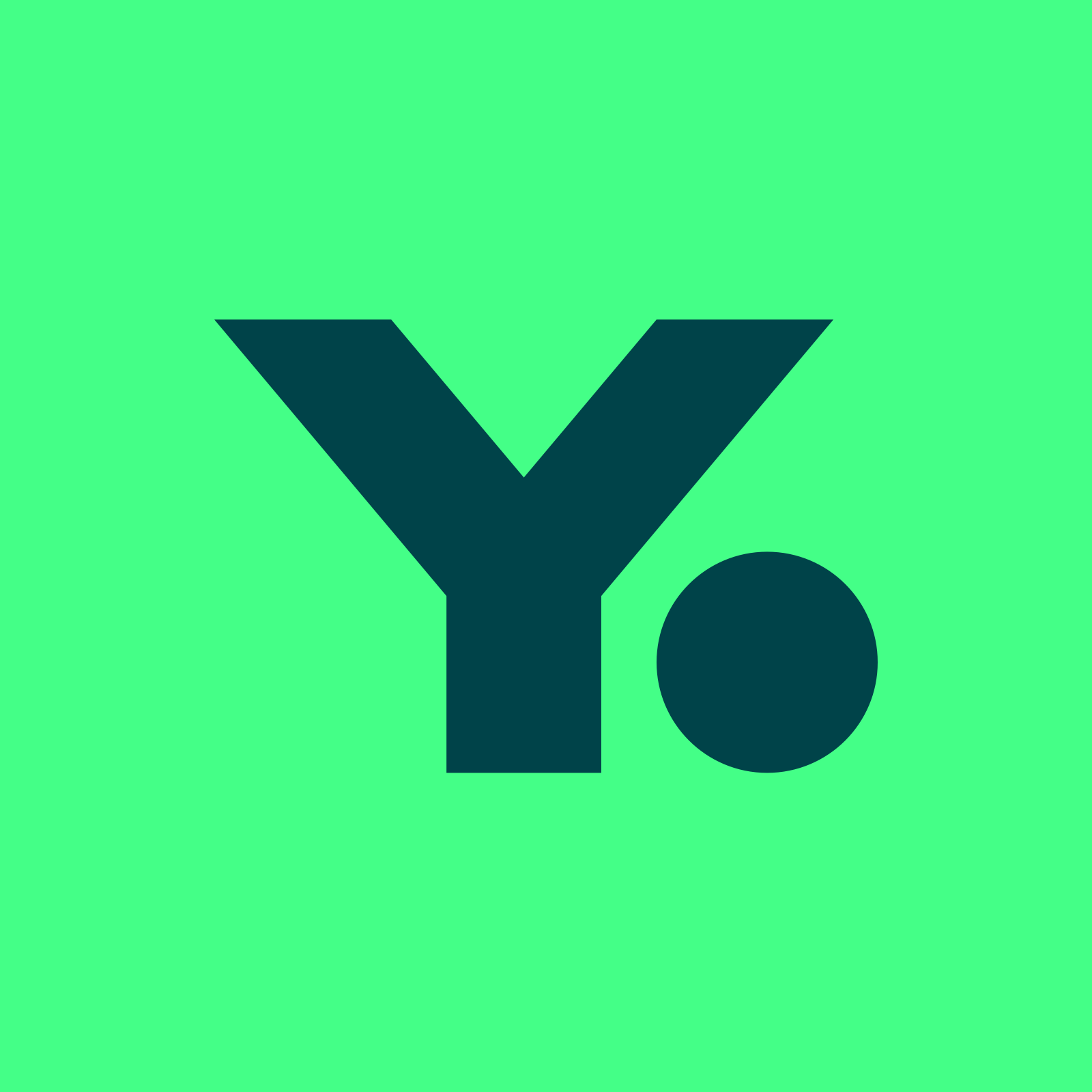 Best Overall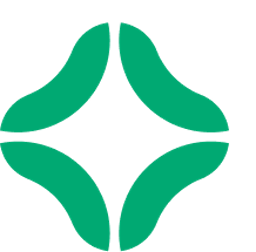 Best For Time Management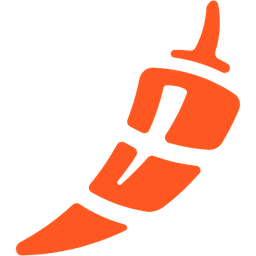 Best For Lead Qualification
YouCanBookMe

Best for individuals and small teams with international clients
Clockwise
Best alternative for scheduling focused work
Chilipiper
Best Alternative For Large Sales Teams
Buying Guide & How We Rate The Tools
Every booking tool has a "specialty" that makes it ideal for a specific audience. However, all scheduling apps have four basic dimensions, and we've used those to curate this list.
Ease of use: This score reflects how easy the tool is to use and how quick it is to learn. This is especially important if you're looking for a tool for your team, as the quicker everyone can learn it, the faster will your productivity increase.
Integrations: How well can the tool integrate into your existing tech stack or workflow?
Value for money: Based on its features, is the tool reasonably priced?
Customization: Your booking page should reflect your brand. This score refers to how much freedom a tool gives you in customizing your booking page (in terms of colors, logos, footer, embedding, etc.).
Note: low scores aren't always bad.
Again, each tool has a specialty. For example, if a tool is made for large enterprises, it's going to be inherently more complex to use. So at the end of the day, it all comes down to determining the combination of features you want out of your booking tool.
Now let's walk through a mini-review of each.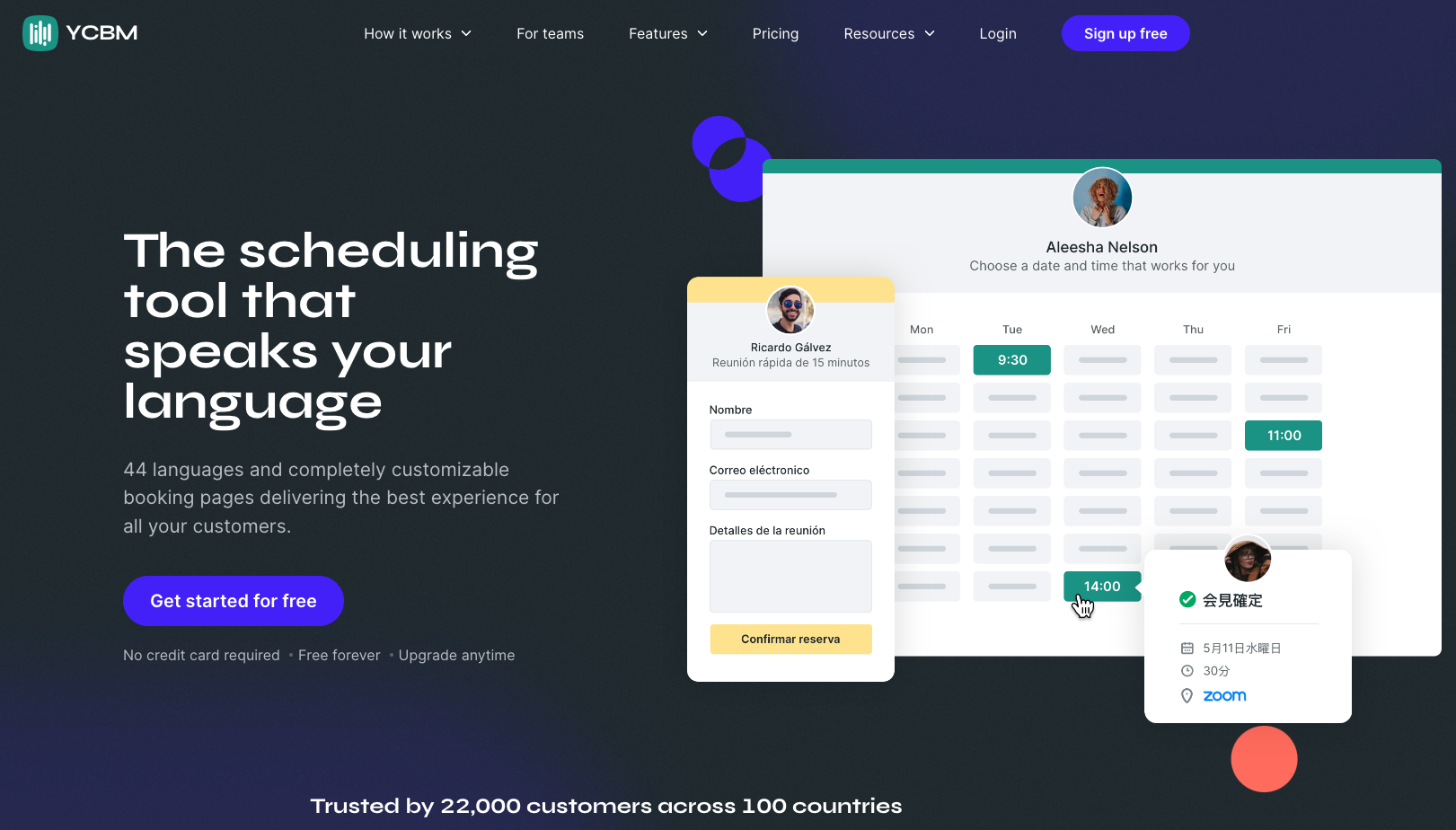 YouCanBookMe (YCBM) was founded in 2011 and it's goal has always been to create excellent booking experiences.

It's the only scheduling tool that offers completely customizable booking pages, and auto-detects and adjusts booking page language based on your customers' location. YouCanBookMe supports 44 languages (including left-to-right and character-based scripts like Arabic and Japanese).
YouCanBookMe's booking pages can include logos, footers, and custom colors. It also offers custom shorthand codes that let you automatically personalize notifications, automatic reminders, and follow-up messages via SMS or email. Finally, YCBM's workflow is non-modular — you create booking pages in a single editor that includes a live preview. This means the process is fast and easy, making YCBM ideal for non-technical people and small teams that don't need complex page creation workflows.

So who is the ideal user of YCBM? Well, if you're a team of up to 20 people that wants to deliver highly personalized booking experiences to deliver your professional services to clients all over the world, YCBM is the way to go. Check out this interactive demo tour and see how simple it is for your customers to start scheduling appointments!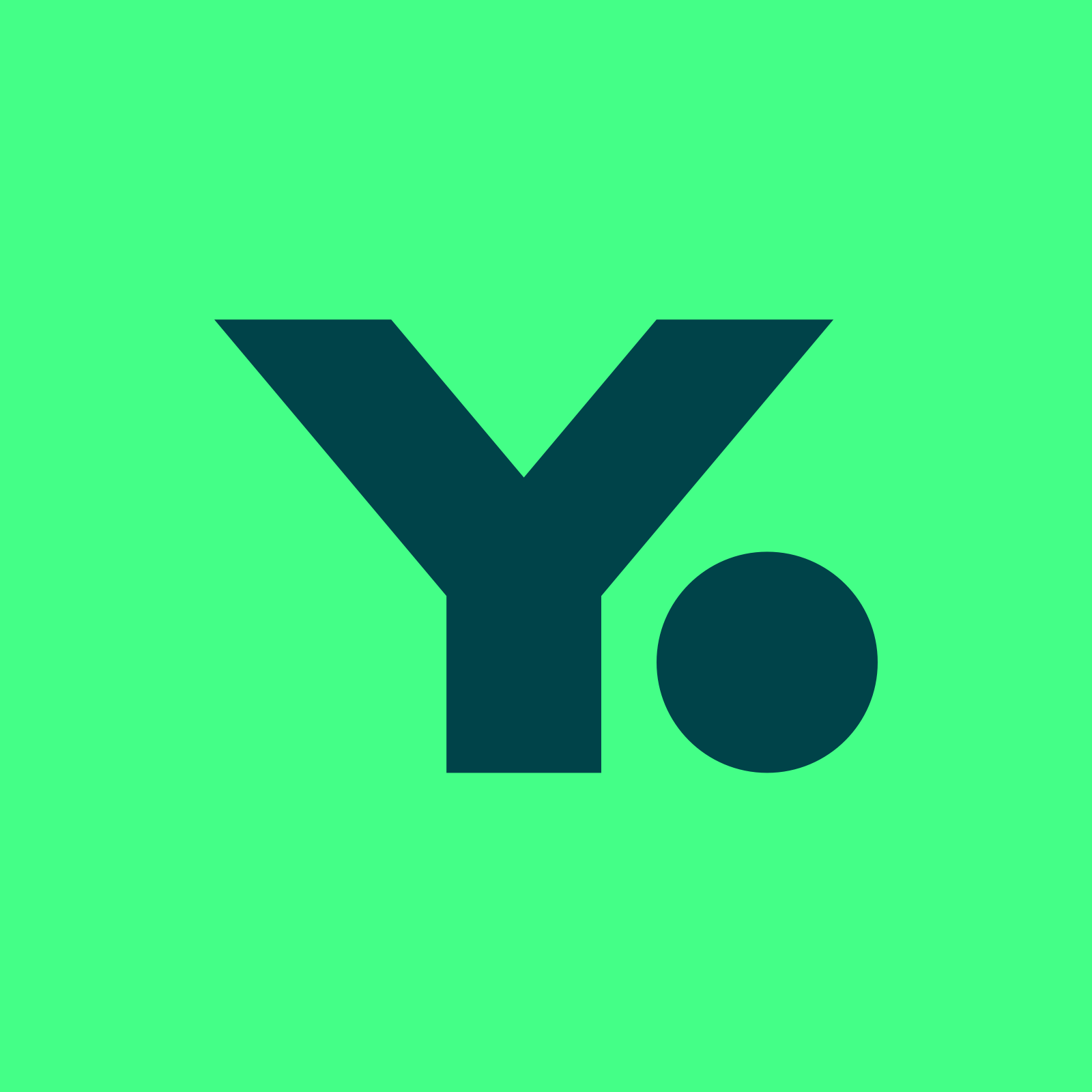 YouCanBookMe Pros
YouCanBookMe Cons
Intuitive pricing structure
Countless integrations via Zapier
Booking pages translated into 44 languages
Calendar sync with Outlook Calendar, Google calendar and Fastmail
YCBM unlocks all features at $12/calendar connection per month; Calendly has 3 plans starting at $10/user per month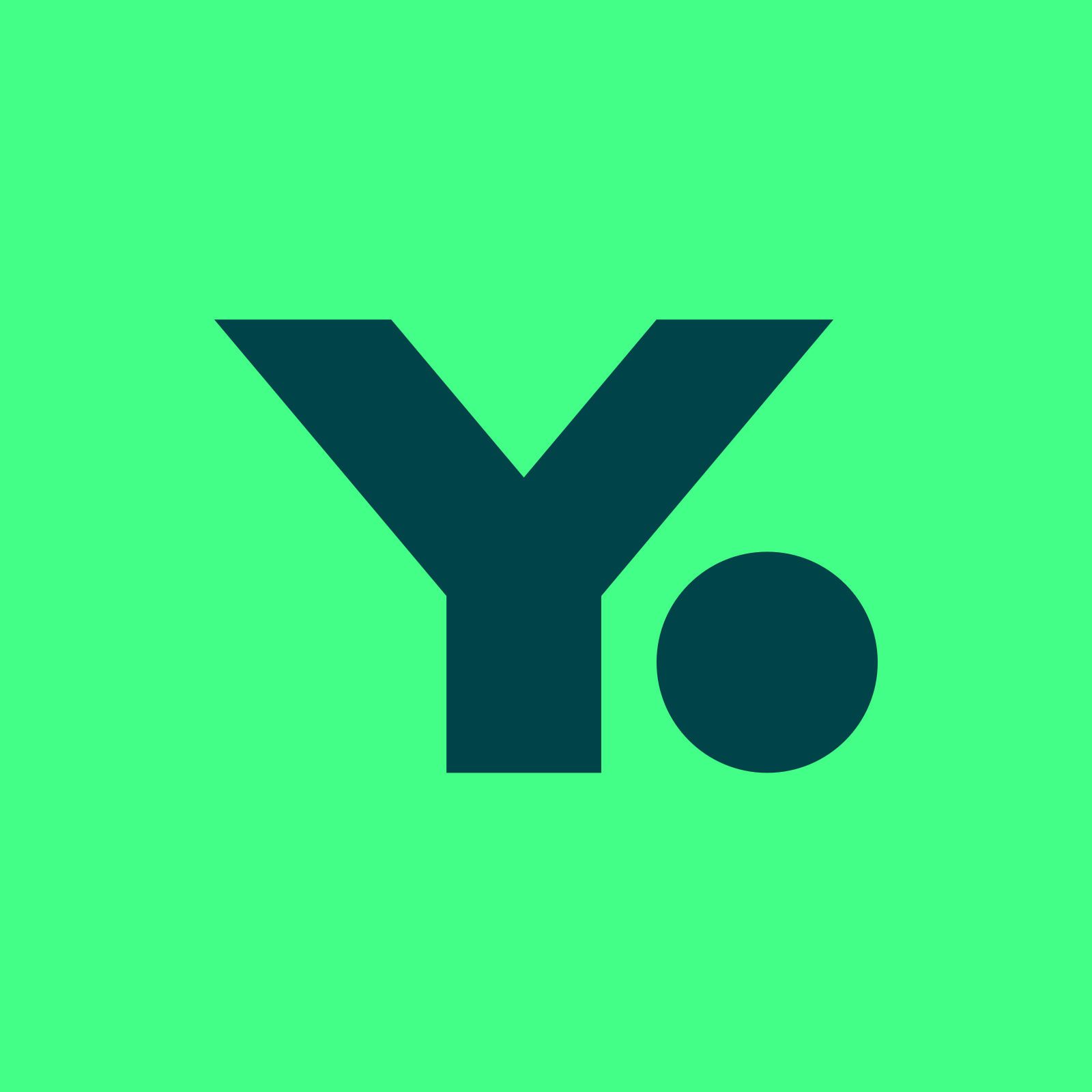 YouCanBookMe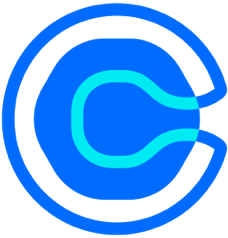 Calendly
10 booking page, 1 linked calendar integration
1 booking page, 1 linked calendar integration
$12/calendar/mo, All features
$10/seat/mo, Basic features
-
$15/seat/mo, Advanced features
-
$20/seat/mo, Team features
Both tools are affordable for individuals who need basic meeting scheduling features. But if you need advanced features for a team, like follow-up and no-show notifications, advanced workflows and being able to accept or reject bookings, Calendly can be twice as expensive than YouCanBookMe: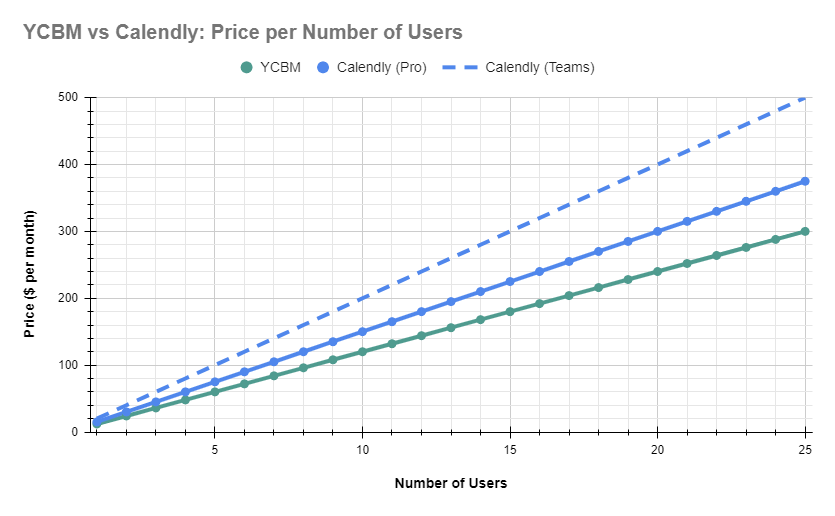 YouCanBookMe vs Calendly
YouCanBookMe has a non-modular workflow, while Calendly has a modular system
YouCanBookMe combines all modules for creating pages (booking forms, notifications, style, and appearance) in its booking page creator tool. That, and the fact that it has a live page preview, makes it easier and faster to use than Calendly.

On the other hand, Calendly has modular tools — organized in different tabs. That makes it confusing for beginners and annoying to create booking pages if you're a small team, but it's great if you're an admin managing calendars for a big corporation.
YouCanBookMe offers more personalization features than Calendly
Here are some major differences between the two:
YCBM lets you choose how you display your availability - between a month view and two different day views.
YCBM can auto-detect user location and adjust the booking page grid language with 44 supported languages, compared to only 9 language options available with Calendly

YCBM offers unlimited custom colors for booking pages, while Calendly has only a few select choices (only on the premium plans)
YCBM gives you a custom domain, and lets you add a footer to booking pages that can contain your social accounts, website URL, contact details, and other branding information
YCBM offers completely personalizable automatic notifications, where you can stylize email text, add your logo and images to emails, include hyperlinks, and dynamically personalize messages for each customer using their information from the booking page or website forms
Use YouCanBookMe if:
You want highly personalized booking pages that can be adapted to give your bookers the best scheduling experience.
You have team members or customers that speak different languages and can benefit from auto-translated booking pages.
You want an easy-to-use tool with a straightforward, non-modular workflow to help you create booking pages within minutes.
Get started with YouCanBookMe for free. Or opt for the 14-day free trial that gives you access to all the paid features, no credit card required. If you're still unsure whether YCBM is better for you than Calendly, read our in-depth comparison of Calendly vs YouCanBookMe here.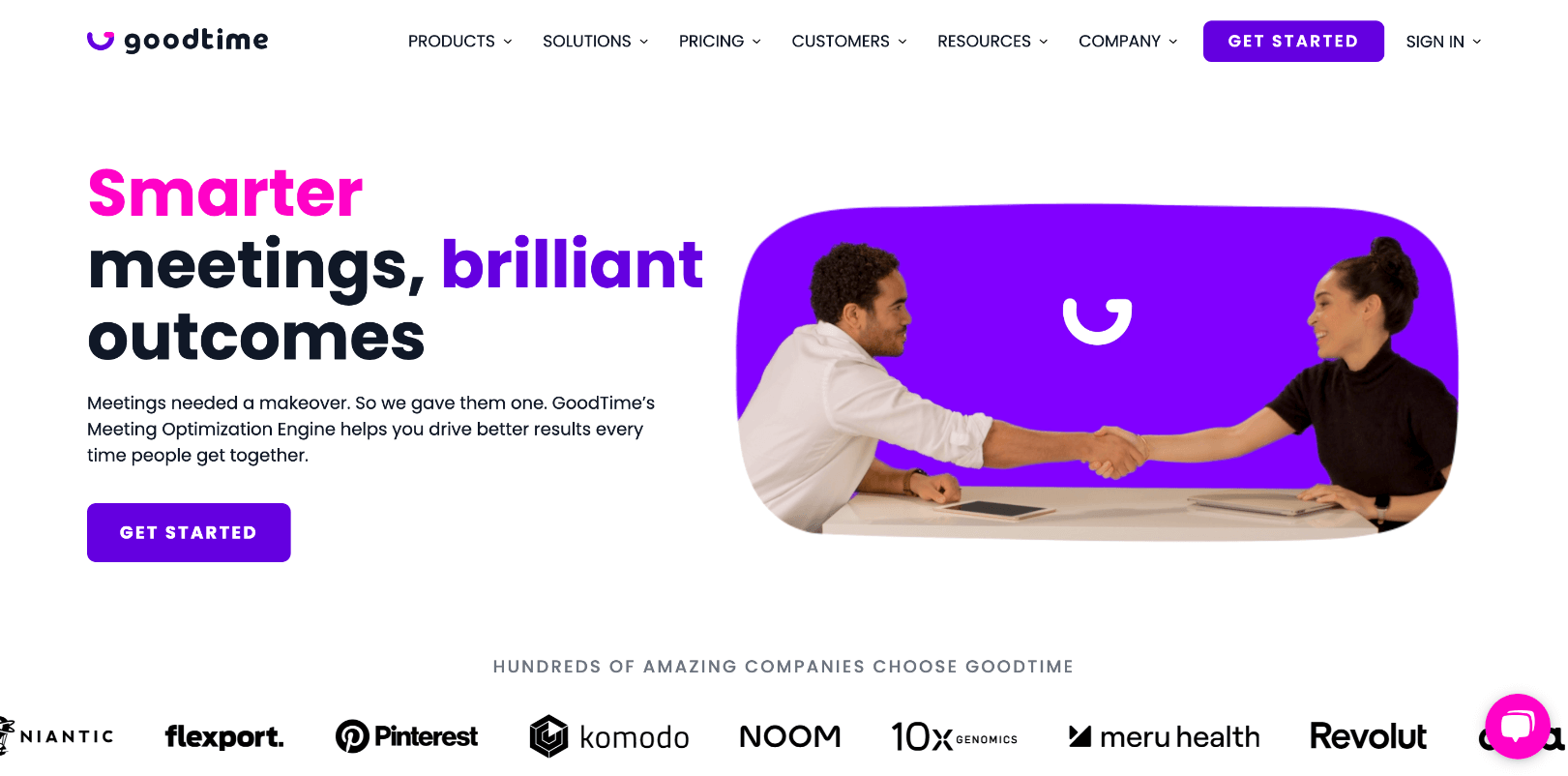 GoodTime was developed back in 2015 after its co-founders Ahryun, Jasper, and Peter met at a hackathon. Their goal was simple: improve job interviews.

It's full-blown appointment scheduling software, focused on improving the lives of recruiters with features like:
Find free time slots for all interviewers and match them with free slots on candidates' calendars.
Connect with candidates directly with SMS notifications to provide a fast, personalized experience.
Train interviewers by automatically adding shadowers to interviews.
Get an overview of every recruiter's schedules, reschedules, cancellations, and updates within a single dashboard.
Integrate scheduling with applicant tracking systems (Greenhouse, Lever, Workday), video conferencing tools (Zoom, Google Meet, Microsoft Teams), e-signature platforms (DocuSign), and collaborative coding platforms (CoderPad, HackerRank).
Because of these recruitment-oriented scheduling features, GoodTime is ideal for recruiting teams that hire on a large scale, where good coordination and personalization are otherwise difficult.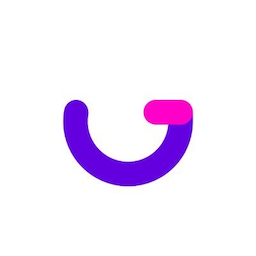 GoodTime Pros
GoodTime Cons
Dashboard with recruitment analytics
Unclear pricing for their "Hire" tool
AI-powered insights for improving recruitment
A range of recruitment-relevant integrations
GoodTime vs Calendly
Calendly is geared towards large teams with complex workflows that need to schedule internal or external one-on-one meetings. But it doesn't offer any dedicated recruiting features like GoodTime.

Meanwhile, GoodTime offers two products:

Hire - Powerful tools for recruiting and interviews (has a steep learning curve)
Meet - Simple internal team meeting scheduling link
GoodTime Pricing
GoodTime Meet offers three pricing plans — Starter, Professional, and Enterprise. There are minor differences between the three, such as increased limits on tags, templates, training paths, and the number of integrations. The Enterprise plan allows data access via the API and custom security assessments.
You'll have to contact their sales team to find out custom pricing for the Meet plan.
Use GoodTime if:
You are a recruiter and need to integrate with specific recruitment tools to schedule interviews
You want a scheduling solution that's more focused on external scheduling instead of internal team meetings.
You can benefit from AI-powered insights into how to improve your hiring process and hit hiring goals.
3. Chili Piper - Best Alternative for Reaching Out To Hot Leads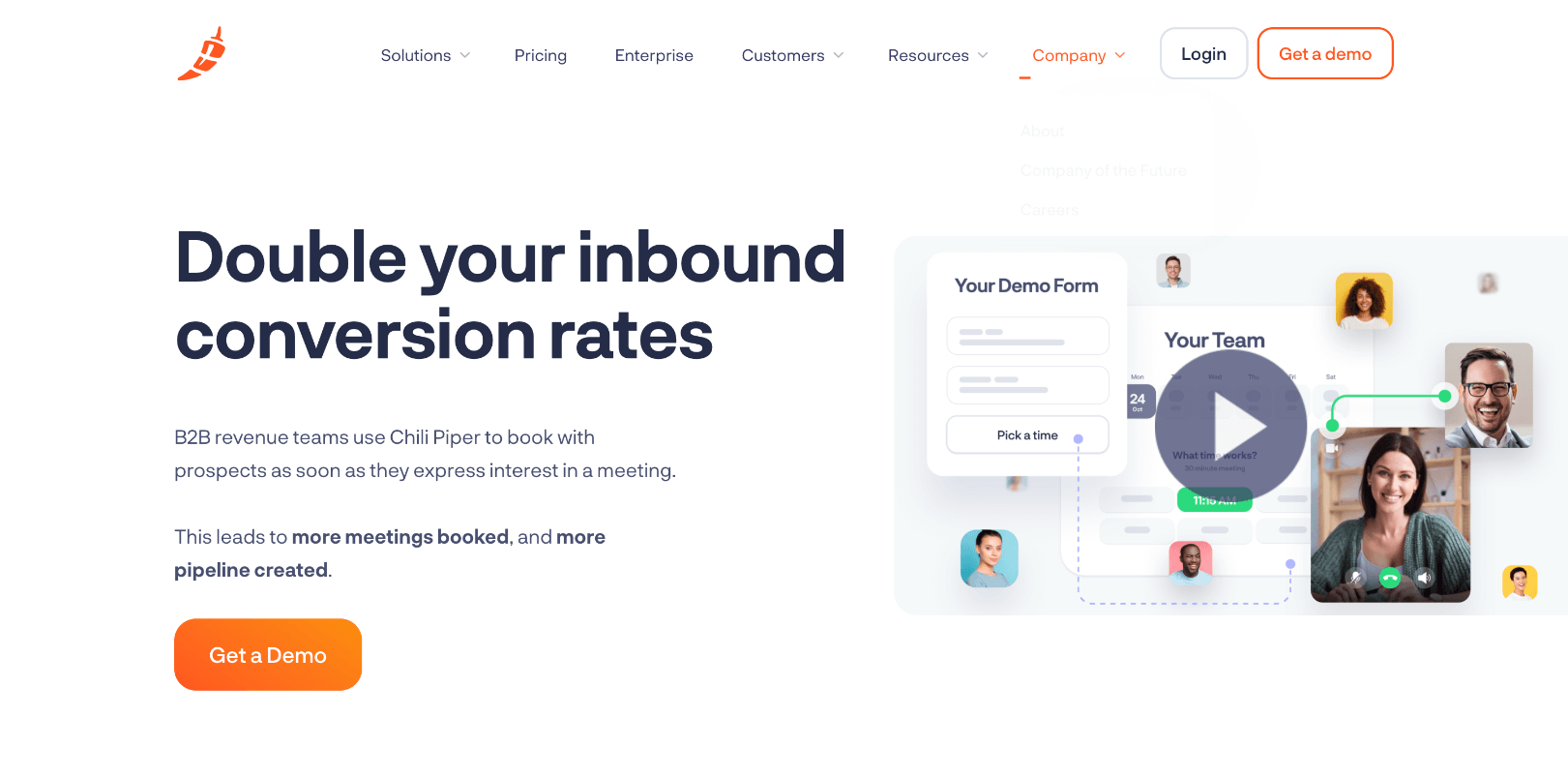 ChiliPiper was born in 2016 when someone asked its co-founders Alina and Nicolas to help with their round robin distribution of meetings.

It's a unique scheduling platform that offers four different solutions — Form Concierge, Distro, Handoff, and Instant Booker. Instant Booker is its scheduling tool and is very similar to Calendly. But what makes the platform unique is its ability to qualify leads and schedule in-context meetings via Form Concierge and Distro. Form Concierge qualifies and routes leads to the right rep through web forms, while Distro does the same for content and webinar leads. On the other hand, Handoff helps you automate lead routing to a different rep (based on size or location, for example).

Given its wide range of tools, Chili Piper is ideal for small to medium-sized sales teams looking to qualify leads and schedule a meeting with them at the same time.

Chili Piper vs. Calendly
When it comes to scheduling features, Calendly and Chili Piper are mostly the same. But there are six important differences:
Many users report Chili Piper is difficult to set up compared to Calendly.
Calendly offers an iCloud calendar integration and has a dedicated iOS mobile app.
Calendly offers 95+ native integrations, while Chili Piper has more limited integrations with 59.
Chili Piper can't accept payments via Stripe or PayPal.
Chili Piper is more expensive than Calendly.
Chili Piper has better support for booking physical locations.
But keep in mind, you won't get any of Chili Pipers' lead qualification key features like Form Concierge and Distro with Calendly.


Chili Piper pricing
The tool sells its solutions separately as follows:
Instant Booker — $22.50/user/month (1-click scheduling over email, group booking links, unlimited meeting types)
Handoff — $37.50/user/month (includes all Instant Booker features)
Form Concierge — $45/user/month (includes all Instant Booker features)
Distro — $30/user/month
You can also purchase a Form Concierge + Distro bundle.
Use Chili Piper if:
You are a small sales team looking to hold in-context meetings and engage your leads more effectively.
You're willing to spend a lot more than typical for scheduling tools.
You don't need to collect payments for appointments.
Microsoft Bookings was released in March 2017 and comes as part of a Microsoft 365 subscription.
It's a relatively straightforward scheduling tool with simple features like:
Email and SMS notifications

Integrations with other Microsoft tools like Outlook

Custom logos for booking pages
Custom booking page colors
These limited features are OK for simple booking but they're not enough if your business is highly dependent on scheduling and needs advanced features, and it doesn't work with Google calendar, or offer a Zoom integration. This makes Microsoft Bookings ideal for a very specific audience — companies with simple scheduling needs that already have a Microsoft 365 subscription.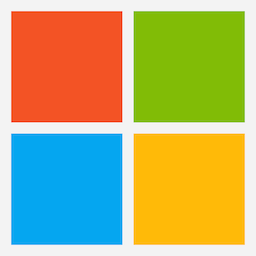 Microsoft Bookings Pros
Microsoft Bookings Cons
Integrates well with the Microsoft ecosystem
Comes only with a Microsoft 365 subscription
Microsoft Bookings vs Calendly
If you take Calendly's steroids away, you get Microsoft Bookings. That's because Microsoft Bookings does the same things as Calendly but is way more bare-bones. For example:
Both apps support video conferencing tools, but Calendly integrates with Google Meet, Zoom, Microsoft Teams, Webex, and GoToMeeting, while Microsoft Bookings only supports Teams.
Both tools support reporting. But Microsoft Bookings includes only four months of data at a time and you have to download crude data as a spreadsheet. Meanwhile, Calendly offers useful insights like top performers, popular meeting times, and busiest meeting days automatically.
Both tools integrate with other online tools. But Microsoft Bookings supports only other Microsoft tools, while Calendly offers over 95 native integrations.
Calendly also supports workflow automation, where you can program a meeting script and repeat it. For example, if you want to automatically send your sales reps the recording of a demo after it's over. This is not supported in Microsoft Bookings.
Microsoft Bookings pricing:
Microsoft Bookings comes as part of a 365 subscription, which starts at $6/user/month and goes up to $22/user/month on its most advanced plan.
Use Microsoft Bookings if:
You have simple scheduling needs and don't need fancy features like workflow automation.
You're already paying for a Microsoft 365 subscription.
5. Doodle — Best Alternative For Group Meetings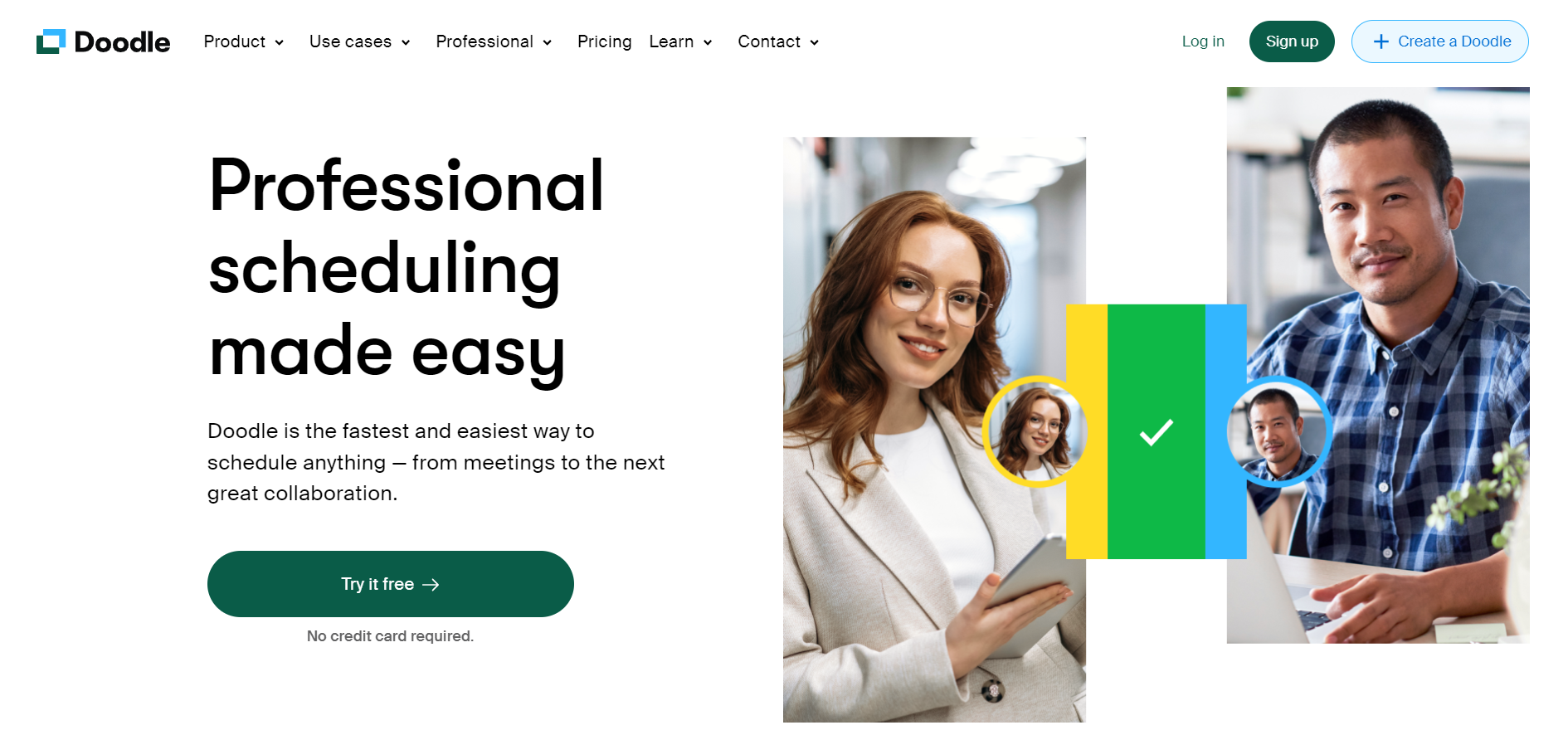 Doodle's founding story goes all the way back to 2007 when the founders Michael and Paul wanted a way to meet with groups of people without endless back and forth emails. It got traction in universities and quickly turned into a business that now serves over 30M users.

It's a simple but powerful scheduling tool that offers all "classic" features like:
Meeting buffers
Custom available times
Automatic time-zone detection
Automatic email reminders
But what makes Doodle truly special is its focus on group scheduling. It does that by offering user-friendly group polls that team members can answer to determine when everybody is free.

This makes Doodle an ideal tool for small businesses that are looking to streamline and organize internal team meetings in a more casual setting.
Integrates with many popular tools
Intrusive ads on free version
A free forever plan for one user
You don't get 1-to-1 scheduling on the free plan
Expensive monthly paid plan compared to others
Doodle vs. Calendly
Here are some important differences between Calendly and Doodle:
Calendly supports a wider range of video conferencing tools, including GoToMeeting, Zoom, Webex, MS Teams, and Google Meet.
Doodle supports only Zoom and MS Teams on the paid plan.
Doodle offers 9 native integrations, while Calendly offers over 95.
Doodle doesn't offer 1-1 scheduling on its free plan, while Calendly does that and a lot more.
Calendly offers email and browser plugins, allowing you to schedule meetings from Chrome, Outlook, and Gmail. Doodle supports only Outlook on its paid plans.
Calendly has a better, more professional user interface because it's geared towards enterprise businesses. Meanwhile, Doodle has a more casual interface, meant for the casual consumer
Doodle pricing
Free Plan: Unlimited group polls, 1 booking page
Pro Plan ($14.95/user/month): No ads, Unlimited booking pages,
Unlimited 1:1s, Custom branding, Video conferencing
Team Plan ($19.95/user/month): Roles and permissions, Activity reports, Admin Console, Collective event scheduling
Use Doodle if:
You're looking for a tool to schedule group meetings.
Your team members are in different time zones and can benefit from automatic time-zone adjustment.
You use Zoom or MS Teams for video conferencing.
6. Clockwise — Best Alternative For Protecting Focused Work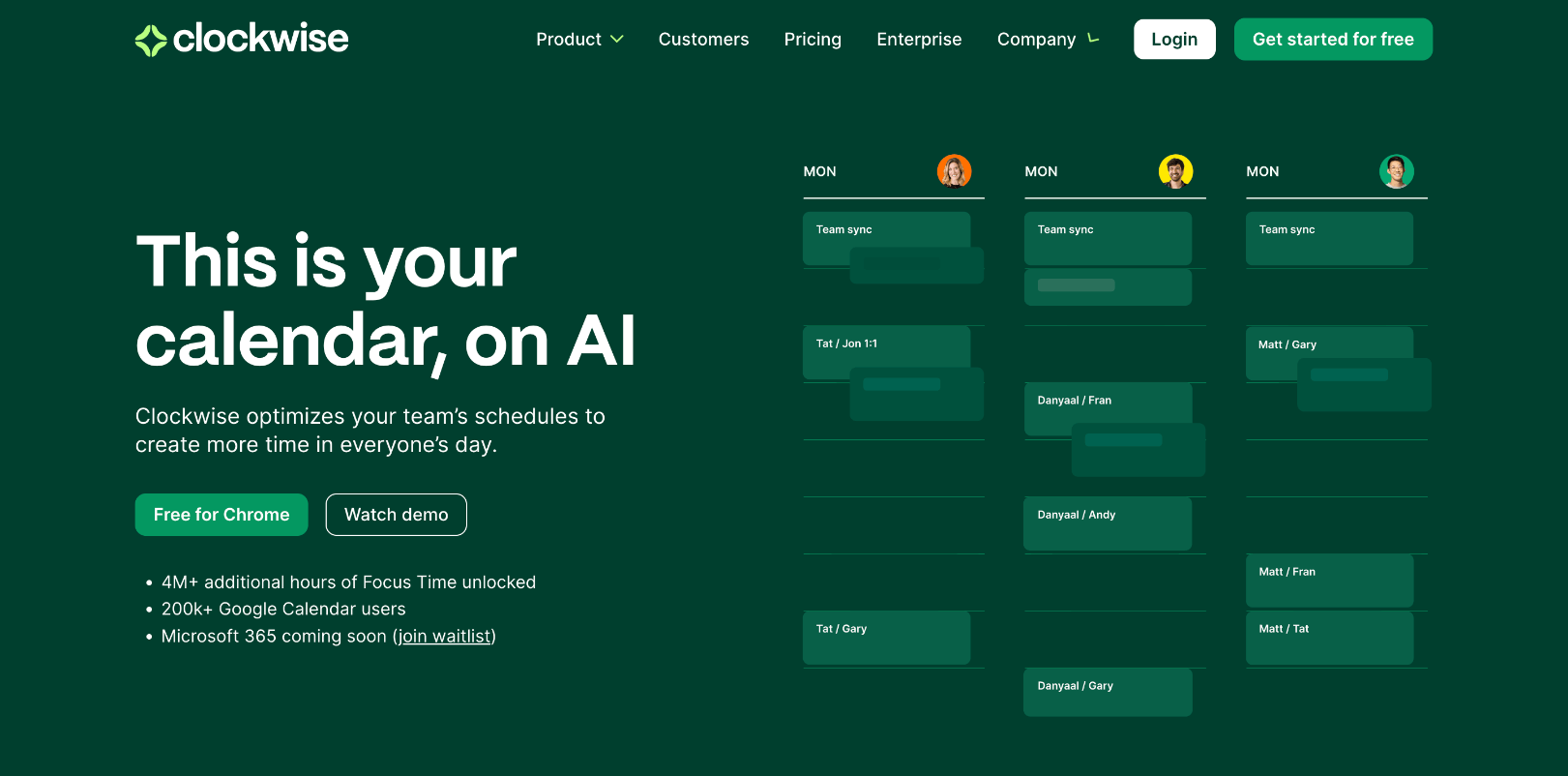 Clockwise was founded in 2016 by Gary Lerhaupt, Matt Martin and Mike Grinolds. And the trio calls their tool a "time orchestration platform".
Clockwise allows users to schedule meetings at the most non-disruptive time using "Clockwise Links". These are scheduling links that display the least disruptive meeting times to your bookers, and then suggest the most appropriate time according to their calendars. The tool considers the following factors when determining the best meeting times and duration for invitees:
Focus time
Preferred meeting hours
No meetings day
Consecutive meetings
Lunch time
Travel time
It also has a handy group meeting feature, which aggregates your team members' availability and only displays times when everyone is available to bookers.
Given these features, Clockwise is ideal for individuals and teams looking for a personal time-management assistant (without the actual assistant).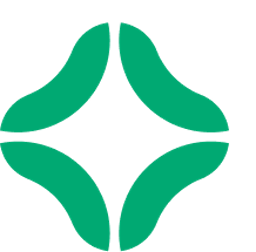 Calendly Pros
Calendly Cons
Optimises your calendar availability using AI
Offers only two integrations
Supports only Google Calendar
Provides insight into team availability
Clockwise vs Calendly
Since Clockwise is not one of the traditional scheduling apps, you don't get features like time-zone adjustment, payment collection, and branding or customization options. In addition, Clockwise offers only two integrations — Slack and Asana. Finally, the tool supports only Google Calendar, unlike Calendly which also works with Office 365, Exchange Calendar, and iCloud Calendar.
Clockwise Pricing:
Clockwise offers 3 pricing plans:


Free — 1 custom link, best meeting times highlighted, video conferencing
Teams ($6.75/user/month billed annually) — unlimited custom links, group scheduling links
Business ($11.50/user/month billed annually) — at-a-glance team analytics, dedicated support
Use Clockwise if:
Your team is struggling with time management and focus.
You don't need a tool for external appointments
You don't need to charge for appointments.
The final verdict
As you can tell by now, there's no single best Calendly alternative. It all comes down to what you want out of your scheduling tool. The good news is that many of these alternative providers offer free trials that you can test before ditching Calendly.
But based on our testing, we recommend:
For individuals, small teams, and businesses looking for a tool to create highly personalized, multilingual booking pages: YouCanBookMe
For sales teams looking to meet with pre-qualified leads: Chili Piper
For teams looking to protect their focused work: Clockwise