9 Best Scheduling Apps in 2023: Direct Comparisons
We tested the best scheduling apps out there to find perfect matches for every budget, team size, and need. Read our list and find your best match!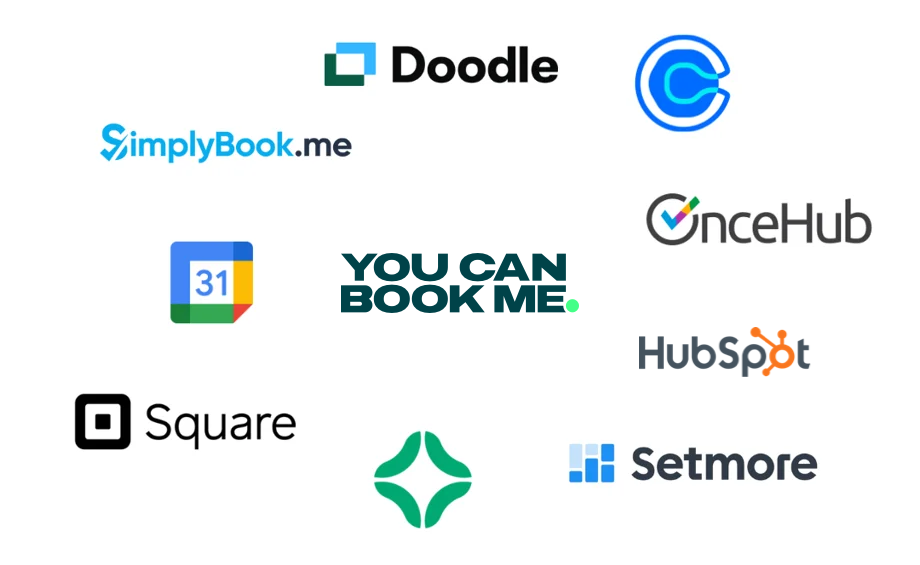 Best scheduling apps
Know that feeling when you're staring at an endless sea of options and can't decide? That's the SaaS market for you, especially when it comes to appointment scheduling software. And every new tool just adds to the confusion…
But don't sweat it, we've got your back.
We hunkered down, sipped gallons of coffee, and sifted through the maze of appointment scheduling apps for you. So sit back, relax, and pick the best scheduling app for your business in minutes!
Let's dive in!
Best Scheduling Apps: Executive Summary
You'll save the most time if you choose Clockwise.
You'll get more features overall if you switch to Calendly.
You'll get the most personalization power if you choose YouCanBookMe.
| | | |
| --- | --- | --- |
| Best Overall | Runner-Up | Best for Enterprises |
| | | |
| YouCanBookMe | Clockwise | Calendly |
| Best For Small Business Owners With International Clients | Best For Personal Time Management | Best For Large Teams With A Good Budget |
Buying Guide & How We Rate The Tools
Booking tools are like shoes: each one has a unique style that appeals to a specific audience. But fear not, we've done the legwork for you and curated a list of tools based on four common dimensions that matter to everyone. These are:
Ease of use: Because who has time for a clunky booking tool that takes ages to learn? We've rated each tool based on how quick and easy it is to use, so your team can hit the ground running and increase productivity in no time with no scheduling conflicts.
Integrations: We've evaluated how well each tool can integrate with other popular tools and online calendars, so you don't have to overhaul everything just to make a booking tool work.
Value for money: We all work hard for our money, so we've looked at the scheduling features and additional features each tool offers, compared them to the price tag, and evaluated what you get for the price you pay.
Customization: We've rated each tool based on how much freedom they give you to customize your booking page according to your personal style or company branding.
Note: low scores aren't always bad.
Remember, each online scheduling tool has its specialty. Whether you're a large enterprise or a one-person show, the key is to find the combination of features that work best for you. So without further ado, let's dive into our mini-reviews of each tool.
The 9 Best Scheduling Apps Of 2023
1. YouCanBookMe (YCBM)
A scheduling platform that offers rich booking page customization options and auto-adjusts booking page language based on region, making it perfect for individuals and small teams who rely on client bookings and work across borders and time zones.

Read more about YouCanBookMe
2. Calendly
A powerful scheduling tool designed to simplify scheduling for large people-facing enterprises. Offers advanced features like workflow automations, automatic time zone detection, and integrations with multiple online calendars.

3. SimplyBookMe
Designed for healthcare enterprises. Offers customizable booking websites, HIPAA compliance, and a built-in CRM system to manage patient information.

4. Square Appointments
An all-in-one scheduling and payment solution that offers AI chatbot/assistant, automated text and email appointment reminders, and integrated payment processing with Square, Visa, Mastercard, and Discover.

5. Doodle
With an intuitive interface, easy group polling, and integrations with Google Meet and Zoom, Doodle is ideal for teams looking to schedule recurring group meetings and collaborate across different time zones.

6. OnceHub
A comprehensive scheduling and lead generation (and qualification) tool with a workflow builder, chatbots, and call routing to optimize the sales process. Also integrates with popular CRMs like Salesforce and HubSpot.

7. Setmore
Offers automatic confirmation, reminders, and follow-ups with secure online payments, 40+ native integrations, and one-click appointment bookings. Free for up to four users and a good choice for solopreneurs and educationists.

8. Google Calendar
With drag-and-drop functionality and automatic syncing across devices, it's best for those who prefer scheduling within the Google ecosystem and need an easy-to-use interface for collaboration and scheduling.

9. Clockwise
A smart calendar assistant that helps you manage time better with features like focus time scheduling, automatic rescheduling of meetings, and detailed productivity insights.
1. YouCanBookMe — Best Overall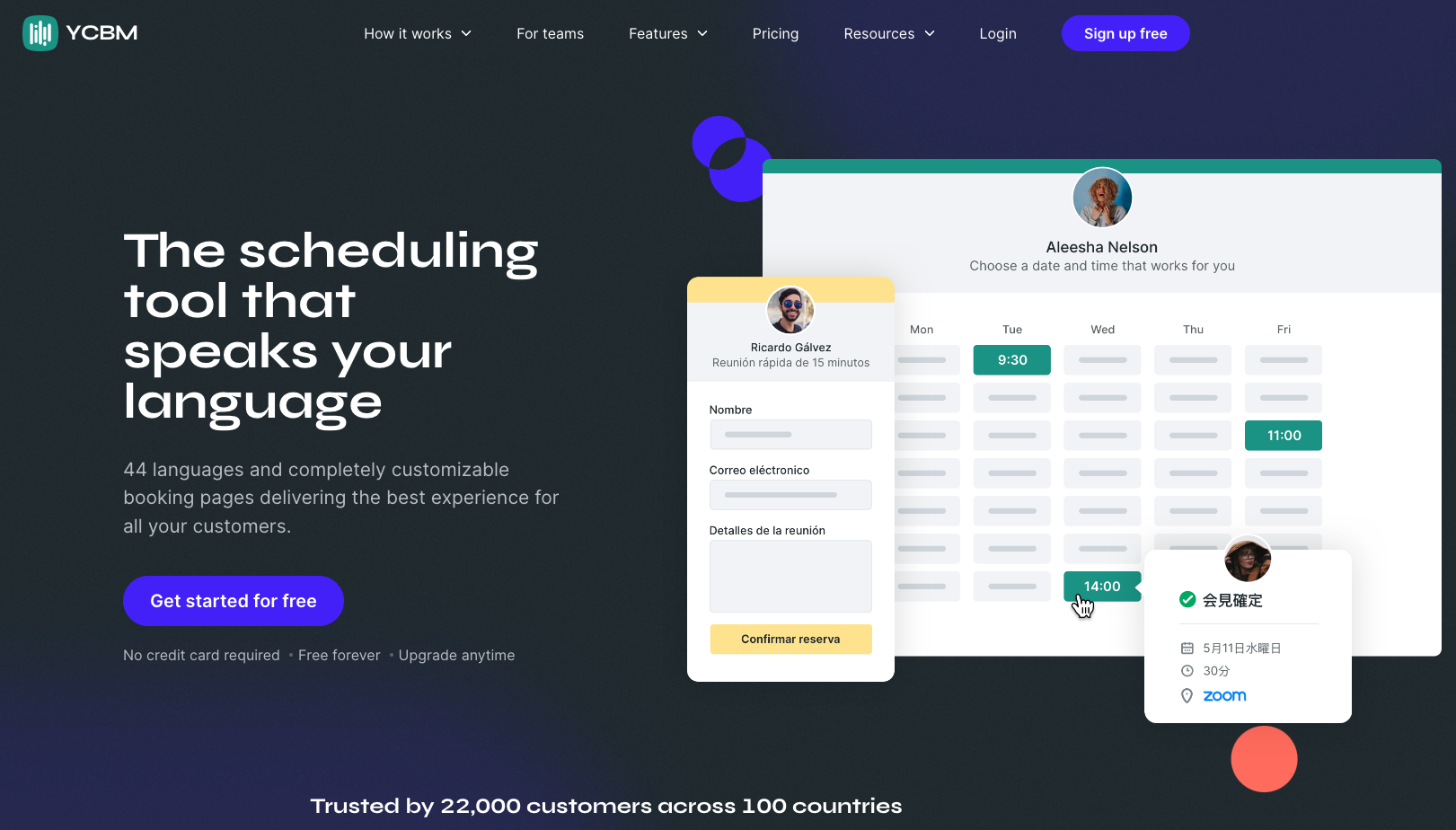 Ever feel like you need a personal assistant just to manage your schedule? Bridget and Keith Harris certainly did, which is why they founded YouCanBookMe in 2011 — to simplify the chaos and make scheduling a stress-free experience.
Whether it's your brand or the tone of your email notifications, YCBM makes it easy to create the best and most personalized scheduling experience for your customers. Whipping up a new booking page is easier than ever with YouCanBookMe's pre-set templates and non-modular workflow, which centralizes your front and back-end booking page configurations in one place. But what really sets YCBM apart is its ability to support translated booking pages in up to 44 languages, including Chinese and Hebrew.
All these features make YCBM excellent for individuals and small businesses working across borders and in different time zones.
You don't have to take our word. Check out this interactive tour to get a feel of our lighting-fast booking process.
Pros

Cons

Extremely customizable
1,500+ third-party Zapier integrations
Auto-adjusts language based on region
Pooled availability for teams
Seamless scheduling across time zones

Only supports stripe for payments
No analytics
YouCanBookMe Features
Let's take a look at features that make YCBM stand out from other scheduling platforms on the market:
Rich Booking Page Customization Options
With YouCanBookMe, you can customize your booking page to the fullest. You can choose a booking color from a rainbow palette (1), add a footer with a website or social link (2), and use the Markdown toolbar to stylize your booking page text and insert a logo.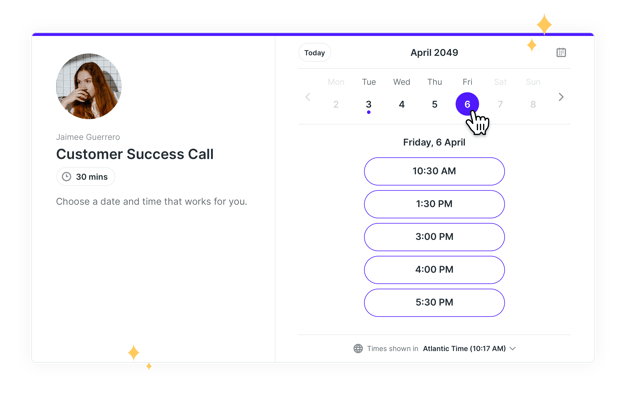 Auto-Translate Booking Page
YCBM will automatically create fully translated booking pages based on your language settings, for French, Portuguese, Japanese, and Spanish teams. It also supports translated pages in 40 more languages, including Hungarian, Arabic, and Chinese. That enables both individuals and small professional services teams to offer a seamless global service.
Automate and Customize Email and SMS Notifications
YCBM allows you to fully automate email and SMS notifications. This means you can set up events that trigger these notifications. For example, you can automatically send a confirmation email to your bookers after a booking is made and an SMS reminder one hour before the meeting to avoid any possible no-shows.
In addition, you can fully customize these notifications with block quotes, text style, hyperlinks, and images. You can also personalize them with mailmerge tags that insert meeting details based on what the booker chose.

YouCanBookMe has the widest range of notification options, including follow-up and no-show notifications. And automated accept/reject emails.
YCBM Pricing

Unlike other scheduling tools, YCBM charges per connected calendar — not per user. This means anyone not taking bookings, won't be charged. There are no pricing tiers. One price gives access to all their paid features.
Use YCBM if:
You want to offer a completely personalized booking experience.

You work with clients or teammates who speak different languages and could use automatically translated booking pages.

You're looking for a tool with a rich set of features and a short learning curve that's super easy to get started with.
2. Calendly — Best Alternative For Large Teams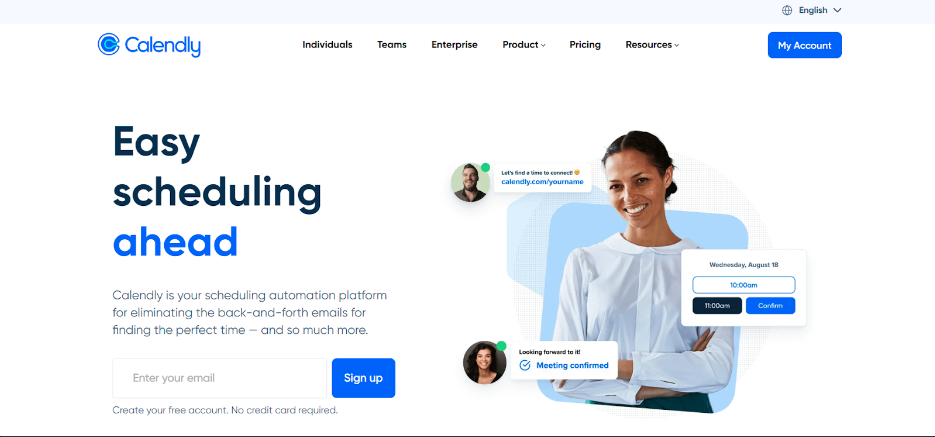 Calendly Overview
Sales call scheduling can be a nightmare, especially when working with prospects in different US time zones. That's exactly what inspired Tope Awotona to create Calendly in 2013 and save everyone the headache of endless back-and-forth.
It offers advanced features like workflow automation, has 99+ native integrations, and lets you remove its own branding from booking pages to make them look highly professional. However, it has a modular workflow, meaning it may be awkward to set up and use for individuals and small teams (but very useful for large ones).
Some other Calendly features include:
Create mutiple scheduling links for different appointment types and durations
Streamline meetings with automatic time zone detection, round-robin meetings, and reminders,
Two-way sync with Google Calendar, Outlook, and iCloud.
Given Calendly's range of impressive features and pricing, it's a good option for large enterprises that rely heavily on scheduling and have a good budget.
Pros

Cons

Customizable booking pages
Advanced workflows for enterprises
Integrations with multiple calendars
Reporting dashboard

Pooled availability only on advanced plan
Tier-based pricing with locked features
Expensive compared to competitors
No override controls
Calendly Pricing
Calendly charges per user seat, so it gets expensive quickly if you have a large team. Especially if you consider that it charges $20/ user per month for the "team" plan that enables collaborative features. However, the "pro" plan (shown in the chart) fulfills most users' needs: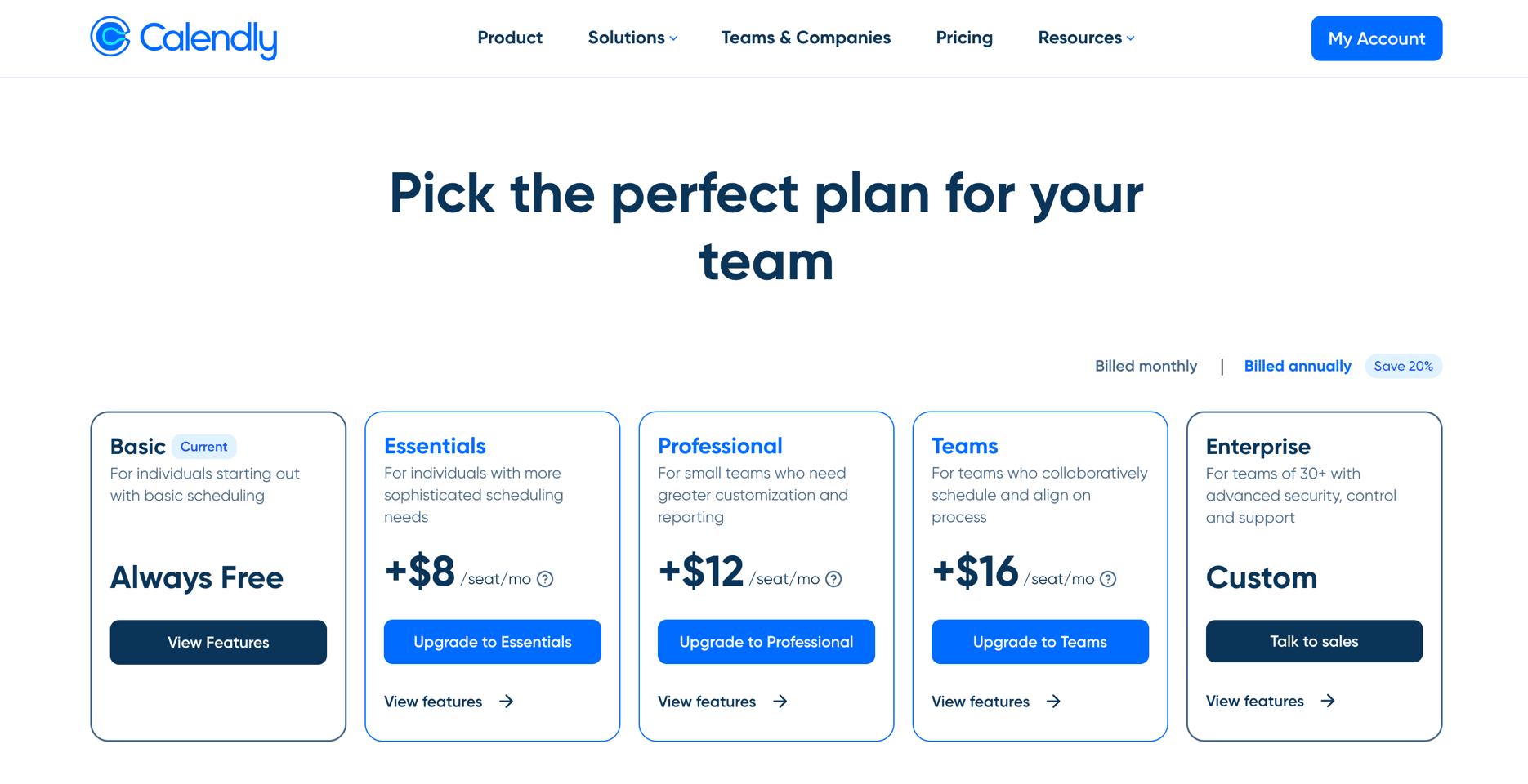 Use Calendly if:
You're looking to build automated workflows for scheduling meetings.

You want to integrate a scheduling tool into a CRM tool like Salesforce.

Your team requires advanced security and booking controls, and budget is not a constraint.



3. SimplyBook.me — Best for Medical Offices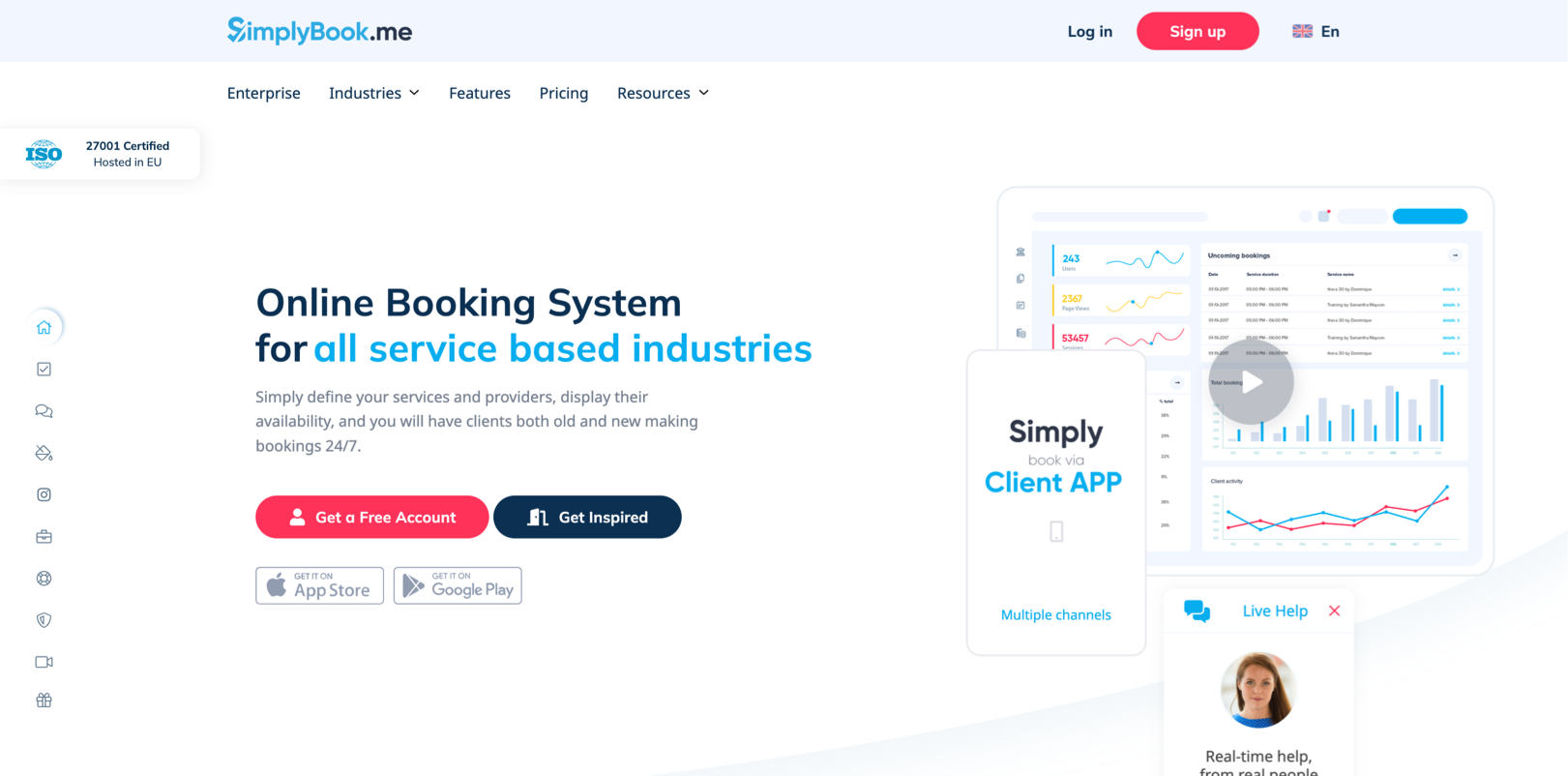 SimplyBook.me Overview
SimplyBook.me was founded by Ingvar Gudmundsson in 2011 with the goal of creating an online booking system for service-based enterprises like health organizations.

It offers customizable intake forms, appointment tracking for clients, report generation, and mobile app access for on-the-go appointment management, all while keeping your accounting on track.
Some of its top features include:
Ticket generation for medical testing,
Personalized, brand-specific booking pages,
Multi-language support for booking pages and emails using Google Translate,
Built-in CRM system to manage customer information and track booking history.
This makes SimplyBook.me an excellent scheduling tool for healthcare enterprises and medical offices — especially those looking to streamline their appointment processes and reduce the constant back-and-forth between patients and providers.

Pros

Cons

Administrator view
HIPAA and GDPR compliant
Activity dashboard and daily/insights report
Integrates with multiple calendars and CMS

Limited customization
Complicated pricing structure
SimplyBook.me Pricing
While SimplyBook.me's value-packed paid plans start with the basic plan at $8.25/month (billed annually), but expect to pay more because extra bookings and SMS packages can add up, increasing the overall cost.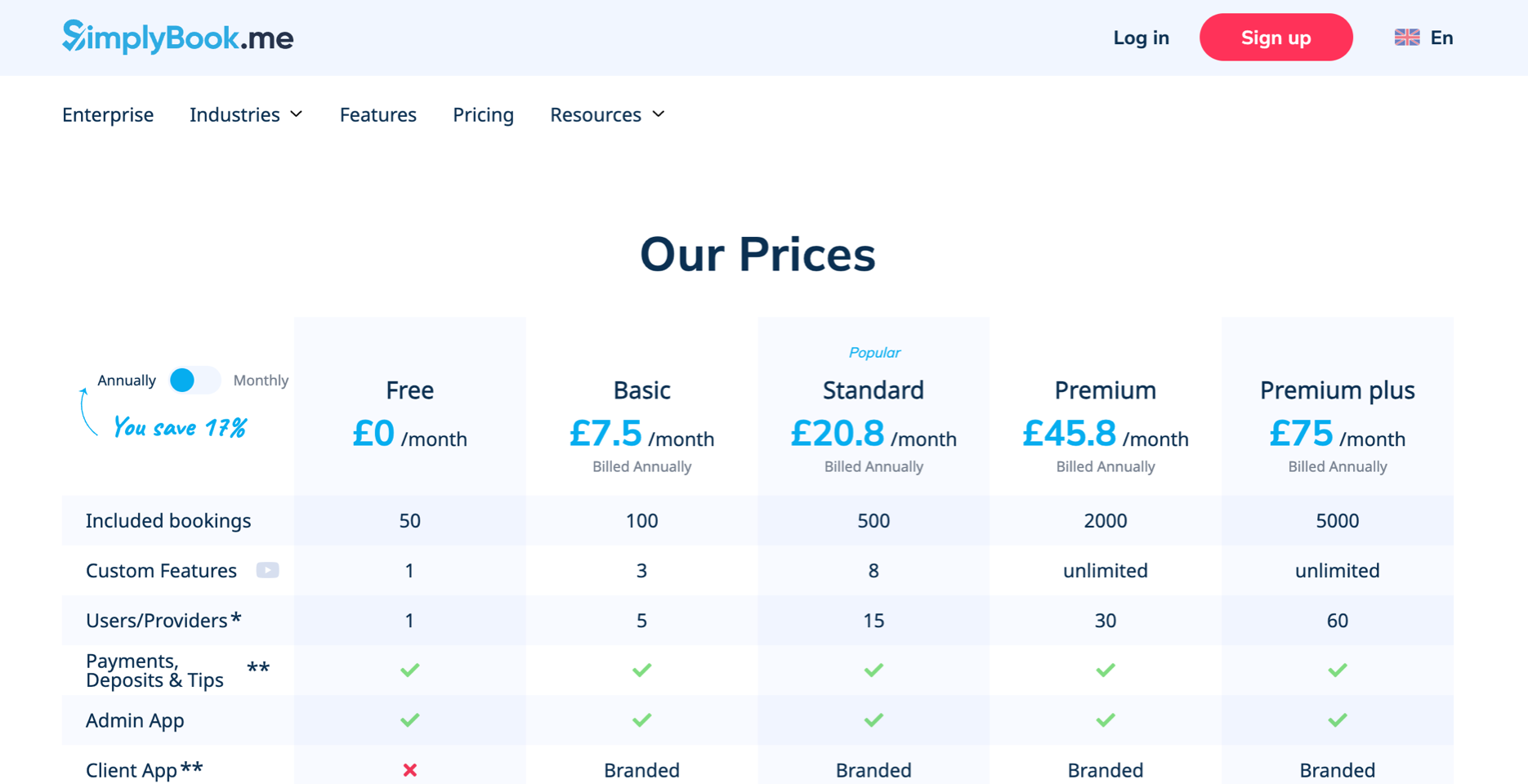 Use SimplyBook.me if:
You need to streamline the patient booking process for your medical enterprise.
You handle sensitive patient data and need a scheduling tool that's HIPAA-compliant.
You want to save time by using one tool to keep track of scheduling, accounting, and patient information.
4. Square Appointments — Best for Multi-Location Service-Based Businesses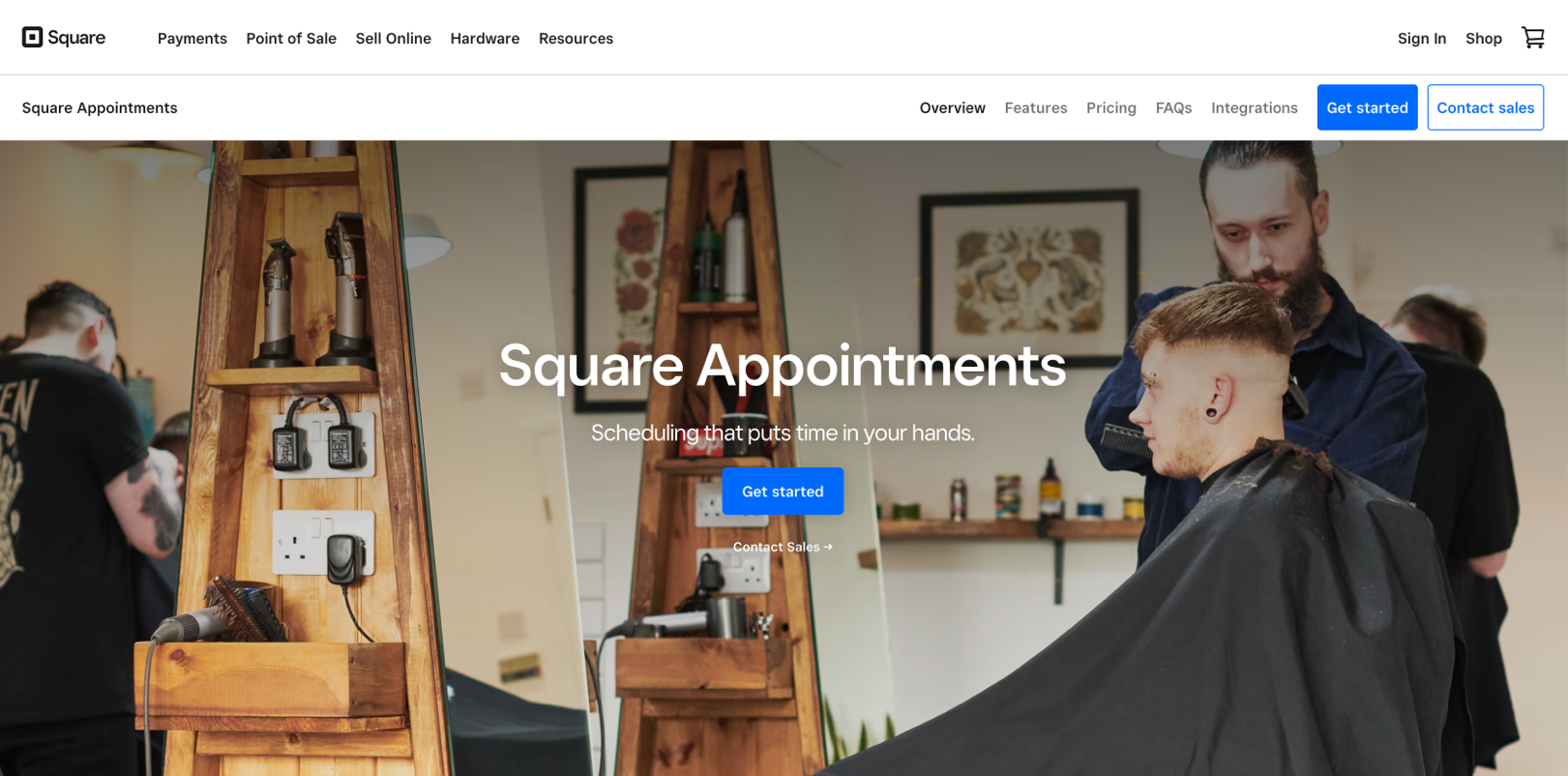 Square Appointments Overview
Launched by Twitter's co-founder Jack Dorsey in 2014, Square Appointments is aimed at service-based businesses like hair salons, personal trainers, and spas.
Some of its features include:
Free invoice generation capabilities,
An AI assistant that handles customer queries,
Mobile access through the Square Appointments app,
Automated appointment reminders via email or text message,
A customer directory that helps you track client satisfaction and feedback,
Integrated payment processing with Square, Visa, Mastercard, and Discover,
Client management tools, such as tracking customer history, importing existing customer data, and auto-creating customer profiles using customer notes.
All these features make Square Appointments ideal for service-based businesses looking for an all-in-one solution for scheduling, payments, and customer management.

Pros

Cons

AI chatbot/assistant
Detailed reporting and customer tracking
Excellent mobile app for Android and iOS
Integrated payment including point-of-sale payment options

Limited customization
Expensive
Square Appointments Pricing
Square Appointment pricing is location-dependent, meaning you'll have to sign up for at least the Plus plan if your business operates from multiple locations. It also charges processing fees on all transactions made through the app: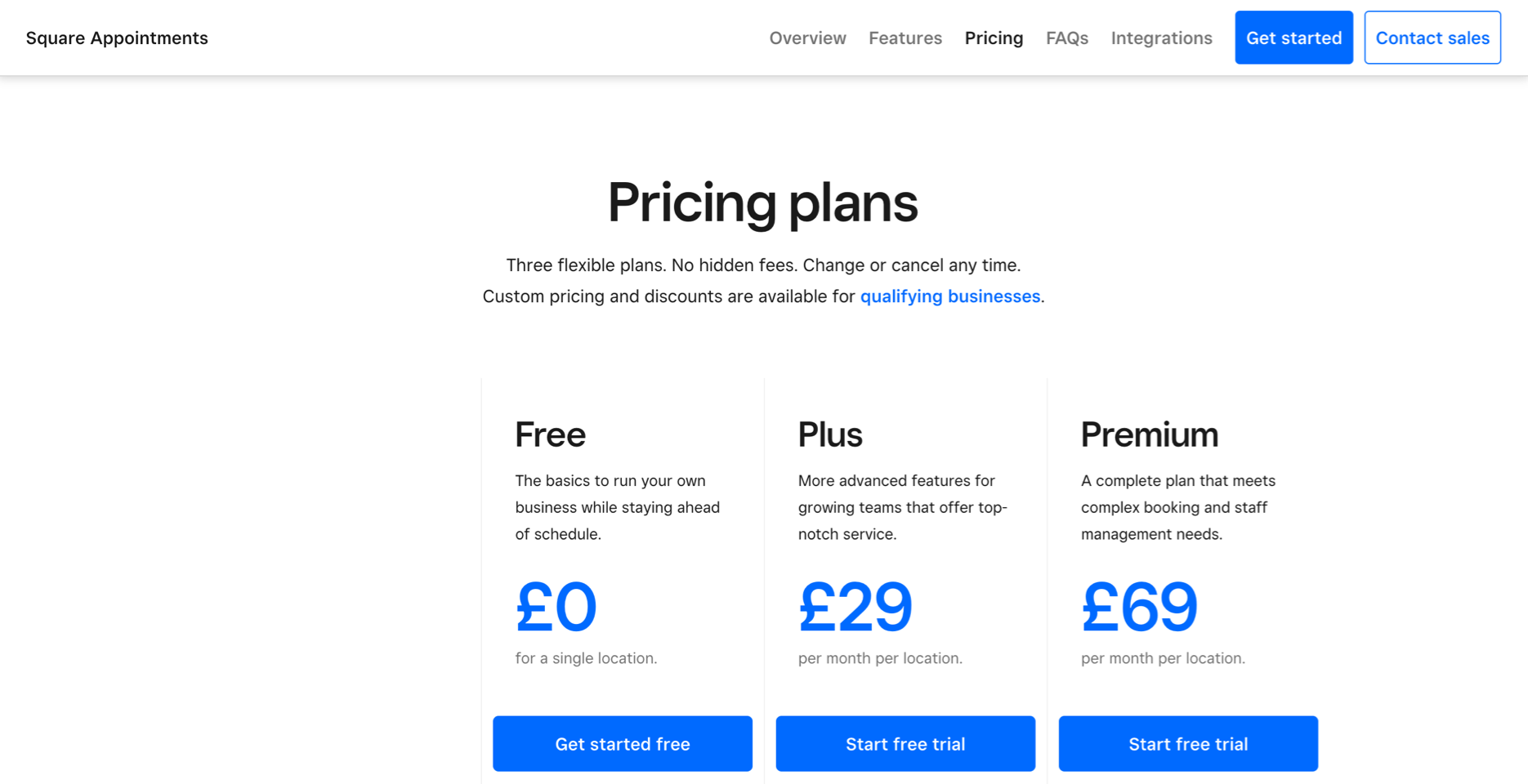 Use Square if:
You're looking for an all-in-one scheduling, customer management, and payment solution.
You want to keep an eye on stock counts when making appointments.
You are a service provider with multiple locations
5. Doodle — Best Alternative for Group Meetings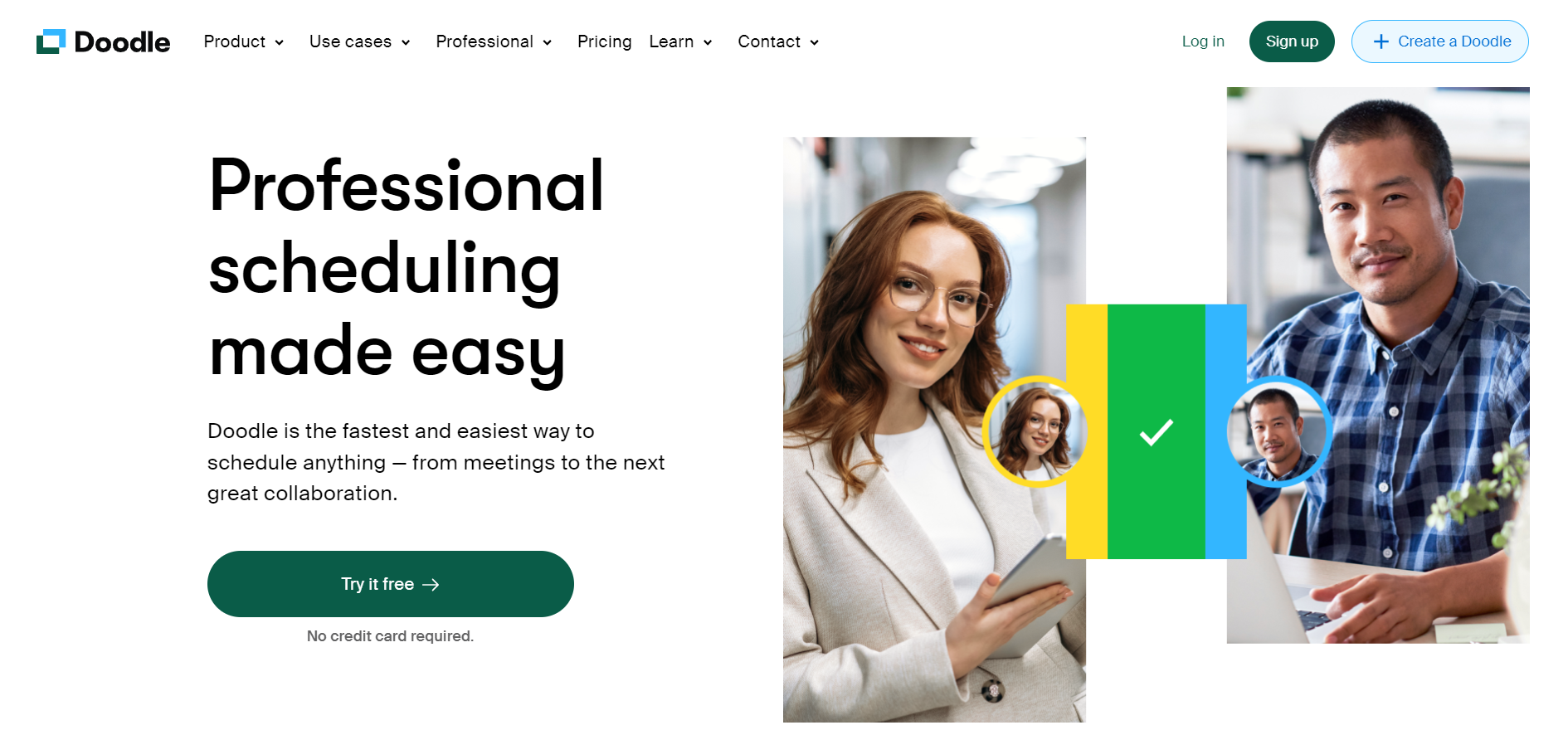 Doodle Overview
Frustrated with his inability to coordinate schedules with his colleagues and clients, Michael Naf launched Doodle in 2007 to make booking appointments with clients easier. Within three years, Doodle was a go-to scheduling solution for over six million users.
Doodle enables you to:
Meet on Google Meet and Zoom via native integrations,
Easily set up group polls to find a date and meeting time,
Use the admin console to book appointments on behalf of clients and ensure collaboration across the board,
Calendar syncing with Google Calendar, Microsoft Office 365, Outlook Add-in, and Microsoft Exchange.
With its focus on group polls, Doodle is the best scheduling tool for teams that are always struggling to find a suitable time for internal meetings.
Pros

Cons

Free forever plan
Easy to use and intuitive interface
Excellent group meeting setup
Integrations with Zoom and Teams

Limited poll customization
Prominent Ads on the free version


Doodle Pricing
Doodle's pricing starts at $14.95/user per month for the "Pro" plan, which is steep compared to other options on the market. But Doodle's advantage is that it has a very generous annual subscription (50% off!).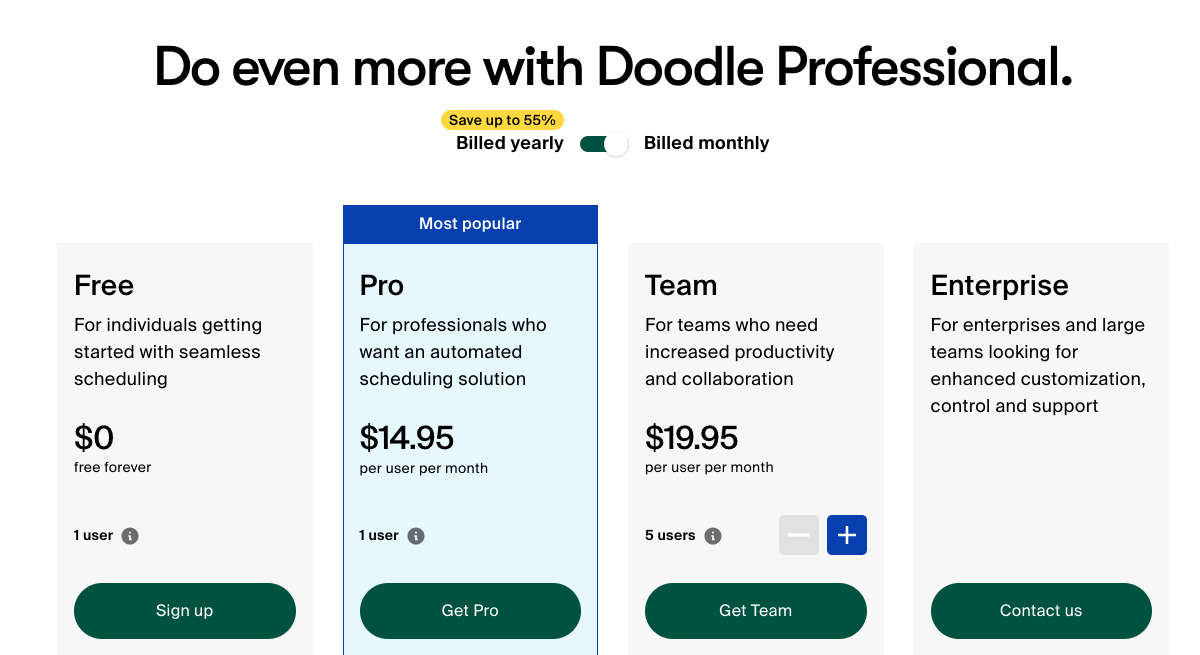 Use Doodle if:
You need an easy way to enable multiple people to co-host events.
You regularly schedule recurring group meetings with your team or clients.
Your team members live in different time zones and can benefit from automatic time-zone adjustment.
6. OnceHub — Best for Lead Qualification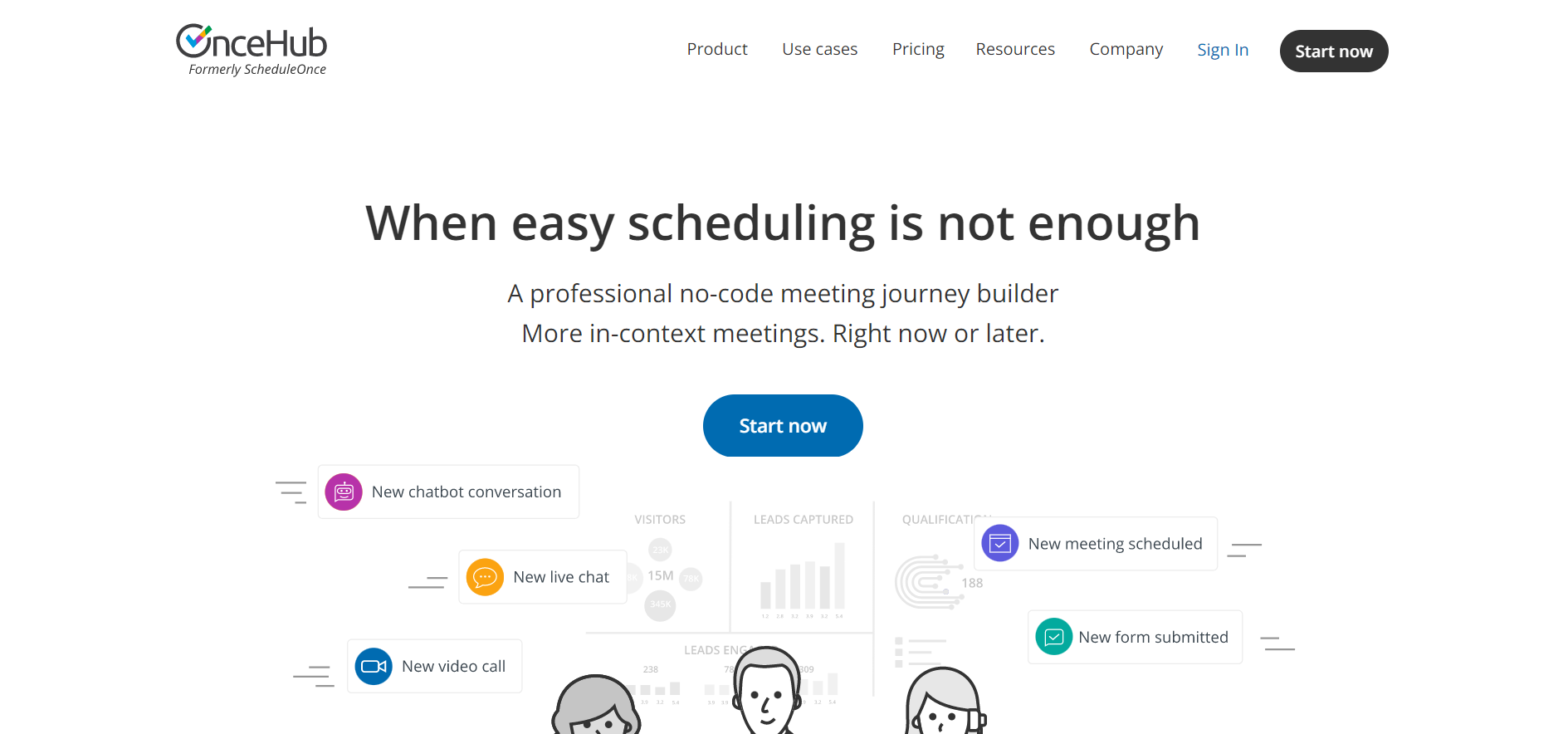 OnceHub Overview
Founded in 2006, OnceHub was created by Rami and Gilad Goraly to streamline appointment scheduling and enable businesses to optimize their sales efforts.
Some of its features include:
Workflow builder to create forms and chatbots,
Advanced reporting to refine the sales process,
White-label branding to personalize the booking experience,
Integration with CRM systems like Salesforce and HubSpot,
A no-code journey builder to guide prospect down the sales funnel,
Chatbots to ask screening questions, answer FAQs, and gather contact details,
Call routing to the right individuals or teams based on real-time availability.
Given its focus on optimizing and capturing leads, OnceHub is an ideal option for B2B, e-commerce, and service-based businesses that want to qualify prospects before meeting with them.

Pros

Cons

Free plan
Excellent scheduling automation
Comprehensive workflow builder
Analytics dashboard and activity stream

Steep learning curve
Ad-ons get expensive
Complex UI
OnceHub Pricing
OnceHub's plan for free appointment scheduling for up to three users is generous, but no CRM integration means you'll need the Growth plan to make the most of it. The $12/user per month cost makes it average when compared to other tools' affordability.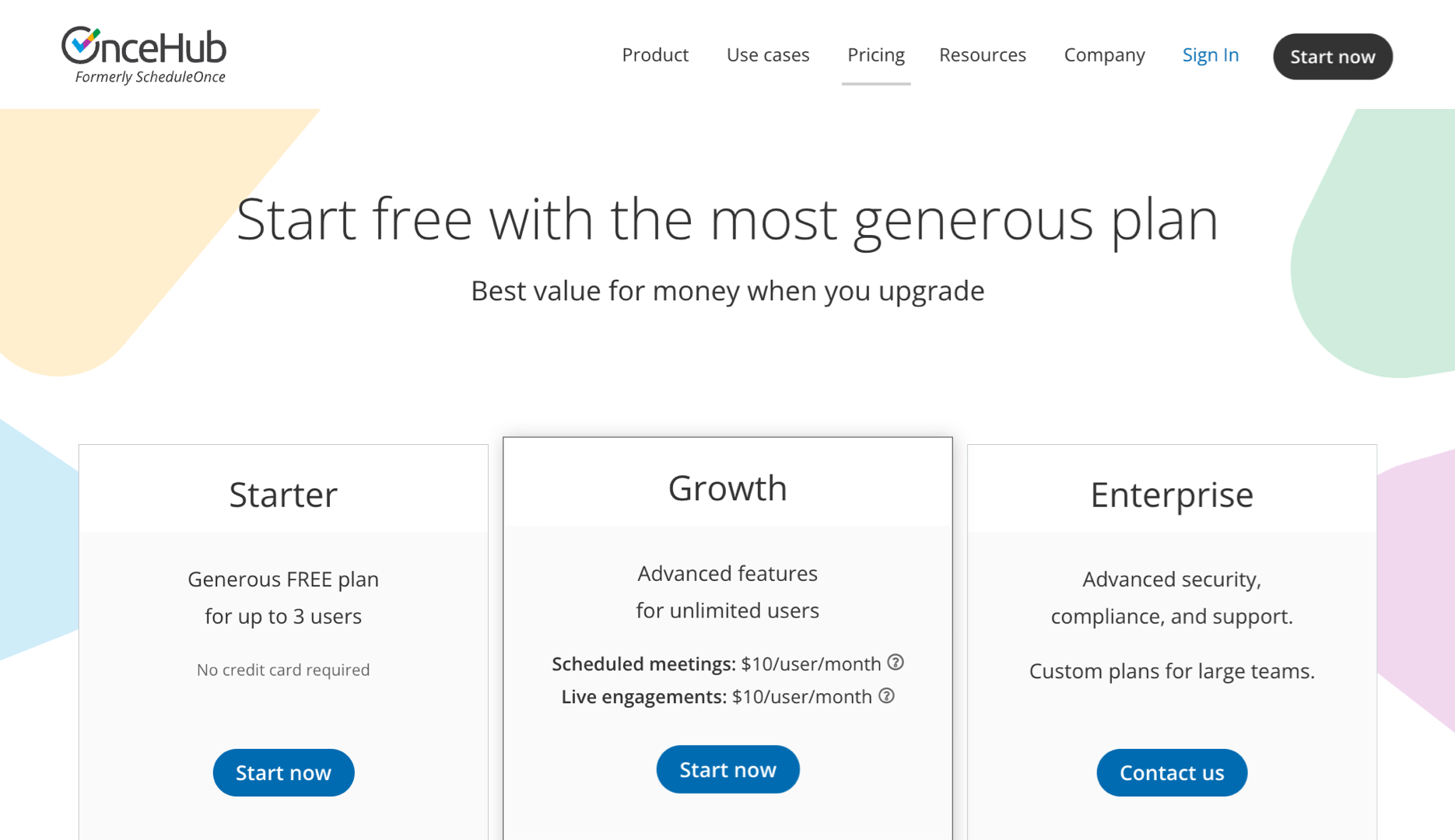 Use OnceHub if:
You're looking to automate scheduling, lead qualification, and customer engagement at once.

You want to natively integrate scheduling with your CRM systems.

You need advanced reporting to gain insights into your sales process and optimize performance.



7. Setmore — Best Tool for Online Classes and Webinars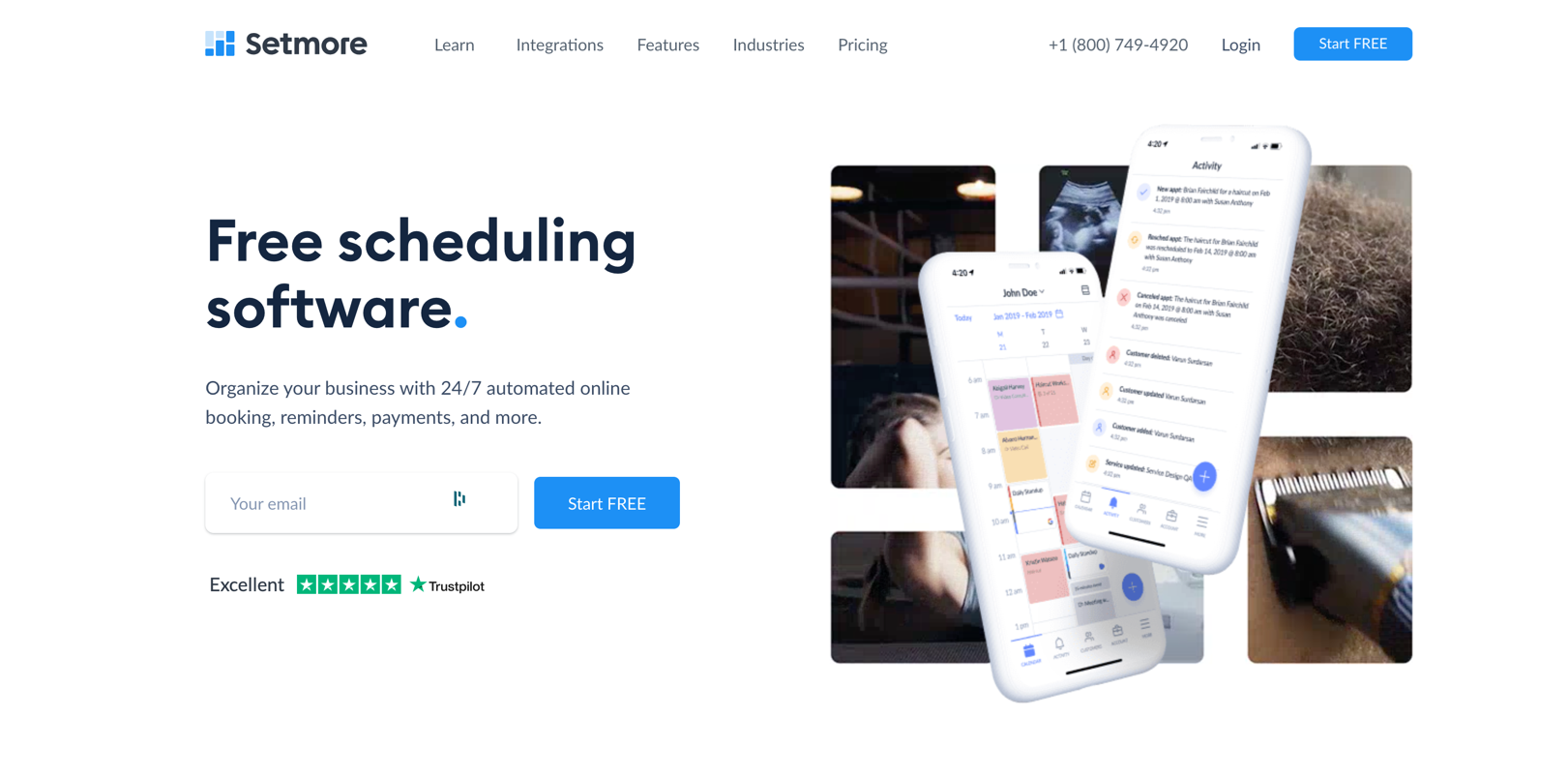 Setmore Overview
Founded in 2011, Setmore was created with a simple goal: to provide an elegant and user-friendly solution for booking and scheduling appointments.
Some of its features include:
One-click appointment bookings
Customer review streaming on booking pages
Automatic confirmation, reminders, and follow-ups
Secure online payments with Stripe, PayPal, and Square
Calendar syncing with Google and Office 365 across multiple devices
Appointment booking via social media, content management systems, and CRM software
40+ native integrations with tools like Squarespace, Shopify, Zoom, QuickBooks, and Gmail
These features make Setmore ideal for solo business owners, coaches, educators, and customer-facing businesses looking for an easy-to-use, customizable online scheduling tool to manage their appointments and classes.

Pros

Cons

Free for up to four users
Excellent mobile and desktop apps
Advance contactless payments
Around-the-clock customer support

Limited reporting and analytics
Cluttered scheduling form
Setmore Pricing
While Setmore's free plan offers some premium features and unlimited appointments, you're limited to 100 email reminders/month and Teleport video conferencing. So, if you're a Zoom or Google Meet user, you'll have to upgrade to a paid plan. It starts at $12/user per month but the annual subscription knocks that down to $5.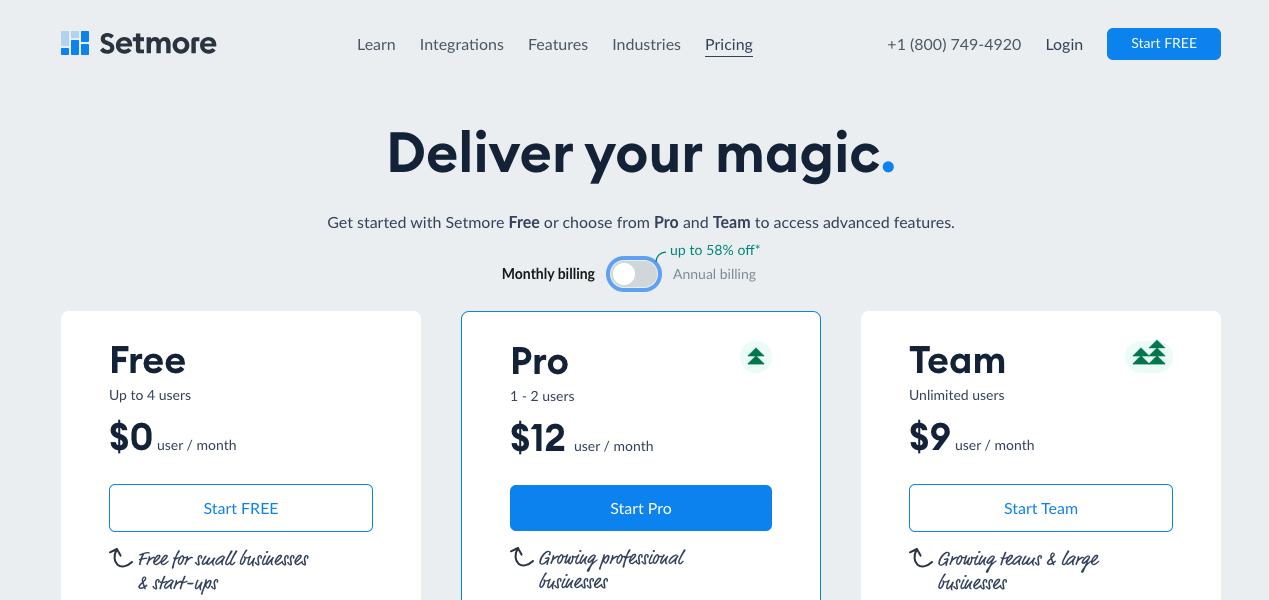 Use Setmore if:
You're looking to automate your scheduling process but have budget constraints.

You offer classes, webinars, and training sessions and need a tool that supports recurring appointments and group bookings.

You work with clients in different time zones and want to offer them the ability to self-schedule at convenient times.



8. Google Calendar — Best for Working with the Google Ecosystem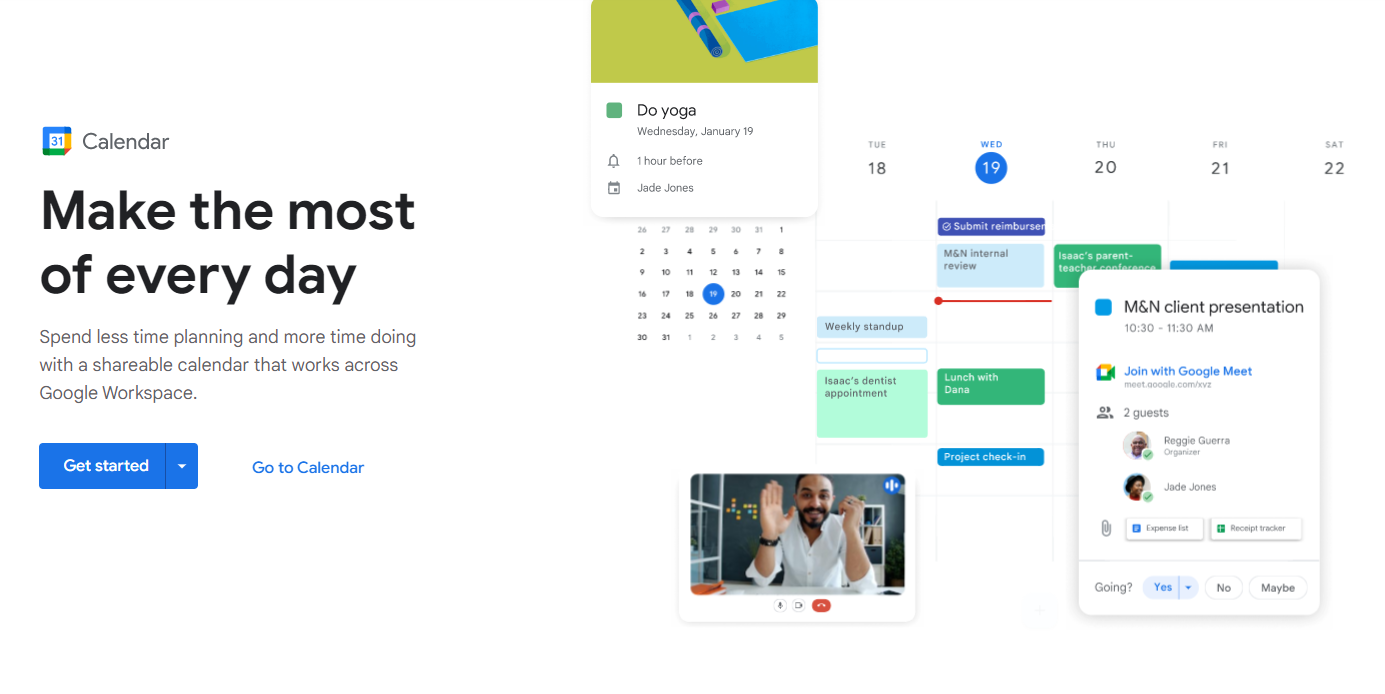 Google Calendar Overview
Google Calendar was launched in 2006 to make it easy for Google users to manage their schedules and keep track of important meetings. Google Appointment Scheduling was introduced recently, within the Google Workspace.
Some of its features include:
Seamless integration with other Google services, such as Gmail, Google Meet, and Google Drive
Unlimited calendars
Easy-to-use interface with drag-and-drop functionality
Smart scheduling based on machine learning algorithms
Ability to create multiple calendars and share them with others
Integration with third-party apps like Zoom, Trello, and Slack
Since Google Calendar works so well with other Google services, it's best for people who want to schedule while staying within the Google ecosystem.

Pros

Cons

Integrates well with other Google tools
Automatic device sync
Collaborative calendar sharing
Automatic reminders and alerts

No way to accept payments
No good for Microsoft Services users
Limited customization
Google Calendar Pricing
Google Calendar comes in the package with the Google Workspace subscription, making it very cheap.
Use Google Calendar if:
You rely heavily on Google services like Gmail and Google Drive for your daily workflow.
You need to integrate multiple calendars from different sources, such as work and personal calendars, into one master calendar.
You need a tool that syncs with your CRM to keep your business contacts organized and up-to-date.
9. Clockwise — Best Alternative for Focused Work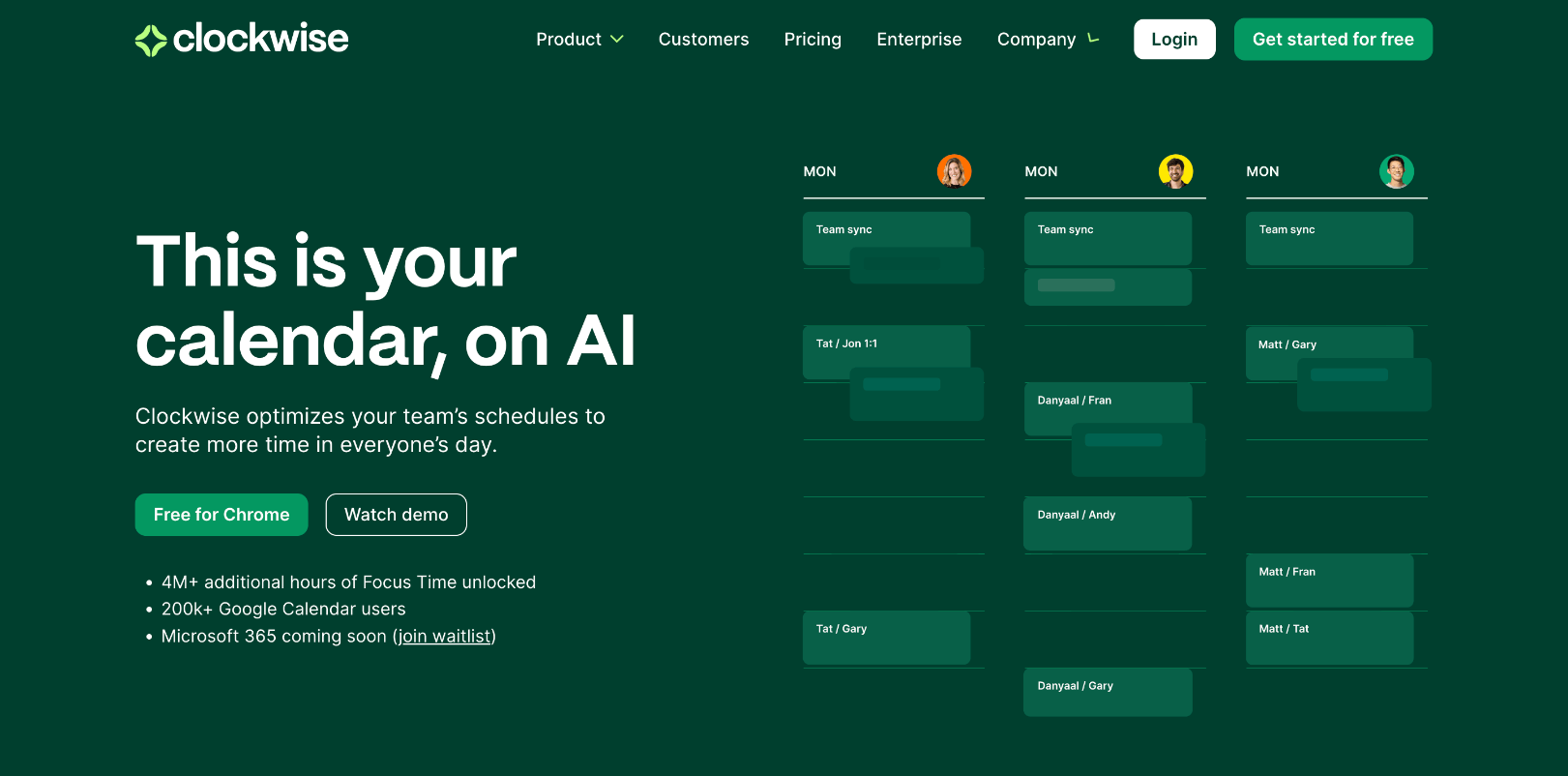 Clockwise overview
Founded in 2016 by Gary Lerhaupt and Matt Martin, Clockwise is built on the belief that time is our most precious resource. It is a smart calendar assistant that helps you manage your time better, so you can focus on what matters most.
Some of Clockwise's special features include:
Smart calendar scheduling that blocks off time for focused work and lunch breaks,
Automatic rescheduling of meetings to optimize your (and other participants') schedules,
Insights and analytics on how you're spending your time,
Integration with Google Calendar, Microsoft Outlook, Slack, Zoom, and Asana
These features make Clockwise ideal for professionals and teams looking to create more time for uninterrupted work, optimize their productivity, and coordinate seamlessly between multiple schedules.
Pros

Cons

Excellent customer support
Detailed insights and analytics
Automatic rescheduling reports
Daily meeting agenda

Limited external collaboration
Supports only Google Calendar
Clockwise Pricing
With paid plans starting at $6.75/user per month (billed annually), Clockwise is one of the most affordable scheduling tools on this list. However, if you're looking for advanced calendar controls and access to at-a-glance analytics, you'll need to subscribe to high-tier plans.
Use Clockwise if:
You're looking for a scheduling tool that prioritizes focus time by blocking off your calendar and minimizing meeting disruptions.

You want to optimize your schedule with automatic rescheduling and smart time-saving features.

You want detailed insights and analytics on how you're spending your time on client appointments and how to improve your productivity.



The Final Verdict
So, which is the best online scheduling app of 2023? Well, each tool we've discussed above is "the best" for its intended use case.
Keep in mind that you can always take advantage of free trials and test all of them to figure out which one suits you best.

But based on my experience, here's what I recommend:
For individuals, small teams, and professsional services business owners looking to create highly personalized, multilingual booking pages: YouCanBookMe
For individuals looking for an app that helps with personal time management: Clockwise
For large enterprises who can afford to pay a high price for complex features: Calendly
Subscribe to our newsletter
Get productivity tips, news, articles and resources.
Written by
Mihael Cacic
Mihael Cacic is an independent writer and an expert in comparative content. After graduating from Physics, Mihael left his job as a software engineer developing SaaS products and began writing about them instead. He gets a kick from writing in-depth and objective software reviews, knowing his readers will find the best software for their needs.