Meet with anyone, anywhere
Virtual meetings booked through our online scheduling tool let you:
Schedule in seconds and reduce travel time to zero
Meet with your customers more frequently to build stronger relationships
Remove all scheduling friction by allowing customers to book straight into your calendar without any back-and-forth messaging
Hold more productive meetings by using tech to collaborate on documents, share presentations, and run polls or surveys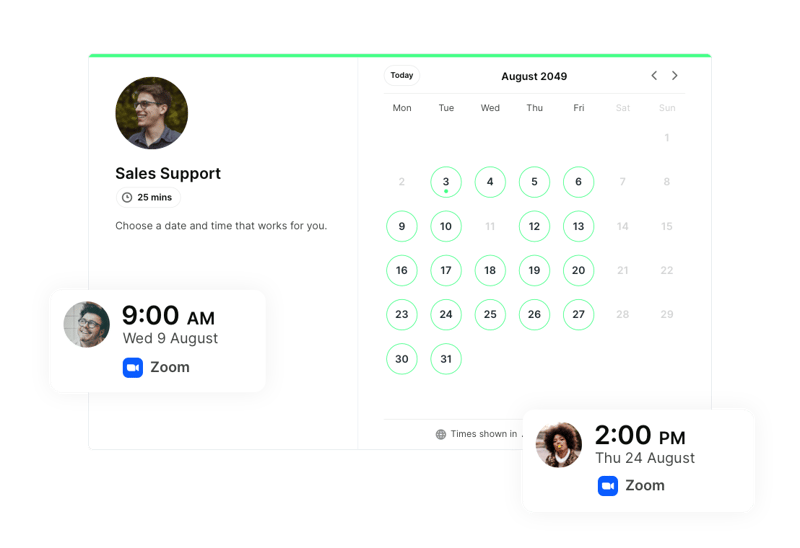 YCBM integrates with three of the most popular video conferencing platforms
Zoom
Reduce scheduling friction by connecting your Zoom account. YCBM will automatically generate unique meeting links for you. Set Zoom as your meeting location to instantly add the link to your calendar event. Use the Zoom shorthand code to include the link in your confirmation, reminder, and follow-up emails.
Google Meet
If you are an avid Google Calendar user, integrate Google Meet to streamline scheduling using your favorite tools. YCBM will generate unique video links for every remote meeting and add them directly to your calendar.
MS Teams
For those working within Microsoft 365, integrate MS teams to seamlessly connect your preferred tools with your online schedule. YCBM will instantly create unique video chat links for every virtual meeting you book.
Video conference links for group bookings
See the difference YCBM's virtual meeting solution has made for companies and individuals across various industries.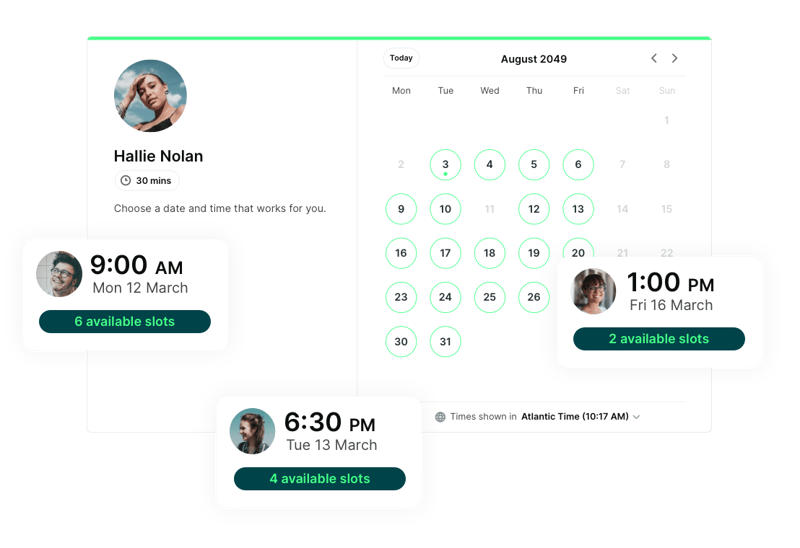 Check out why our users love these features
Thousands of people have already simplified their online appointment scheduling with YouCanBookMe.
It makes it easy for candidates to book phone and video interviews with our team. If they need to cancel or reschedule, they are able to do this on their own. We have completely eliminated the back and forth time-waster of everyone needing to check their schedules for availability.
Its simplicity means I save a lot of time on back and forths with people to agree a time slot, set up video call, share calendar invites. Very friendly interface, both for administering the system and for people making bookings, along with a reliable service and integration with a good range of standard services.
You can customize the emails that are automatically sent to people who book appointments. A Zoom link is automatically created in case you are organizing a videocall and is also automatically sent to your clients. I love that this app automates so many tedious processes.
I have saved hundreds of emails and time. The interface with calendars makes it easy for the meeting to actually happen. When I don't use YouCanBook.me I have a high no-show rate. I love the zoom integration that happened in 2020, which makes everything so much simpler. I also just coded the site for in person or virtual options, which was very easy for a non coder.
Because so much of my job is virtual, meetings have to be scheduled remotely. The time involved in tracking down students, parents, administrators, and other key stakeholders can be excessive. YouCanBook.me automates the process in addition to adding meetings to calendars, sending reminder emails, etc. The amount of people who miss a scheduled meeting has gone down dramatically since I started using this program.
Its easy to sync it to google calendar and have all meetings lined up well in advance. It syncs to zoom too which is great for virtual meetings.