How we're reducing the friction for better online scheduling
We've listened to feedback about what we can make easier, faster and better.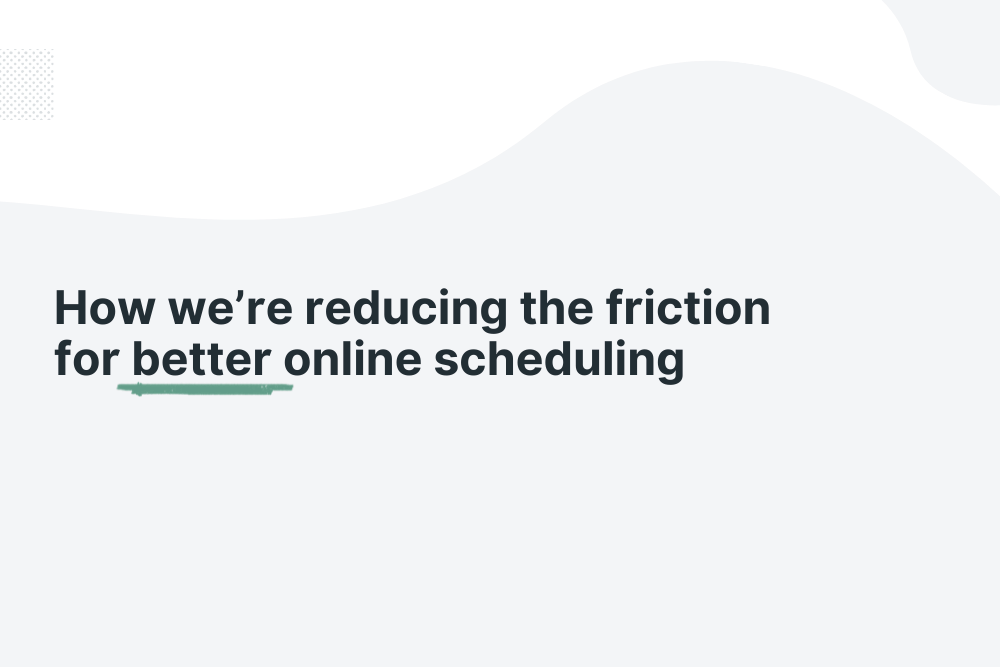 Our product updates in 2018 focused mainly on simplifying the way you interact with YouCanBookMe.
We took away many of the extra steps and friction points to help make getting set up and managing your account easier in lots of ways.
Community Forum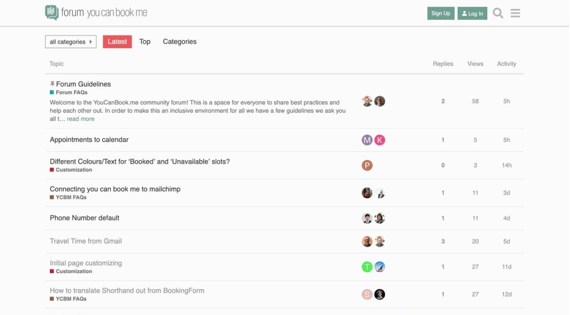 We're really excited about our new Community Forum.
We have an award-winning customer support team that always has your back.
But we know that in some cases, you prefer finding the solution yourself.
That's why we added the Community Forum as another way to get answers to your questions, discover best practices, and provide support to others in the YCBM community.
It's a space for everyone and we encourage you to check in regularly for the latest posts.
Preview and Availability
One of the most important aspects of setting up your YouCanBookMe account so you can get started with online scheduling is setting your availability.
It makes sure your page displays your available times exactly the way you need it to.
We know it can be challenging when you're in your account settings to check how things will look so we've updated the Preview page.
This means improved preview visibility, better general usability, and better support across a number of device sizes.
Availability Diagnostics
Even with the better Preview, it can sometimes be unclear why your availability isn't showing correctly. So we've introduced Availability Diagnostics.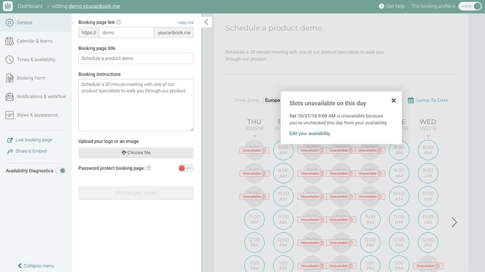 This can be switched on as part of your booking page Preview.
It gives you better insights into why certain times might not be showing as unavailable so you can troubleshoot it in your calendar.
Is it an event in your calendar that is set to 'busy' and is blocking your time? Maybe you haven't set a specific day or time to show as available in your settings.
Or maybe you already have an event in your calendar for that time and day.
The Availability Diagnostics tool will point you in the right direction so you can fix the issue and get back to taking bookings.
YCBM labs
Availability Diagnostics can be found in YCBM labs.
This is the place to be if you want to be one of the first to try out our new features! We add them here before they're officially released.
It's easy to turn the features off and on, and you can provide us with feedback on the features you try - helping us shape the future of YouCanBookMe!
New Dashboard and Folders
A recent new feature to come out of Labs is folders.
If you've got a large number of booking pages on your account dashboard, this is one you're going to love!
You can organize your folders any way you like so you can easily access the ones you need when you need them.
This is just part of a full dashboard revamp we've done this year.
The new layout makes managing, searching, and filtering booking pages easier than ever.
Reschedule limits
You can now set reschedule limits in your settings.
It is included with the cancellation limits.
You choose how many hours before the booking a customer can cancel or reschedule.
And you can edit the message your customer sees if they do cancel or reschedule so every communication fits the situation.
Shorthand code widget
A great way to keep your communications feeling personal is by using shorthand codes.
They are a powerful way to make all your emails and SMS specific to each meeting.
Our new widget lets you easily populate email and SMS templates with common or custom shorthand codes you have created on your booking form, all with a few clicks.
Email and SMS templates
If you're not sure how to get started making those communications feel personal, try out our templates.
They cover the most commonly used notifications and have ideas for best practices in different situations.
Easily populate your emails and SMS messages with our suggested actions.
Easier and faster to share and embed your booking page
We've improved the way you embed your booking page into your website, signature, and more with our new embed modal.
A few clicks get you the code you need for your site, Wordpress, or social media so you can start offering online scheduling faster and in more ways.
Consistent booking pages with templating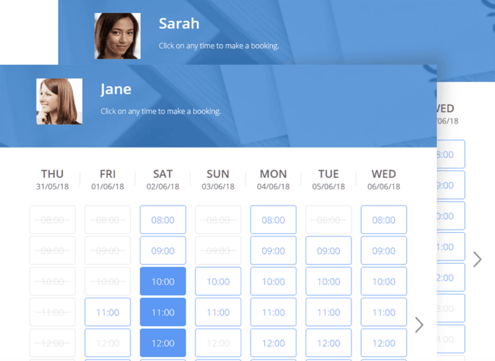 We've also introduced templates for your booking pages.
This means you can help your team set up their booking pages quickly with page templates.
Master accounts can now create a branded default template booking page which will be applied to all new booking pages on team accounts.
Delete bookings from your booking history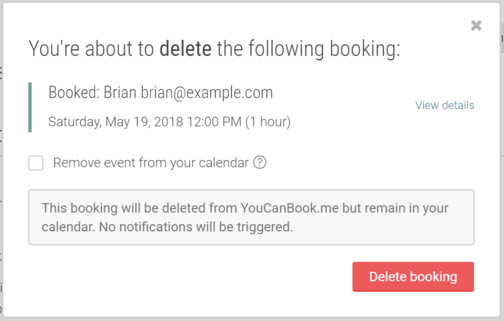 We've improved this feature and brought it to the newest version of YouCanBookMe.
Now you control what data you keep in your account, with an easy way to delete old bookings and customer data.
You can opt to remove the event from your calendar, as well as your bookings data.
Complete control over your booking data retention
And speaking of deleting bookings, with the onset of GDPR regulations, it's now incredibly easy to control the data we hold.
You can decide how long we hold your booking data in our system.
By default, we hold this data for 2 years, but you can edit this to be as long or as short as you want.
Add password protection to your booking pages

For security on your booking page, we've introduced password protection. You can control who views your booking page with password-protected pages.
Only bookers you give the password to will be able to make a booking.
Odds & ends, bits & bobs
Finally, we've made some more general UI tweaks and improvements.
These include how fixed and flexible duration is shown and the addition of progressive inputs within the Times & availability settings.
We've also updated the layout for editing booking form questions and we've moved the export bookings option to be front and center of the bookings page - making it easier and faster to export your booking data!
We've improved the visibility of account information, ensuring you are kept in the loop about anything involving your account, including any potential problems and how to prevent them.
Subscribe to our newsletter
Get productivity tips, news, articles and resources.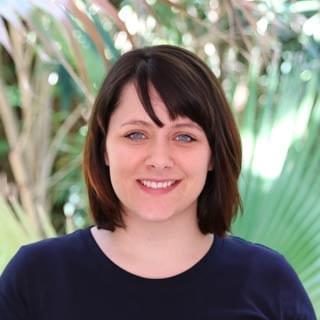 Written by
Kayleigh Bingham
Kayleigh is a Product Manager at YoucanBookMe. She's passionate about putting our customers at the center of everything we do. Pen and paper in hand, and never far from some post-its, Kayleigh is always working on ways to add more value to our product.