Hybrid work: the impact on life in YouCanBookMe's hometown
Hybrid work is the way forward. If it's good news for you, can it also be good for your home town? We asked around YCBM's HQ in Bedford, England.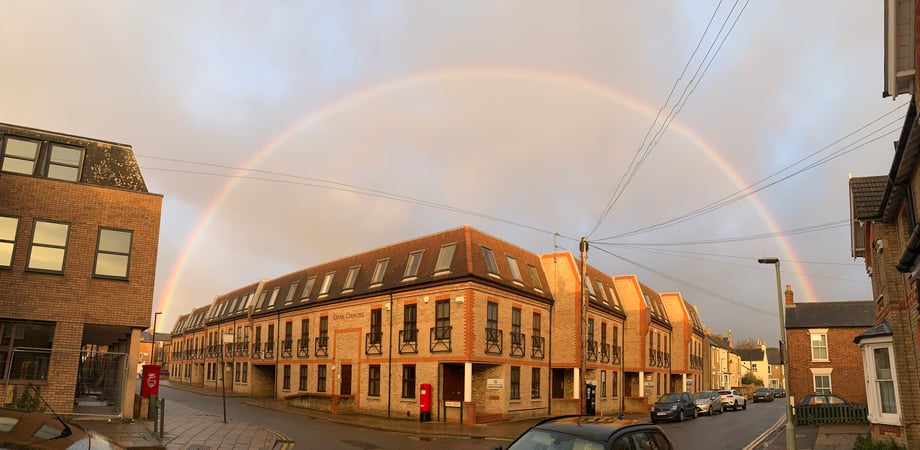 US-born Kelsey Tucker is sounding remarkably upbeat. Business, she says, has never been better.
Along with her Bedford-native husband Simon, Tucker started up the Gallery café in early 2019.
They styled the space (formerly Delices, under Lurke Street car park) beautifully.
Simon's sister Gemma moved up from London and launched The Arc in the adjoining space where the Art Centre was, around the same time.
"We had one year of trading under the new name and menu pre-Covid - in fact, we had just taken our staff out on our first annual celebration. Then, the pandemic hit, and we had to shut down."
Kelsey says, "we are now doing leaps and bounds more than pre-pandemic levels of trade, we have a massive lunchtime 12-2 pm rush, lots of suits from local businesses. I'd say the cafe is twice as full overall as it was pre-pandemic. A lot more people sitting at work with their phones and laptops. We're also seeing people buying more food to take away, suggesting they may be treating themselves as they work from home."
It's a similarly positive picture at another of Bedford's great town centre indie cafes, Vanilla Tree. Owner Tracy O'Hare says:
"We now have a massive lunch rush - it is definitely bigger than it used to be before the pandemic hit. From about 1 pm to 3 pm we are flat out. Our customers are mainly coming for their lunch break from local businesses in the area and business is good."
Twenty months into the pandemic that has changed the world, it seems only two things are clear:
Firstly, as the new Covid variant, 'Omicron' is showing, the pandemic is not done with us yet.
Secondly, the

ways we work and live have undergone some permanent change

.
The evidence seems to point to a long term shift happening.
So how has Bedford - one of the South East's major commuting towns - been affected?
With many commuters still choosing to work remotely, are they using local businesses more? Is the London exodus still coming this way?
We thought we'd check in on various key indicators in our town, and more broadly, to get a picture of what's happening - the news seems, with all the caveats required in these times - cautiously optimistic.
Change is definitely afoot.
Less of the Great Resignation, more the Great Reshuffle?
The UK Labour Force Survey (LFS) released this month by the Office for National Statistics, shows resignations and job-to-job moves in the UK are at the highest level in 20 years, but the new figures suggest the vast majority aren't quitting to follow their dreams (as the much-touted Great Resignation implies) - they're leaving their jobs in favour of another, probably quite similar, role.
1.02 million people moved to a job from another between July and September 2021, and 391,000 of these were resignations, the highest spike of both in the LFS's record.
The number of total job-to-job moves, and the number of resignations, are both up by a third on the previous quarter, and on the same period in 2019, pre-pandemic.
Remote work has undoubtedly created new job opportunities for some, offered more family time, and provided options for whether or when to commute.
But there are also challenges ahead. The software giant Microsoft published a report earlier this year on pandemic working patterns.
The 2021 Work Trend Index outlines findings from a study of more than 30,000 people in 31 countries It concluded remote working has meant teams have become more siloed and digital exhaustion is a real and unsustainable threat. Among the findings:
46% of workers planning to quit their jobs in 2021
Remote job postings on Linkedin have increased fivefold since Feb 2020
148% increase in the weekly meeting time for Teams users
40.6 billion increase in emails delivered between Feb 2020 and Feb 2021 (ouch)
Most interestingly of all, the report reveals a paradox. "Employees want the best of both worlds: over 70% of workers want flexible remote work options to continue, while over 65% are craving more in-person time with their teams. So, people want the flexibility to work from anywhere, but simultaneously crave more in-person connection."
For employers, the message is clear: a nuanced approach to the new concept of 'hybrid' work - some from home, some office-based - will be critical for attracting and retaining diverse talent.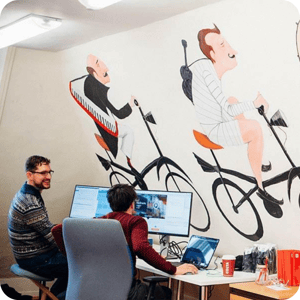 The latest study focused on the lockdown-imposed home-working experiment and the slow return to the office. The shift is backed up elsewhere. Future Forum, a research group backed by

Slack

, runs its quarterly "

Pulse

" survey of 10,000 knowledge workers alongside focus groups with their bosses across six countries, including the US and UK.

The findings were revealing:

More than three-quarters (76%) said they want flexibility in whether they work from home or the office. Executives are more than twice as likely to want to get back to the office full time—every single working day, just like in the "before times"—than their employees, with 44% of executives longing for their commutes and fluorescent lighting versus 17% of their staff.
The commute
So, are Bedford commuters returning to London offices?
At the height of the pandemic, between April 2020 and March 2021, travel from Bedford fell a staggering 78% according to figures from the Office of Rail and Road (ORR).
Just under 878,000 passengers used Bedford's three stations in that period, the lowest figure since comparable records began in 1997. 4.1 million travelled on trains in the area in 2019-20.
The most recent weekday passenger figures for Bedford are due at year-end, but Rail Delivery Group data shows that commuters (from anywhere) into London are returning to the office more slowly than in other UK cities, with only 41% of pre-pandemic train commuters now regularly back, compared with 54 per cent outside of the capital.
We won't know until well into 2022 what the true picture is.
The Bedford property market
Richard Banks, Director of Michael Graham, says the London exodus of people seeking more space for remote working shows every sign of continuing.
"Our website is still averaging around 2000 hits per month, currently 25% of all enquiries coming from within M25 - so London and Greater London area, compared to 10-15% three years ago, Big houses in Bedford and nearby villages are hot commodities. There are two lots of people we're dealing with - those coming from London, then also local people wanting to expand. They may still want to be able to commute but they're not commuting every day - may be just 5 days a month, and need more room. We're looking at a 12% increase in prices year on year, slightly above the national average. Life has changed a little bit for everyone."
A sense of community
There's no doubt that the pandemic has made many of us realize more than ever how important it is to be part of our local community - to play a more meaningful part in helping people in our neighbourhoods.
Bedford has community spirit in spades, displaying huge levels of charity, togetherness and empathy which has really helped people facing isolation and difficulty.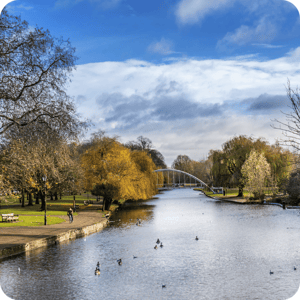 Kerry Cash, Salon Director at 5th Avenue Hair and Beauty Spa, says she has worked the phone non-stop during lockdowns to stay in touch with customers - not just to keep business buoyed up but to connect with people.
"It's so important to keep people motivated and hopeful. We just did our 25th-anniversary party. It was wonderful to see so many of our customers, we took every precaution to make it safe. We've worked really hard to keep our clients coming when it's been safe to do so. I'm always planning ahead in case things change, but we are very busy and I am optimistic."
Hair and beauty are a great bellwether for the general business spirit the world over. It is encouraging.
The Covid-19 era has upended all of our lives and lifestyles in one way or another.
For many Bedford-area people who've been remote-working their London jobs this past 18 months, a long commute now seems much less attractive, virus or no virus.
The enforced disruption of our old patterns has made us see how things might work differently - and that has got to be a good thing.
Has the pandemic made you want to change the way you work?
Has Covid made you think twice about how and where you work?

Check out YouCanBook.me's remote positions HERE
Subscribe to our newsletter
Get productivity tips, news, articles and resources.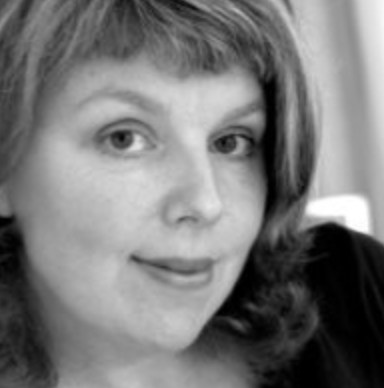 Written by
Charlotte Smith
Charlotte is a freelance writer and communications expert, who knows all about "BBC English" (she used to work for them). Having lived a very international life, fluent in German and French, she now calls Bedford home.