How to nail your conference talk: top tips from CEO Bridget Harris
Blow the audience away with your next talk. Follow these 8 steps to keep your viewers entertained, engaged, and off of their phones!

Bridget Harris
September 2022
4 min read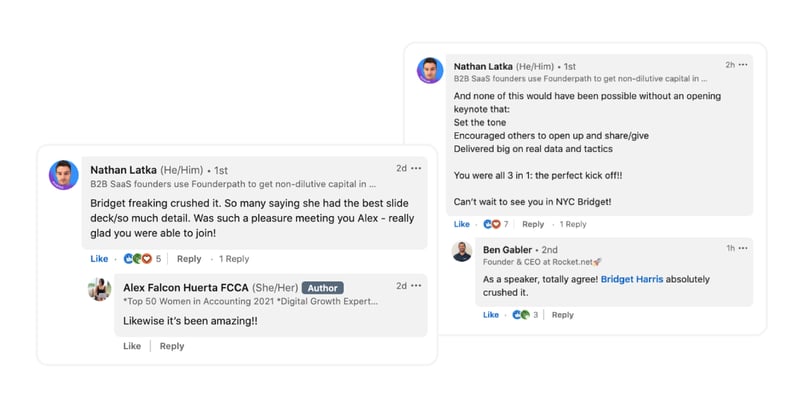 'nailed it' … 'freakin' crushed it' …. 'best slides'
When I read these about my talk at an entrepreneur's conference in Austin for #Founder500 last week, not only did I breathe a sigh of relief, but I allowed myself to feel just a little proud of myself.
I've got to admit - Nathan Latka and his team certainly put you through your paces if you sign up to be a speaker.
They send you sample designs, content that has to go in, suggested screenshots, and above all, data data data!
"Audience is going to love learning how you use these in real life!" he reassured me.
And he's right.
People sometimes pay $2-3k for a few precious days, to sit and listen to others to see what they've done, what they've achieved, and what are the key takeaways.
Attendees don't want ramble, or incoherence, or one slide with 35 bullet points in size 12 Times Roman.
They don't want to sit on one slide for 10 minutes. Nor do they just want a cheap sales pitch or something that feels like BS.
They want real, actionable insights.
They also want to be entertained - you can measure the success of your talk by how quick it is for someone to go back to sneak-scrolling on their phones.
So I don't take lightly the compliments for my talk on how we have grown youcanbook.me into a profitable business, and the many others I've given over the course of my career.
So I've decided to spill the (not very complicated) beans on how to deliver a good conference talk - what I think matters, and what are some simple rules to follow which means you will nail your next speaking opportunity.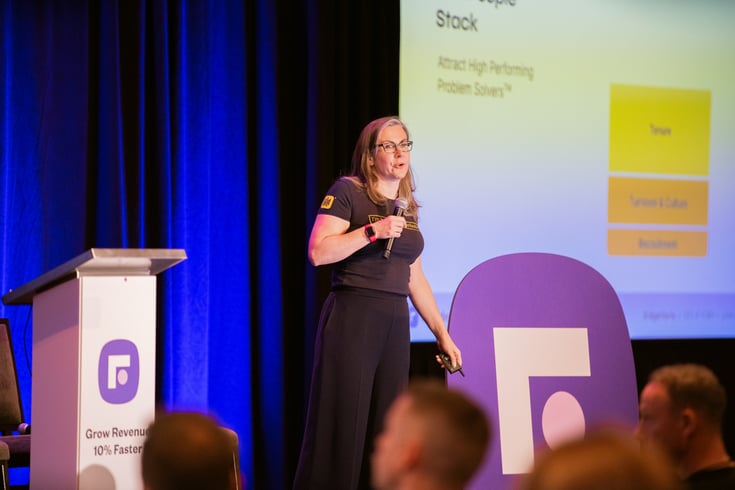 1. Slides, slides, and more slides!
My friend couldn't believe it when I said I had 60 slides for a 20-minute talk - 'that's 3 slides per minute!' She laughed.
But here's the reason:
When you are on stage, if you don't know exactly what it is you are going to say, I guarantee you will deviate, introduce a topic you didn't mean to talk about, and then add another 5 minutes to your talk.
People constantly wonder why it took them 35 minutes to deliver a 20 min talk - it's because they didn't control the narrative.
When I deliver a talk, I know that pretty much everything I say is punctuated by a transition. I might add in a bit of casual ad-lib based on what others have said during the day (I love bringing in 'live' observations) to illustrate my point, but I'll never deviate too far.
2. Nothing less than font 20
Oh my goodness. Enough with the bullet points and fonts and tables and copy and pastes. Really. Nobody should need reading glasses to see what you are saying. One or two lines, one or two words, you only have enough for a few things before you need to move on (see point 1 above) so keep it snappy. It's not a book.
3. Better still, a picture or a GIF will do nicely
I love using a silly picture or screen grab for a quick visual hit.
I like illustrations as someone can listen to what you are saying and stare at the picture and they are not trying to read and listen at the same time. When I'm preparing a talk, I will usually make 'long hand' notes on each slide until I'm really sure of the content and what I'm going to say, then I go through and replace slides with photos or graphics instead to really lift the presentation up (see point 1 above).
Don't forget it's usually going up on big screens behind you so you can really go to town and enjoy a full-screen hi-res image.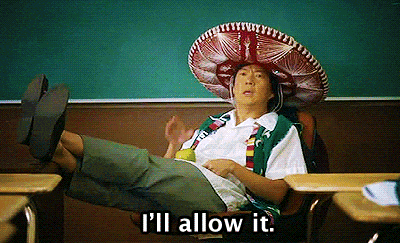 4. A chuckling audience is a happy audience
Or else you will make them go to sleep. I'm not saying I'm a stand-up (ok, I wish) but at the same time, if you are asking for someone's attention for at least 20 minutes, put yourself in their shoes and give them a break.
99% of jokes in Conference talks is in the timing (see point 1 above).
Making them laugh early on is ideal, as then you have their attention. They will then give you the benefit of the doubt, even if you are not going to make any more jokes, you might make another one. They'll listen.

5. Rehearse in front of people you know - you will see it through their eyes
Do not just rehearse in your head. You know what you sound like. You also skip a lot as you're already bored with your own voice. For big talks, I will ask half my company to sit through zoom call and listen to me. I will record it and share it. I will do it in the evening and make my family listen.
Their feedback is invaluable - stuff they didn't understand, stuff you realised you couldn't really nail - a few days before a talk I am always looking for slides to drop to make it tighter and smoother (see point 1 above).
If you can't get people who actually know and like you to listen - and for you to deliver for them, how are you going to do it to an audience of strangers?
6. Don't overdo it - point 5
That said, you still want to keep a freshness and happy 'oh hello, yes I just threw a few thoughts together' feeling when you deliver it - try and avoid going over it too much as you will lose your controlled spontaneity (see point 1 above).
But If you get a chance to stand on the stage and prep direct - that is ideal, as you can really prepare for what the space will feel like when everyone is staring at you.
7. Don't be surprised by your own slides
In our industry (Software / SaaS) we are always telling ourselves that last minute firefights / rollbacks / pivots / sprints / MVPs. So we get pretty good at winging it.
It does mean a lot of unscripted decisions, where we are trying to minimize the burden of unproductive planning. But this should not be the rule for a conference talk (see point 1 above).
If you find yourself 'throwing some slides together' the morning of your talk, you will not speak as well.
It's like learning a tune - once you know it, you can add improvisation, emphasis, and arrangement. If you are stumbling through slides you've only just thought of, you will be umming and ahhing your way through with no time to add that freshness that will keep an audience's attention.
8. Seven lessons is quite enough
Hah hah! Structure is everything. Say what you are going to say, say it, say you've said it.
So there you have it - my top tips for nailing your conference talk. Follow these rules and not only will you give the audience what they want, but you will also really enjoy it!
Good luck - and let me know how you get on 😊
Bridget Harris upcoming talks
Speaker, Founder500 Sept 2022
Speaker, SaaStock Dublin, Oct 2022
Speaker, Running Remote, April 2023
Subscribe to our newsletter
Get productivity tips, news, articles and resources.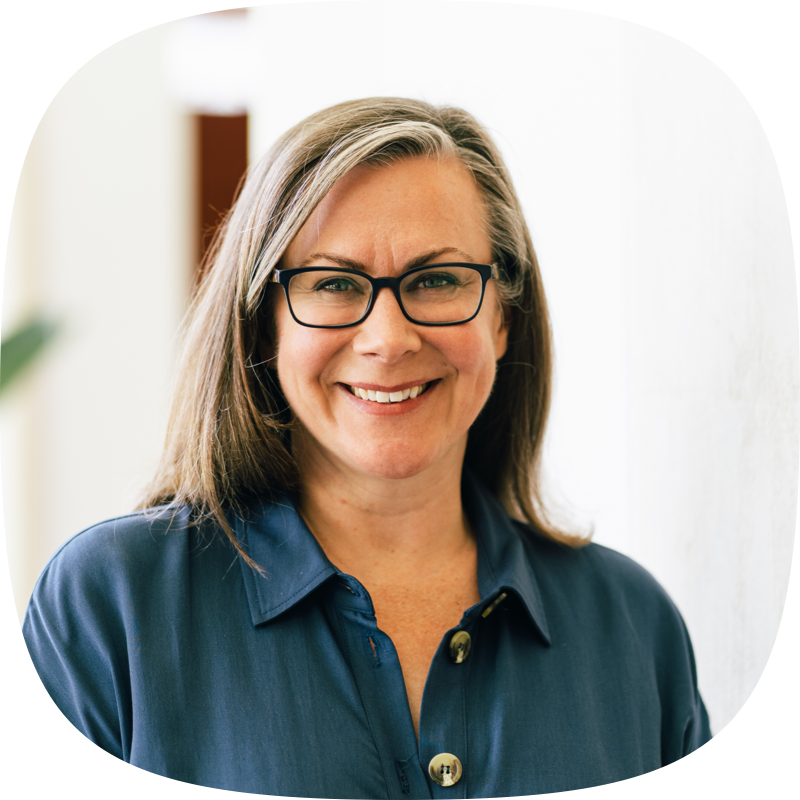 Written by
Bridget Harris
Bridget is CEO and co-founder of YouCanBookMe. She believes passionately in the power of technology to solve any problem. Bridget credits her earliest jobs, working in a pub and busking with her fiddle in the London Underground, with teaching her everything she needed to know about the risks and rewards of being an entrepreneur.