5 Top methods to motivate a remote sales team
The best remote sales team is a motivated remote sales team. Keep your employees happy and satisfied by using these 5 methods (with the best tools) to get the job done.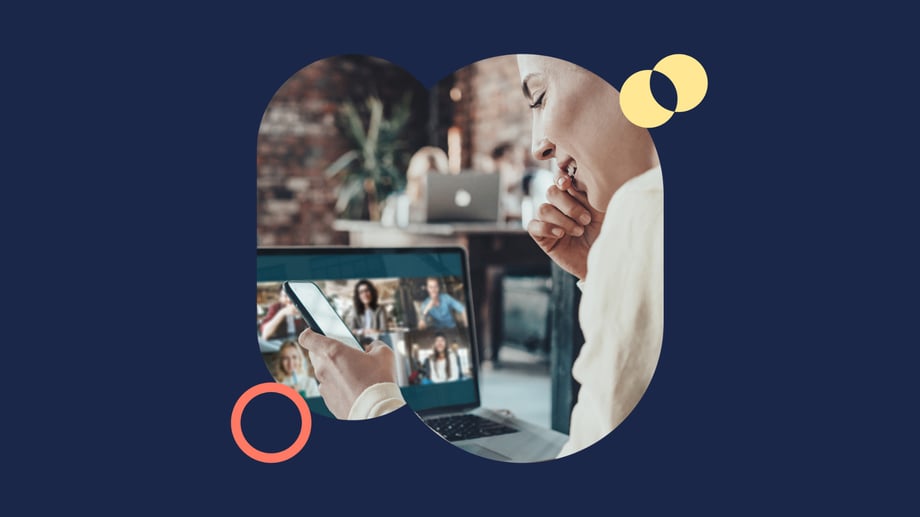 Remote teams are no longer a rarity or a novelty. Many companies in the world are going remote at least partially, especially since the pandemic. Some businesses have returned to traditional work mode, but many decided that the perks of this method of work are too good to miss out on.
Still, this is a relatively new concept for many. As a result, companies are not informed on how to motivate their remote teams properly. Remote work does not allow managers and leaders to see their team present in the office every day, which is why they must take different approaches to manage, communicate, and motivate their remote teams.
While not every company is able to have a remote team, those working in the sales industry sure can. In this article, you'll learn how to motivate your sales team properly and make your business run smoothly.
Why it's important to motivate your remote team
According to Stanford University research, remote workers are 13% more productive than those that work in an office. With the advent of WiFi and new tech, they are now able to work from any location and enjoy a life-work balance like never before.
That's just one perk, though.
If you hire a remote sales team, you get a much, much wider pool of candidates to choose from. You can pick qualified experts from all around the world, ask them to join your team, and work entirely remotely from any location.
Salespeople in particular are often interested in doing their work remotely. They can travel frequently to meet clients, work from the comfort of their homes, and enjoy highly flexible schedules.
However, for these benefits to become a reality for you and your team, you need to motivate them. Your task as an employer is to find a way not only to communicate but also to connect with your remote team. Otherwise, they'll feel disconnected from your company, fail to understand the goals and expectations, and will often be distracted from doing their work.
Best ways to motivate a remote sales team
Finding motivation - and keeping it - in remote work environments can be a big challenge for remote sales teams. Many of these sales professionals are used to face-to-face communications. Now that online support and sales are more in demand, your business needs to work with motivated, eager employees that will serve your customers to the best of their abilities.
That being said, we'd like to introduce you to the 5 best ways to motivate your remote sales team.
1. Use employee performance tracking software to provide a roadmap for professional growth
It's not easy to keep track of the work of people that are far away and do this regularly. If you want to do this right and create personalized guidance based on individual performance, you need excellent employee performance tracking software.
An automated software solution will provide you with accurate information on each member of your team, as well as your team in general. You can use this to motivate your team by rewarding them for their accomplishments, creating growth plans based on their performance, and more.
Leapsome can help you create meaningful performance reviews that are beneficial for everyone in your company. You can use these reviews to align every team member around the mission of your company, and foster a sense of belonging.
Remote teams that aren't acknowledged can easily lose focus or motivation. Thanks to employee performance tracking software, you can continuously check in on your team, boost their engagement, and support their work. On top of this, your managers will have the right information necessary to lead the team effectively, so it's a win-win.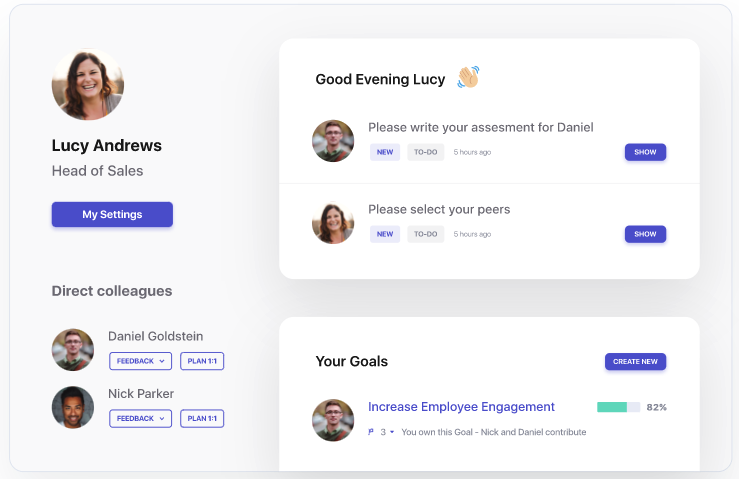 Thanks to such tools, you can measure your team's performance across a variety of competencies and skills. You can easily find the skill gaps and allocate your training budget in the right place. Essentially, this will save you a fortune on unnecessary expenses and mistakes.
2. Practice active management and be present for your remote sales team
Yes, you won't be able to manage your team and watch them work physically, but this doesn't mean that you shouldn't be present for your remote team. If you want your remote workers to feel like they belong and connect with your business, you should practice active management.
Remote workers often feel disconnected from the brands they work for, and this can kill your sales goals entirely. That being said, here are some active management tips that you should implement:
Try and schedule your work hours to overlap with that of your team or at least, the majority of your remote workers. This way, you'll be available to respond fast to their questions and resolve any arising issues. People will feel more comfortable reaching out to you during your work hours.
Encourage them to work freely. Yes, you should make yourself available and communicate with your salespeople often, but not too often. If you check in too frequently, this will put pressure on them. Don't add to their busy schedule by checking in all the time. Make sure they know that they can reach out to you, and that's enough.
Make it safe to discuss their weaknesses. Your team should feel safe telling you about things they aren't good at, things that annoy them, and things they'd like fixed. Have some discussions with them every now and then, and make sure they are comfortable sharing their work problems with you. This will help you make adjustments that motivate them and make their work more pleasurable.
Ask them for their input. Not only should your remote team feel free to speak to you about their work, but they should also be encouraged to share their opinions. After all, this is your first line when it comes to customer communication, so they'll probably have the most accurate and insightful view into what customers want and need.
In order to make all the points above work, you need to have a solid and easy way to schedule meetings with your co-workers. After all, remote work often means giving up those random chats that would naturally occur in an in-person office setting.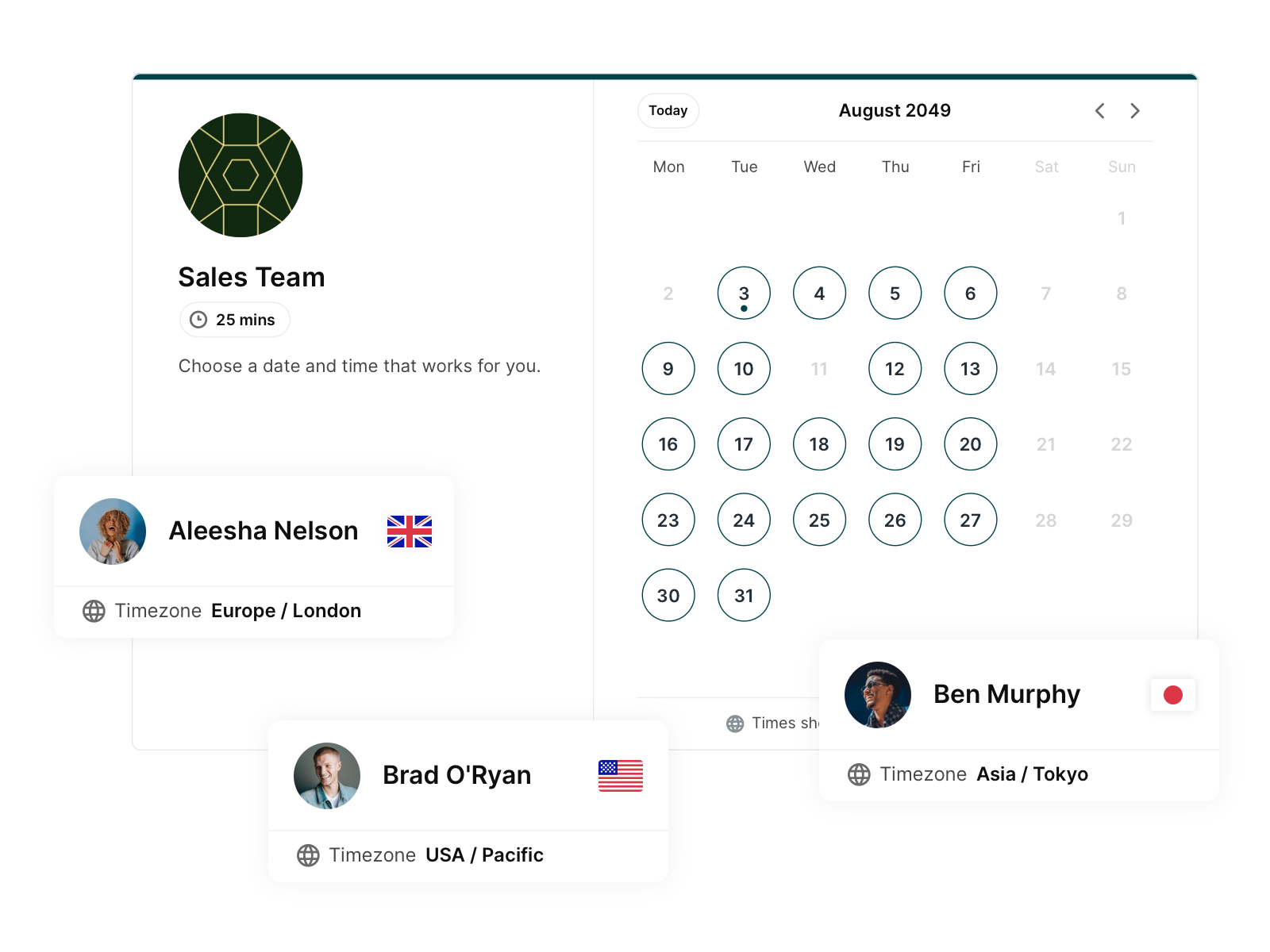 By using an online scheduling tool such as YouCanBookMe, you can schedule meetings in a matter of seconds without any annoying, back and forth "are you free then?" emails. As a manager, you can set blocks of time for employee check-ins, progress meetings, or even just random chats and then share the link to your booking page with your team. Whenever a team member needs to chat, they can go in and book a time that suits both of you right away.
Time zones are automatically calculated, which is a great perk for widely-dispersed remote sales teams. Other features, such as automated confirmations, reminders, and follow-ups, keep your employees in the loop despite the physical distance between you and truly help a sales team thrive.
3. Organize trips with the help of travel management companies
Salespeople need to travel rather frequently. If these trips are not well planned and organized, this can greatly impact the satisfaction and motivation of your team.
Surely, it is not easy to manage many travels for your team, especially if you do this regularly. Many companies these days organize work trips, as well as team-building summits rather regularly. Keeping track of everything and managing unexpected changes can be a burden, but not if you use the best travel management companies.
One such company is TravelPerk, the leader in organizing business travels. Using this tool means that you'll get access to the largest inventory of car rentals, flights, accommodations, and more. From booking to managing business travels, TravelPerk can help you automate just about everything and make this experience amazing for your remote team.
The tool will send you updates for any travel changes and risks, send you ready reports without any effort, and find you the most inexpensive, flexible rates to minimize your expenses.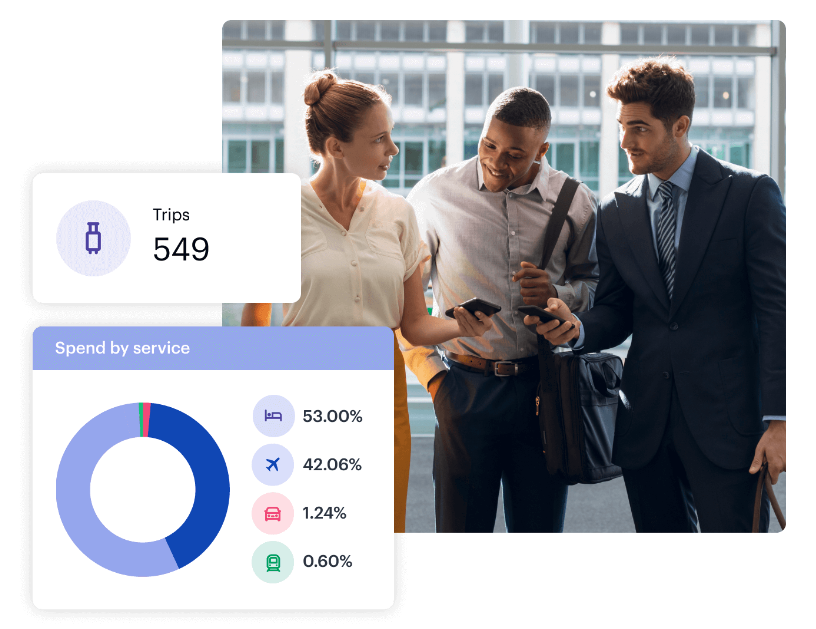 4. Offer remote teams continuous development and training opportunities
As your business progresses, you'll need your team to adapt and adjust and do things the new way. According to SHRM, 54% of all employees today require upskilling of some sort, and companies are slowly committing to train their teams and help them develop new skills.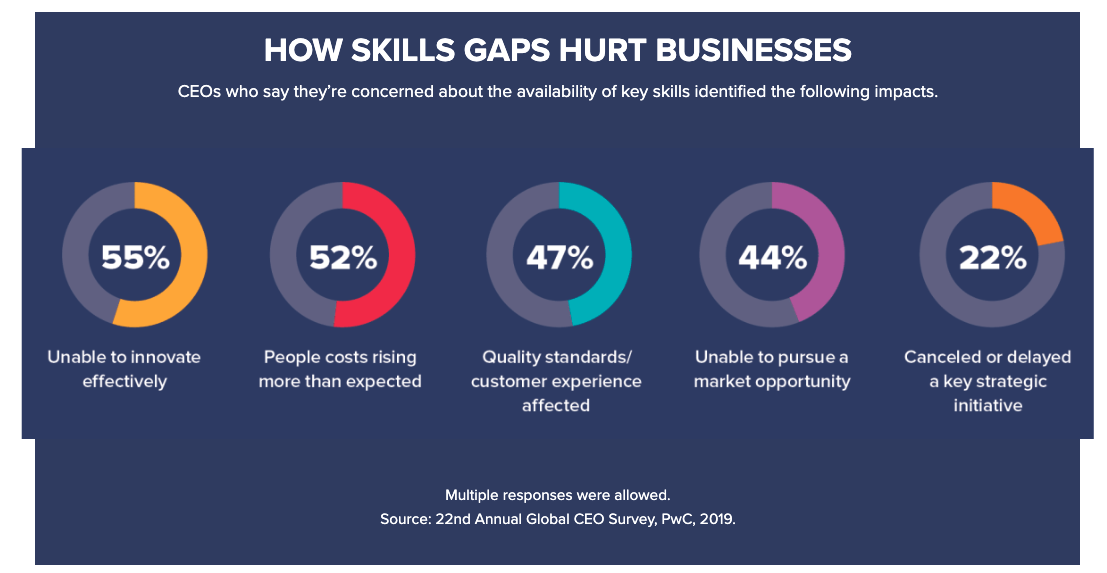 Skill gaps can hurt your business significantly and most employees today have them.
Knowing this, you need to provide your team with development opportunities. Here are some ways to do this:
Access to courses. With so many courses available online, it is very easy to provide your remote workers with the materials to help them develop professionally and personally. This is a great way to encourage them to take their skills to the next level.
Virtual conferences. Even if you cannot afford to send every remote worker to a physical conference, you can do this online. Your salespeople will enjoy the opportunity to learn in real-time, as well as network with other people in their sector.
Workshops. Similar to conferences, workshops can provide your team with hands-on knowledge on how to improve their work. Consider giving your team a few hours every now and then, introduce them to a qualified sales trainer, and help them build new skills in a team.
5. Use online form templates to help remote sales teams organize properly
Organizing everything can be hard on sales representatives. There are many things that these employees need to juggle, and it is your task as their employer to provide them with the tools that make all of it easier.
Offering your remote team helpful tools is a must if you want them to work productively.
Thanks to 123FormBuilder, businesses can now make the lives of their remote employees much easier. This tool gives you access to over 1,900 online form templates to be customized and used for a variety of purposes. It is an affordable solution that offers simple customization and quality forms ready within minutes.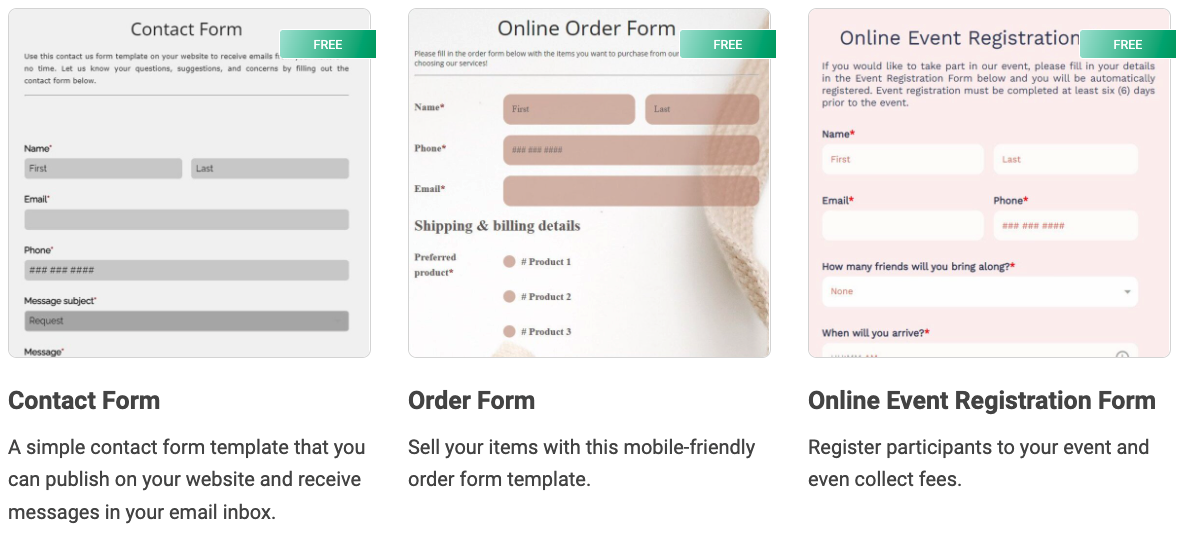 There are all sorts of forms that can be used to facilitate the everyday work of a remote sales team, including feedback forms, incident report forms, event forms, file upload forms, inquiry forms, payment forms, quote forms, and more.
Are you ready to create the best remote team?
Have you taken any of these steps yet? If you haven't, start at the beginning and take action to make your remote sales team the best it can be!
Subscribe to our newsletter
Get productivity tips, news, articles and resources.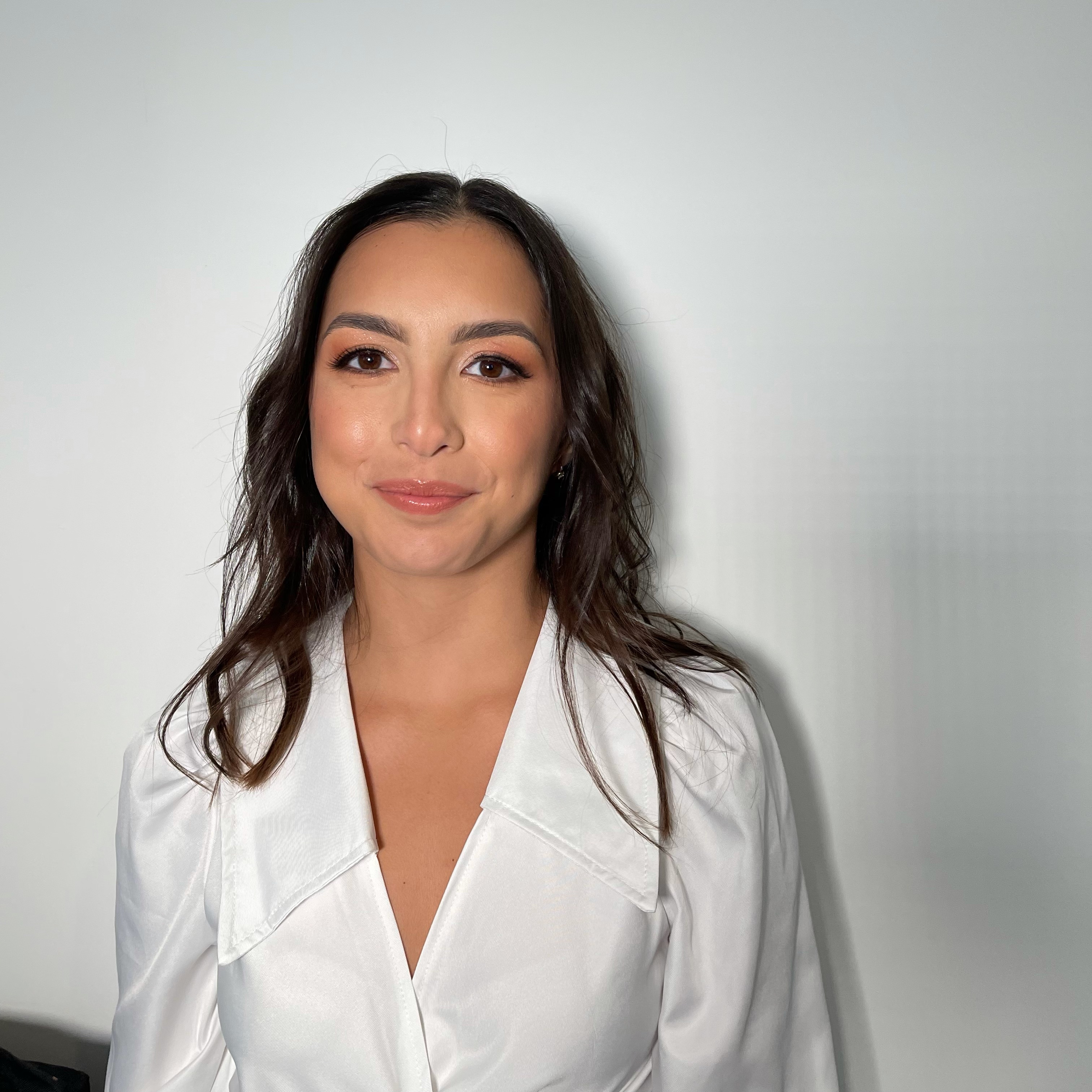 Written by
Arianna Lupi
Arianna is a passionate and dedicated Digital Marketer with a strong background in human resources, travel, education, B2B, SaaS, technology and CPG. She's currently an SEO Specialist at Skale. Arianna loves solving problems, creating strategies, and building plans.