10 Productivity tools to boost your team's efficiency in 2022
We all want to be productive. Thankfully, there are tools that can help. See which apps will let you collaborate, save time, and destress while meeting all your goals for 2022.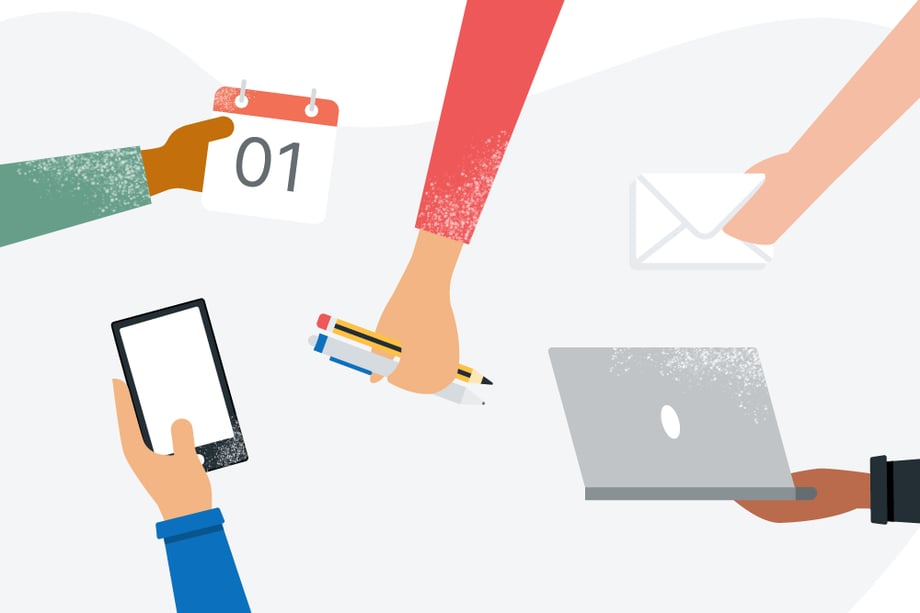 Our top 10 productivity tools include:
1. Trello
2. Google
3. Slack
4. YouCanBook.me
5. Zapier
6. Pomodoro
7. Canva
8. Toggl
9. Zoom
10. Calm
Two years ago, few of us would have predicted the seismic shift to working remotely.
Fast forward to today and we've proved to be so fabulous at home working that many companies have made it a permanent move.
We've learned so much new techie stuff like how to hide our clutter before a Zoom meeting. Or find a cool backdrop to disguise the fact we're actually working in our PJs in the garden.
We've also found shiny new productivity tools to help us.
Here at YouCanBook.me we have always worked remotely.
But we couldn't have a talented team working across the globe if some tech genius hadn't invented tools to help us pull together as a team, just like our own IT wizard and YouCanBook.me inventor Keith Harris has done.
These ensure we keep track of our projects. We can share docs, swap stories, schedule meetings, automate dull-as-ditchwater tasks, and celebrate birthdays.
Here are some of the best productivity tools to help everyone work smarter, not harder.
1. Keeping track of tasks with Trello
Trello is a dream tool for teams. With this collaboration tool you organize projects into boards, like vision boards.
You can see what is being worked on, who is working on it, what progress is being made, as well as assign tasks with deadlines to team members.
Keep all your data accessible in one place by integrating apps and services such as Google Drive, Salesforce, and Slack into your Trello boards.
You can also add helpful information and inspirational resources to each project. These could be best practice examples of how your project should be done, style sheets, or branding documents. You can basically add everything you need to know to your Trello boards.
The Kanban method of project management has always worked well for us at YouCanBook.me and Trello does it brilliantly. We use Trello primarily in the marketing department to plan campaigns and keep track of content assignments.
There's an impressive array of useful templates ranging from business plans to inbound marketing campaigns and inventory management.
Not only do these save you the time and trouble of starting a project from scratch, but these templates also give ideas of how projects should be organized.
They additionally ensure you don't miss out on any stage - say in the sales process or hiring staff - and that nothing slips through the net.
If you're a huge fan of to-do lists (me too!), the Productivity Workflow template is amazing.
Instead of having endless sticky notes, use this board to list all the things you want to try, prioritize what you need to do today, and then add upcoming priorities.
You can just drag and drop your 'things to do' into different lists. This is so much more visual and meaningful than having numbered lists, especially if your priorities change every day.
Trello is available for desktops, Android and iOS.
It's free for up to 10 open boards at any time. Trello Business Class has unlimited boards and costs $12.50 per Workspace member per month, or $119.99 per member when billed annually.
2. Good ol' reliable Google
With so many shiny new things, it's easy to overlook how efficient Google is. You can create documents, slideshows, spreadsheets, Q&A forms, drawings, and maps in your Google Drive. Then click on Share to get a link to share docs or folders with colleagues.
Because (nearly) everyone has a Google account, it's quick and easy to share docs and files with the team.
Google is a one-stop-shop for so many of our processes at YouCanBook.me.
Besides all the tools available, it's also a vetted and secure partner for YouCanBook.me. Therefore, for security reasons, we'll often choose Google over third-party tools.
You can access Google Drive from your phone or tablet to add or update files as well as take photos with your phone and instantly send them to your Drive.
If you have endless tasks to do, Google Tasks is fab for planning your day. A bonus is you can sync these tasks to your phone with the Google Tasks app so you can add things to the list when you're out and about.
All Google accounts come with 15GB of free storage, which you can pay to upgrade if needed.
3. Save time with Slack
Slack is the go-to collaboration tool for most remote companies. Slack has more than 10 million daily active users globally and is used by 65 of the Fortune 100 organizations. Big companies such as Trivago, Lyft, and Intuit regularly use Slack.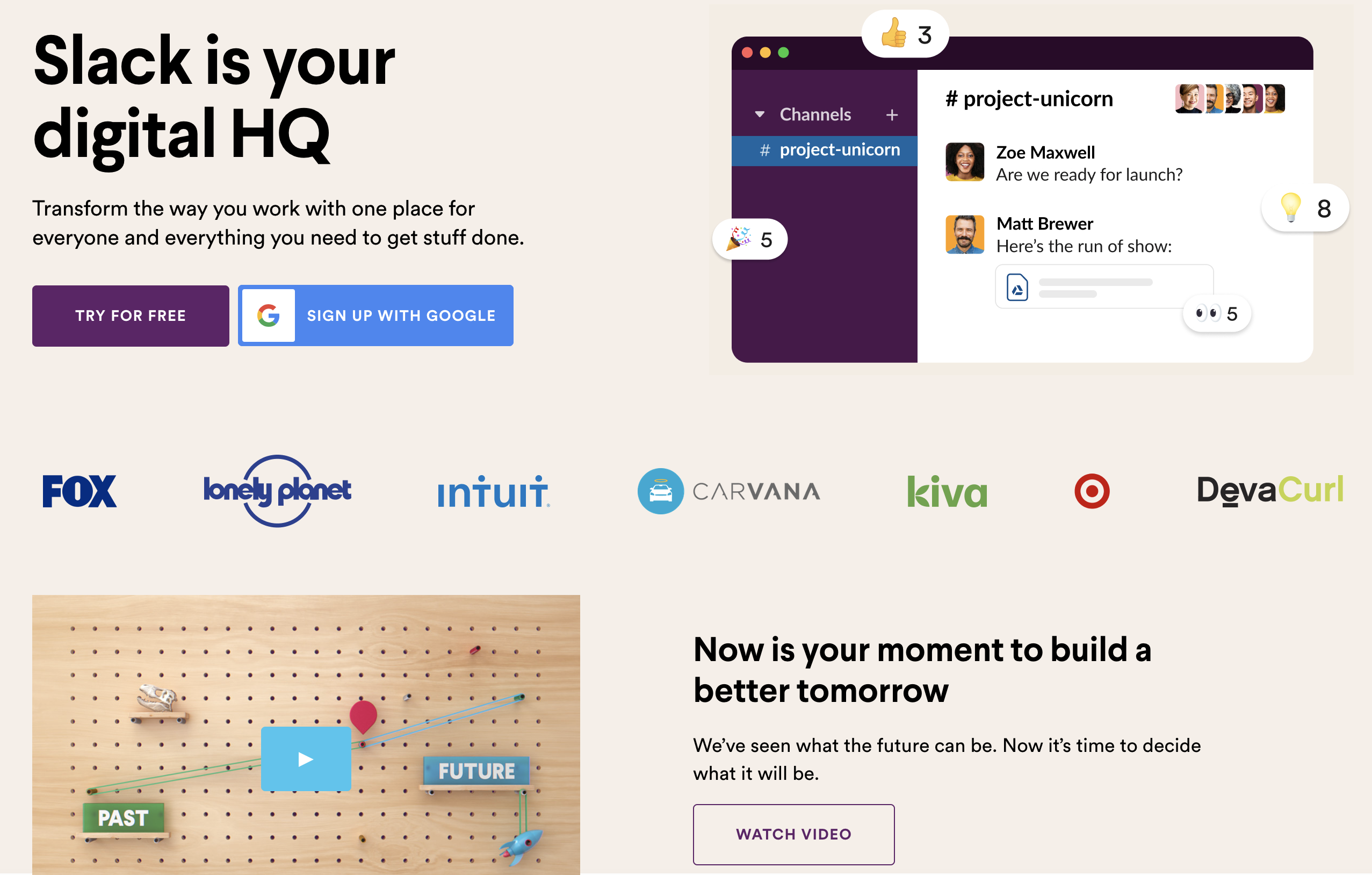 The idea of having one tool to replace email, text messaging, instant messaging, and phone calls is pure genius.
You know when a team member starts work and finishes. You can see when they're in meetings, when they're on holiday, and when it's their birthday.
Integrate tons of apps with Slack such as TimeBot where your team members can book time off or holidays.
In the old days, you'd turn the page in the diary, realize JB was on holiday and that you'd forgotten to ask where they were in their assignments. Slack ensures you are always super efficient in managing your team and time off.
There are so many ways Slack makes life easier for remote teams by connecting cool apps.
For instance, you can get notifications about Google Drive files in Slack, start a Zoom meeting directly from Slack, and connect Dropbox to Slack to share content easily.
Slack sits at the heart of YouCanBook.me. It's the best solution we've found for asynchronous working. It offers transparency, accountability, and a wide range of customizable automations.
A favorite that we created internally is YouCanKnow.me - it automatically asks a question every Friday that team members can answer in their own time.
It is fun and it gives us a bit of insight into our colleagues. "Ice cream or cheesecake?" was a surprisingly divisive question - but don't even ask about "Is pineapple on pizza ok?" as it's still a delicate subject for some.
What's also really neat is Slack Connect, where you can invite someone from outside the company to join a channel or start a direct message. They only have access to the conversations they're invited to, which is great for when you're working with freelancers or interns.
They can join in the conversation on things that directly concern them but not the general company news or chit-chat.
Slack has four plan options: Free, Pro, Business+, and Enterprise Grid.
4. Schedule meetings easily & quickly with YouCanBookMe
How many emails does it take to schedule a meeting? Far too many.
Not with YouCanBook.me, our fabulous tool to tick the 'work smarter, not harder' box, even if we do say so ourselves.
It won't surprise you that we use YouCanBook.me for everything: recruiting our colleagues, calls with customers, UX calls, sales calls, demos. You name it.
It's super simple and speedy to schedule meetings.
You just connect Google Calendar or Microsoft Outlook.com/Office 365 calendar to YouCanBook.me, create a booking page using your corporate branding, embed it on your website or share by email, CRM, or help desk and customers can schedule appointments instantly.
Bookings go straight to your calendar so:
You'll never forget an appointment
You'll never be double-booked
A customer will not slip through your hands because of the amount of time it takes to schedule meetings
Then automate follow-up emails after your meetings, like your 'thank you for your time' emails.
This tool also allows you to 'pad' out your bookings to give yourself time before and after meetings for traveling or doing a last-minute run-through of your script, presentation or questions.
You can see other customer reviews here.
YouCanBook.me offers a free forever plan as well as a paid plan, which starts from $10 per connected calendar, per month.
5. Automating repetitive tasks with Zapier
More than 3,000 apps can be automated in many millions of ways with Zapier. Stop spending your time on those bore chores like templated 'copy and paste' emails when you're chasing a new lead.
With Zapier you create workflows - called Zaps - which connect your apps to automate repetitive tasks.
For example, a trigger is set off when someone registers for your event or meeting. They can then get an automated email with the next steps they need to take. Then another one to welcome them to the event, and a post-event email.
All this is automatically done for you - no wonder Zapier rhymes with happier!
Here's how Zapier saves time for a couple of clients:
"In my first 5 years, we shipped about 10,000 capes. Because of Zapier, we've shipped over 10,000 capes this year alone." - Robyn Rosenberger, Founder, TinySuperheroes
"If I had to do all those tasks manually, it would take me several hours per week." - Vanessa Prothe, founder of Speak English with Vanessa
Zapier core features are free - you just pay for premium features and apps.
When you integrate Zapier with YouCanBook.me, you can connect to hundreds of other services and trigger masses of automated activities.
For example, a trigger will fire for new bookings and our system will send through all the data about that booking, including the information on the booking form.
Other zaps to use with YouCanBook.me include:
logging new bookings into Google Sheets
sending Slack messages for new bookings
adding new YouCanBook.me bookings to your Mailchimp lists
These are all ways to automate tasks that used to take time and effort and where mistakes could be made if the info is added manually.
6. Working smarter with Pomodoro
Distractions can be welcome or a waste of time.
It's so easy to go down the rabbit hole called Google Search and lose track of time reading about stuff that may be interesting but isn't helpful.
That's why this Pomodoro Tracker is so handy, especially if you like to work hard in short bursts and then take a walk or stick the kettle on.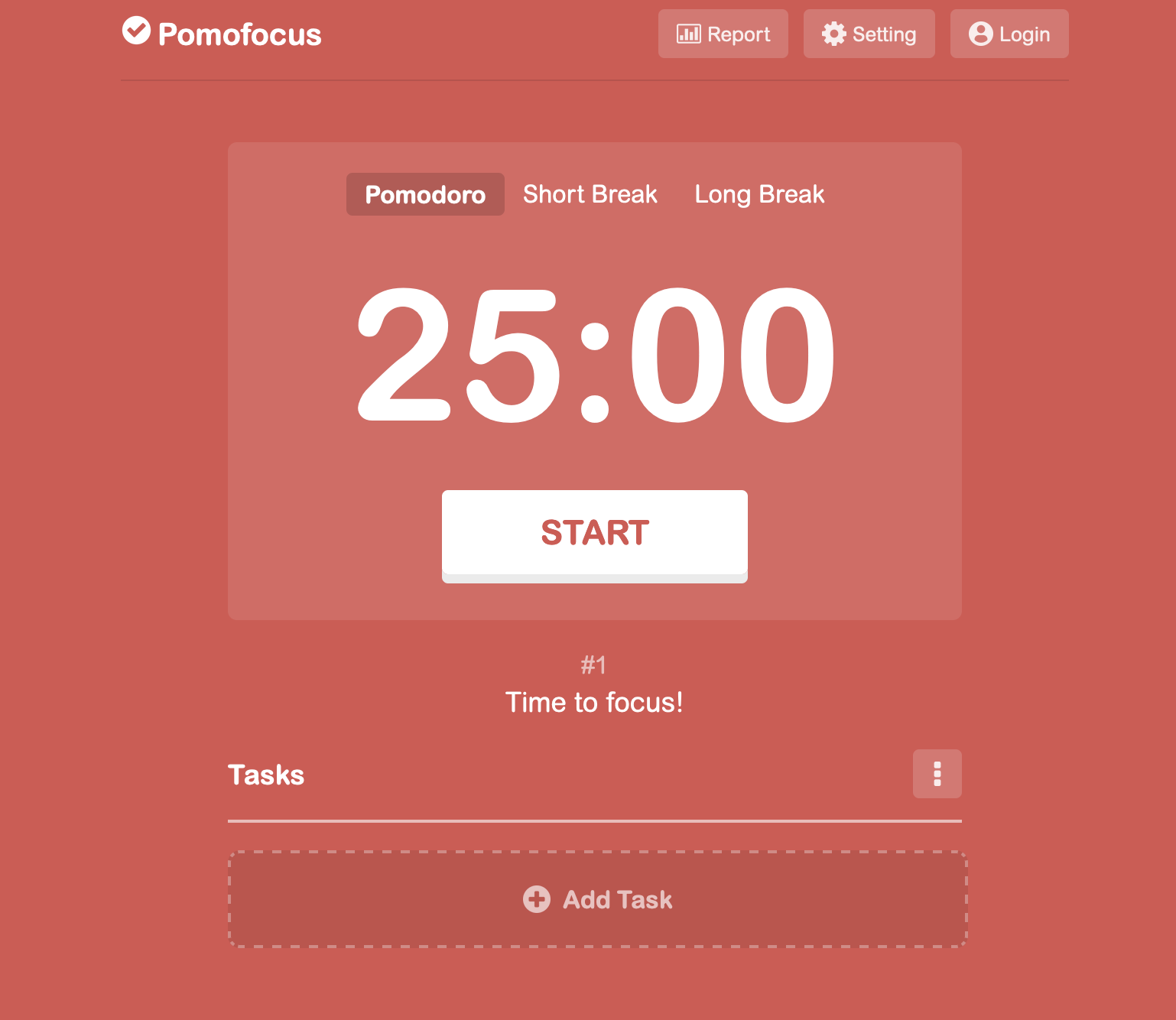 Pomodoro is a well-known time management method that's useful for any task - work solid for 25 minutes and take a five-minute break.
Using this free tracker instead of just setting your clock has the added bonus that you can set up your to-do list before you start work.
Start the Pomodoro stopwatch, work like billy-o until the bell rings, and then get five minutes to take a breather.
We're using the Pomodoro Tracker in Slack to automatically update our status when we're in work mode or having a break.
Many successful professionals swear by this method, and we have proof to back that up. We host a productivity podcast called Get More Done, where business leaders share how they solve problems and boost efficiency.
On more than one occasion, including in our talk with Business of Software CEO Mark Littlewood and YouCanBook.me's very own Tiffany Darwish, the Pomodoro Method is cited as one of the tools behind their success.
7. Canva captivates audiences with eye-catching designs
With so much information online, we all know how important it is to create social media posts and presentations which tell the story of our brand, attract people's attention, and are easy to follow. Phew, that's quite an ask!
That's why Canva is a must-have tool for any business or brand. We love creating presentations and posts which look like they've been produced by a professional graphic designer.
Canva has many free templates, images, and fonts to make ebooks, GIFs, videos, infographics, social media posts, and animations.
You don't need any skills or experience to use Canva and it is easy to make engaging designs using the tools. Just add your imagination and creativity.
Best of all, you can get the whole team involved - like online brainstorming. By creating a team on Canva, everyone can bring their best skills to produce ace designs for your company.
That's what we do at YouCanBook.me. We have also created a lot of templates for teams to use for case studies and social media, for instance. It's a great tool for helping our team to collaborate and is fast becoming one of our most-loved tools.
Canva is free although you can upgrade to Canva Pro or Canva Enterprise.
8. Toggl helps freelancers be super productive with their time
Home working has many benefits. But one hazard can be keeping track of time.
Whilst Pomodoro helps us stay on track, a fabulous tool to help remote workers be highly productive with their time is Toggl.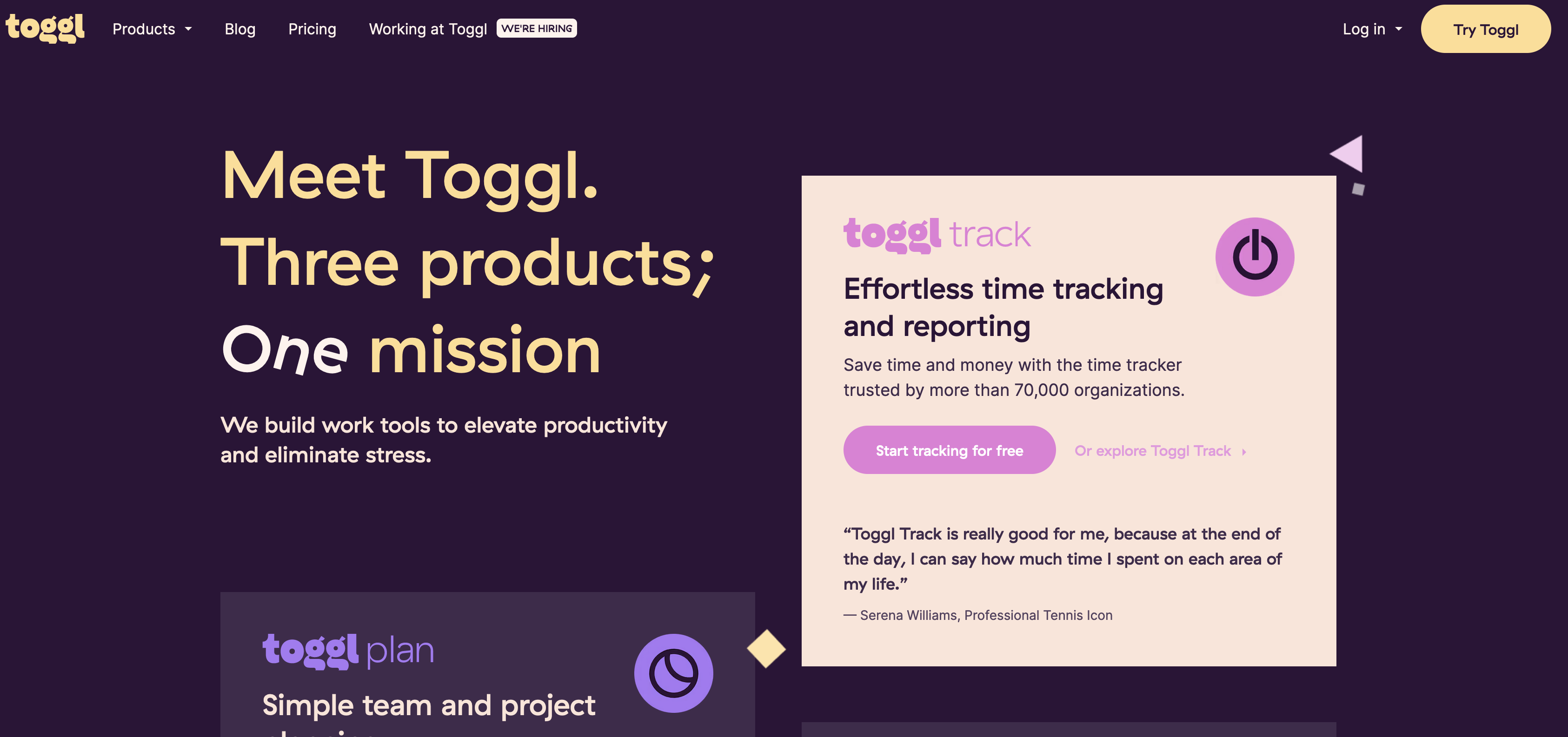 We use it to help our freelancers monitor their working hours.
You can use Toggl Track to see what your working day really looks like and figure out how much time each task actually takes.
Toggl Track logs the hours worked and then turns them into reports for invoicing. The tool will even remind you to take a break or clock out.
This tool will help teams manage projects and make better business decisions because they can accurately plan their time and provide transparent client invoices showing where their time has been spent.
There is a free version and paid-for version of Toggl Track which offer more features.
9. Speeding up meetings With Zoom
Zoom has been the go-to app for online meetings since the pandemic.
300 million participants are meeting on Zoom daily - an amazing increase of 2,900% since New Year's Eve, 2019.
We use Zoom almost as much as we use the YouCanBook.me tool.
We tried a lot of other options over the years but when we first tried Zoom, we loved that everyone could be in their own 'box' and that, no matter how many people were in the 'room,' it just worked.
You don't need to sign into an account to attend a Zoom meeting and it's compatible with everything - iOS, Android, Windows, Max and Linux. This means nearly everyone can access it.
With Zoom you can set up:
virtual meetings and conferences using video and audio
webinars
live chats
screen-sharing
You can even change your Zoom background to an image or video, which is really cool. Especially if your 'real' background is looking cluttered or dated.
If you want the free version for group meetings, there is a 40-minute limit, which is an advantage for keeping meetings fairly succinct.
Use the breakout rooms to speed things up. Split the group up into smaller groups to discuss different topics and then come back together at the end to round things up.
Another plus is Zoom integrates with YouCanBook.me.
First, you can easily schedule meetings with YouCanBook.me. Then integrate your Zoom account and automatically generate unique meeting links for each booking.You can connect each of your team members' Zoom accounts too.
Add these unique Zoom links to your emails to participants to confirm and remind them of the meetings. The emails will include a clickable link so they can easily join the Zoom meeting.
As well as the free version, Zoom has three paid versions, which allow you to have longer meetings and more participants. Prices start from $149.90.
However, with the free version, you get unlimited one-on-one meetings, host up to 100 participants, and group meetings for up to 40 minutes.
10. Keeping Calm so we can carry on
Here's one last app to share which has been a blessing during uncertain times.
Calm has many tools and resources for mental wellness including meditation, breathing exercises, music, nature sounds, and physical exercises.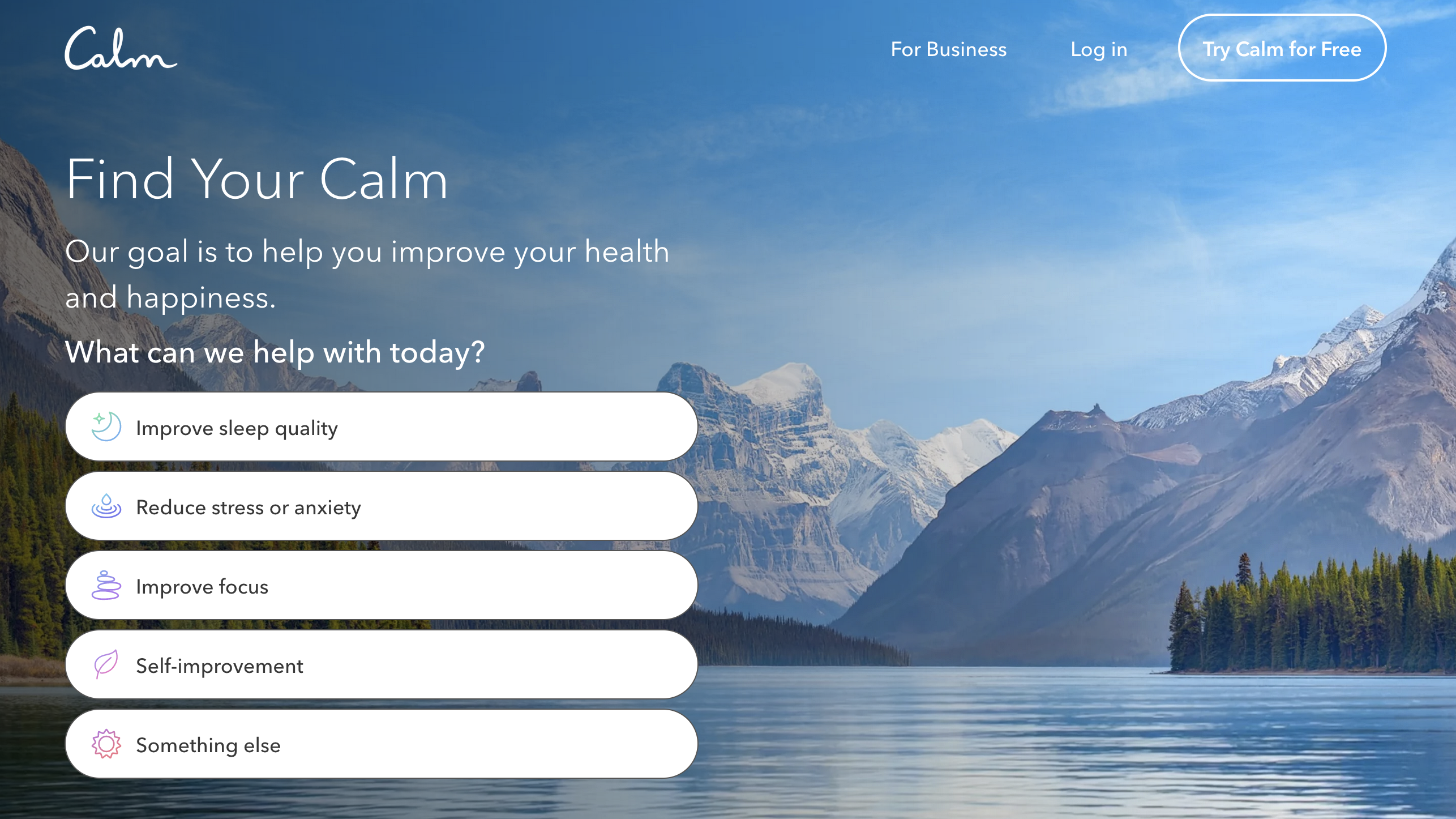 A survey shows 84% of Calm users saw improvements in mental health, 81% were less stressed and 73% had higher sleep quality.
Some of the exercises are bite-size, so you can do them during your five-minute Pomodoro break.
Read this blog about how Kraft Heinz puts mindfulness at the heart of company culture.
Calm offers a free version, as well as a premium version with expanded features.
Make 2022 your most productive year yet
These apps are the ultimate tools for working smarter, not harder or longer hours.
They make it easier for everyone to work together as a team as we all know what we have to do, when we need to do it, and what other people are doing too.
Feel free to share your favorite productivity apps and tools. Get in touch for more information or a demo of YouCanBook.me's tool to schedule meetings.
Subscribe to our newsletter
Get productivity tips, news, articles and resources.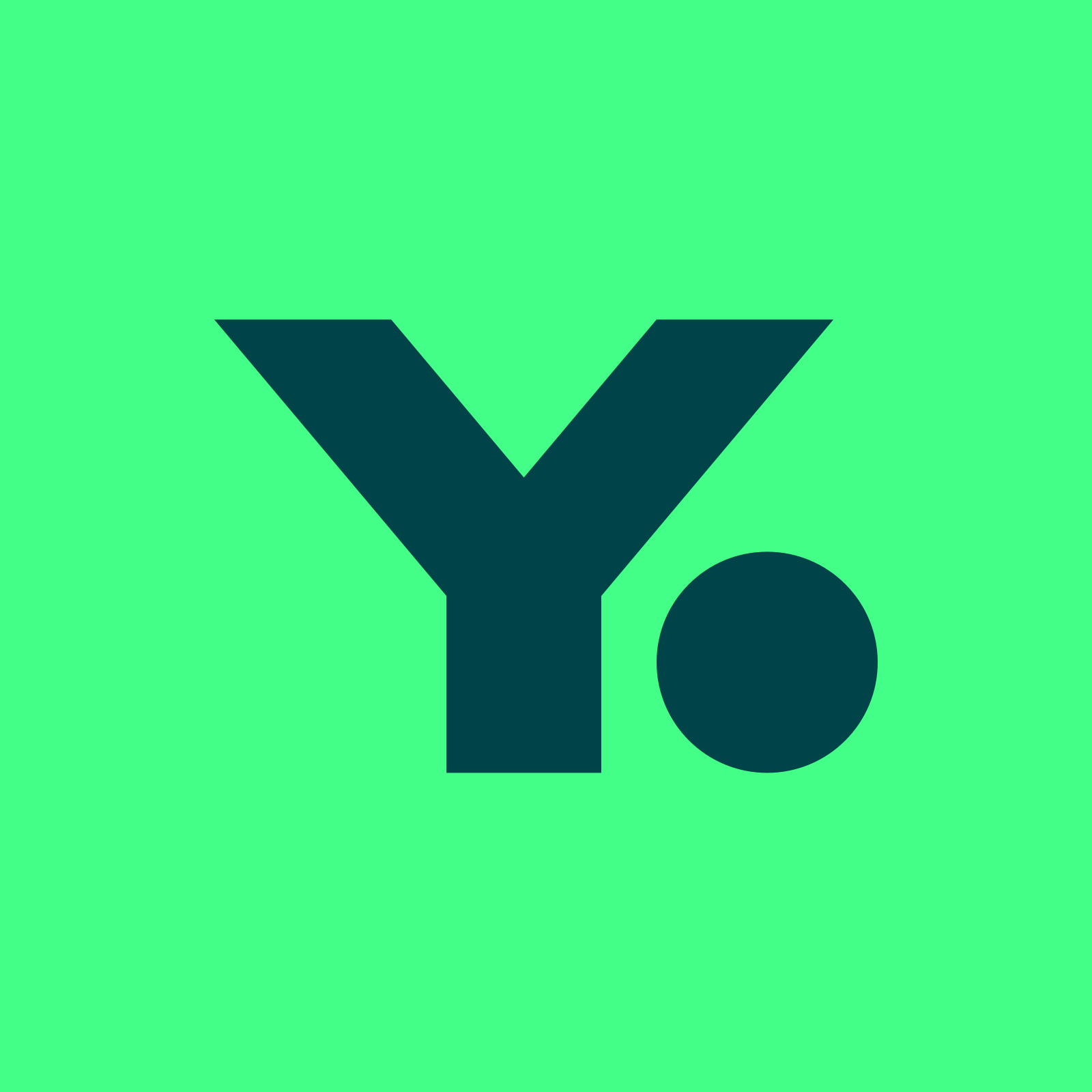 Written by
The YouCanBookMe team
We care... so we share. The YCBM team has a lot to say about online scheduling and improving productivity. We pay it forward with interesting articles, top tips, updates, and insights about how to be a scheduling ninja and a productivity pro!