How to manage university walk-in hours
Open office hours or scheduled appointments? We take a look at what works best for students, and for advisors. You might be surprised at the answers!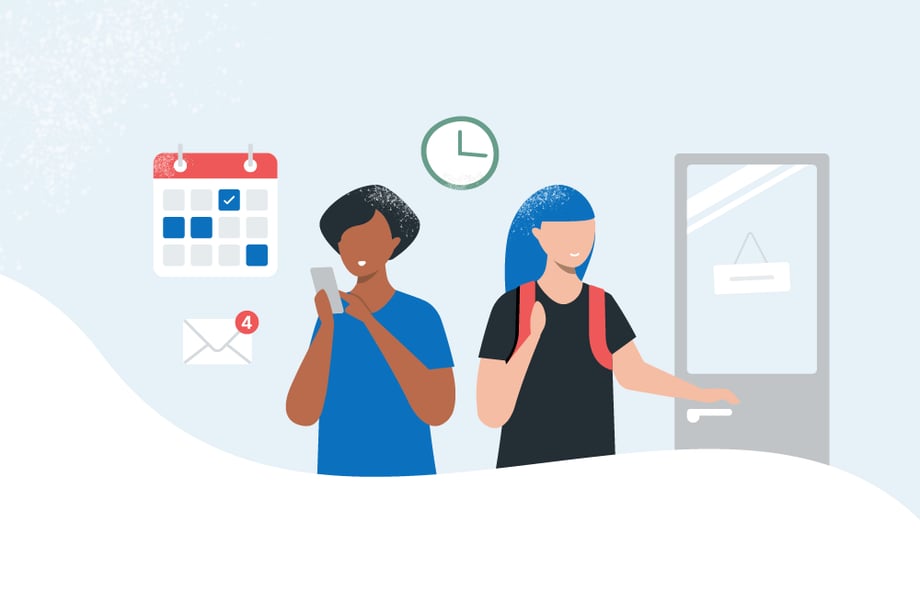 Advising walk-in hours: Love them? Or loathe them?
They offer an easy, flexible way for students to access support and advice. But every university advisor also knows they can mean no one shows up - or everyone shows up at once. Either you're sitting around wasting valuable time, or you have to turn students away and figure out a future date to get them back in.
Is there a way to manage walk-in hours so you can stay productive while still ensuring your students get the support they need? In this article, we'll look at best practices and discover options for streamlining advising.
What are student walk-in hours?
Pre-pandemic, a lot of student/staff meetings were done on a walk-in basis. Advisors would publish a set schedule of days and hours that they would be available. And students would drop in when they needed something.
They might have to wait to see an advisor but, for most, it was an easy and flexible way to be available to the students that needed them.
With lockdowns and hybrid schedules, walk-ins became more difficult when they couldn't be face-to-face. Some universities tried to keep the same vibe by keeping a Zoom or Teams meeting going for a set period of time. But it wasn't always successful.
"When all of our sessions went remote, we tried some drop-in models with Zoom and didn't get great results", says Aspen Padilla from Chemeketa Community College in a recent Get More Done podcast. "It's hard enough to walk into a space and ask for assistance, but to go into a completely unknown Zoom space that you can't even look in the window first? I think it was too much for people."
Is it a good practice to allow students to walk in?
Many will agree that having a consistent schedule for walk-in appointments is reassuring for students, is more responsive in a crisis, and can be easier than having to plan ahead.
But it doesn't work for everyone.
Older and non-traditional students may not be on campus as much as others
Students with work or caring responsibilities may not have time to wait for a first-come-first-served appointment
Some students aren't comfortable in a room full of people they don't know
It can be challenging to find a day and time when all students are available
Advisors don't know what issues are coming up. If they're not prepared the student may need to come back later to get the right information.
So the best practice would be to offer a mix of both.
To find out a bit more about how important walk-in hours are, we conducted a snap survey of students and faculty members in the United States.
We asked, "Do you prefer to schedule appointments or just have walk-ins?"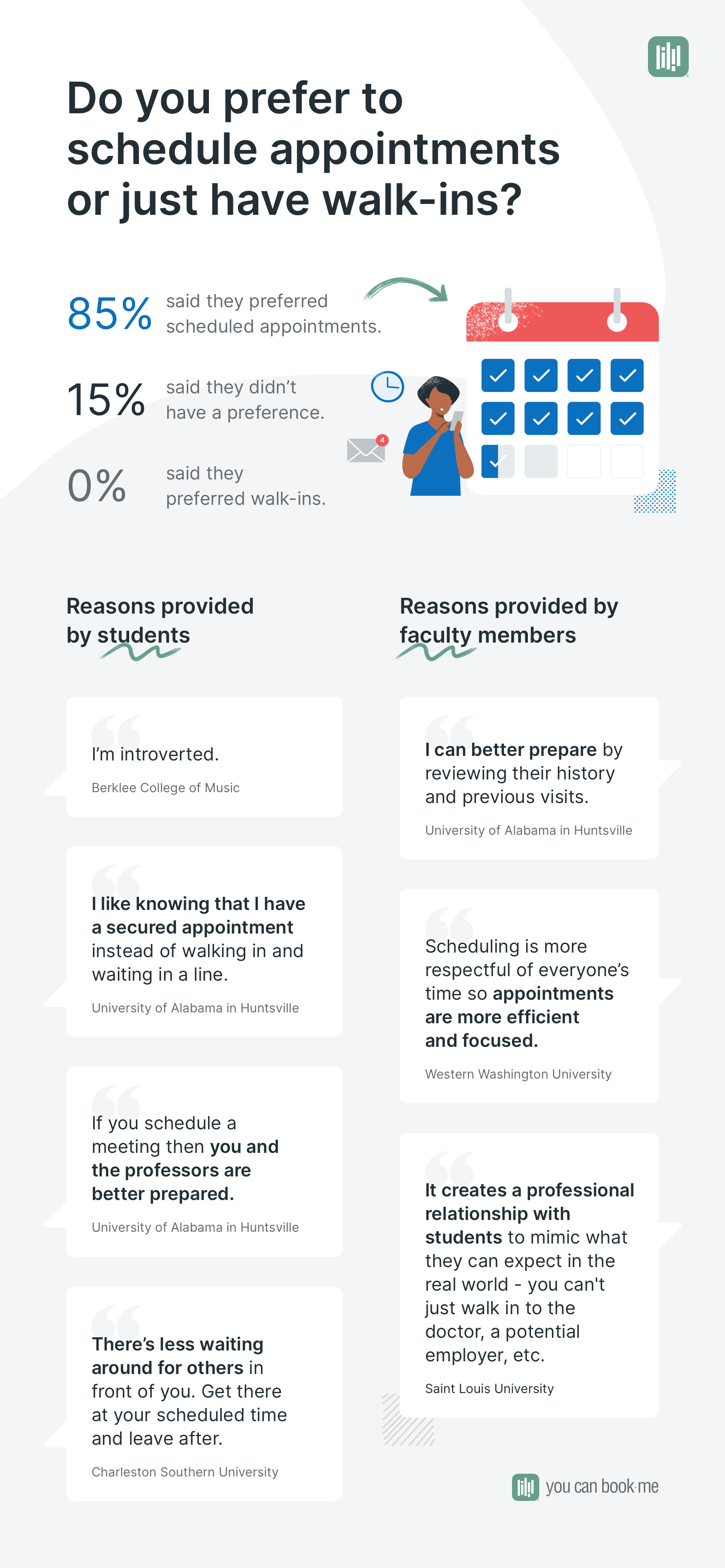 Both groups in our unscientific poll seem to agree that advising walk-in hours have some advantages.
Walk-ins were considered more flexible. They better accommodate students that just have a quick question, they encourage students to seek advice early, before an issue becomes too overwhelming, and they allow for a faster response in an emergency.
"Being able to walk in allows for students in crisis to get help from staff when they need it."
Student, Liberty University
But the overwhelming majority felt that scheduling an advising appointment in advance was more efficient and resulted in a better meeting for both sides.
What's a good alternative to advising walk-in hours?
You could go old school and use paper sign-ups or spreadsheets.
But if you want a solution that doesn't add to your workload, is accessible and secure, and creates a 24/7, friction-free student experience, an online scheduling tool for higher education is the best alternative to academic advising walk-in hours.
YouCanBook.me is used by colleges and universities around the world to operate streamlined, professional bookings for all students.
Its powerful customization options help you create a tailored student experience while reducing the back and forth usually associated with trying to find a time to meet.
"YouCanBook.me has saved me a lot of time and effort. It just simplifies the process, speeds it up. And I honestly feel that it helps me help them get to a solution quicker."
- Jeremy Hommowun, Illinois College. Read the case study.
The advantages of scheduling academic advising ahead of time are even better when using a scheduling tool for higher education.
1. Be prepared for each meeting with your students
The biggest positive impact that pre-scheduling academic advising appointments has for advisors is helping them be prepared for each session.
Whether it's a transfer student, a change of major, or a query about financial aid, every situation requires a different set of solutions. Knowing the question ahead of time means you start the meeting with the tools they need. No more saying you need to look something up so they should come back later. No more being caught without the right forms or guidance.
Ask targeted questions

to get the information

about each session
Help students prepare by communicating their issue to you ahead of time

Add details to your

calendar event so you can easily access them when you need the
Appointment options on one page
Offer a

choice of

appointment types so

students can pre-select what they need

Automatically adjusts the time required for each appointment
Offer in-person, remote, or group advising
Scheduled advising appointments is a great solution whether you meet in-person, remotely or a hybrid.
In-person meetings
This option creates the closest thing to a walk-in. Students still come to your academic advising center but the appointment is scheduled ahead of time so there's no waiting to be seen.
You can

add instructions and directions to your

automated reminders to make sure students know where to go and when to be there.
Remote meetings
If you're working from home or your students aren't on campus every day, you can set your advising appointments to be by video.

Easily link YouCanBook.me to Zoom, Google Meet or MS Teams

. It automatically creates a unique video conferencing link for each meeting. Add this to your reminders and calendar

events for easy access.
Hybrid schedules
Group sessions
Not every student meeting has to be 1-to-1. Some advice is the same for everyone, like first-year seminars, how to sign up for tutoring, join a student org, or create a Handshake account.
A great way to

scale student meetings so you're offering advice "1-to-many" is

group sessions. YouCanBook.me lets up to 50 students book into the same in-person or video call
What's the best way to manage walk-in hours?
A scheduling tool for higher education gives you the best of both worlds when it comes to academic advising appointments.
You can cater to those who prefer scheduled advising sessions. And you can also accommodate students who have unexpected issues or who weren't able to plan ahead. For both, it will be a more streamlined and effective advising process.
If you're using a scheduling solution, it's easy to communicate the various options to your students.
Use your website to offer a choice of walk-in or scheduled options
This web page from the University of Kansas is a great example of clearly communicating when it's best to schedule and when a drop-in would be appropriate.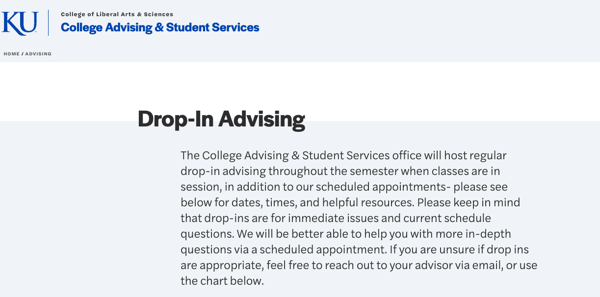 Or add the information directly to your booking page.

Offer a "scheduled walk-in" and let students know they can register to come at any point during that session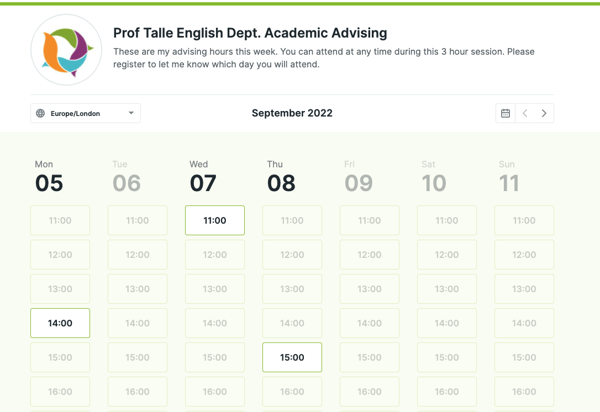 This option takes advantage of the group session functionality outlined previously. YouCanBook.me's custom availability feature allows you to easily adjust each week's office hours, simply by adding them to your work calendar.
Provide a "managed" walk-in
If you don't want any pre-scheduling, ask students to leave their phone number when they show up to your walk-in hours.
Then you can text them when their appointment is next. This means they can leave the room to do other things while they wait, but they will still be on time when an advisor is available to meet them.

Why is a scheduling tool a better overall experience?
Whatever type of appointments you offer, using an online scheduling tool gives both students and advisors a much better experience.
It gives students:
confidence that an advisor will be available to see them
automatic reminders to make sure they're on time
no waiting around to get an issue dealt with
time to research the issue they have/prepare for the meeting
I like to schedule my appointments because it allows me to be organized with my time and plan what I have to do that day of the appointment.
I prefer to schedule my meetings in advance because I have a very busy schedule and often need to reserve a specific time to get tasks completed.
I like to mentally prepare before meeting with faculty, so having a set time makes me feel like that time preparing is not going to be wasted.
For advisors:
No waiting around for students who may not show up
Lets you be fully prepared for every meeting
Dramatically reduces no-shows
Tracks booking data to monitor student attendance and concerns
I can better prepare by reviewing their history and previous visits.
It reduces the extra work of rescheduling if a drop in comes when we are not available.
It helps assure that the meeting is with the right person.
Conclusion
Responses to our survey, and a review of what academic advisors are offering today, both clearly indicate that scheduling academic advising appointments is the preferred path for student engagement in higher education, but also for advisors.
But most see a need for academic advising walk-in hours as well.
Using a scheduling school for higher education means you can accommodate both camps.
Offer a flexible, tailored scheduling experience that actively leads to better advising outcomes.
Subscribe to our newsletter
Get productivity tips, news, articles and resources.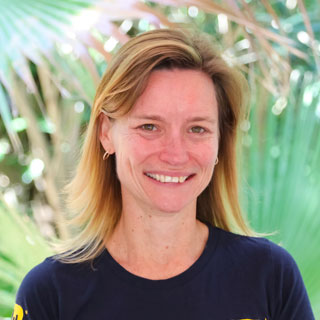 Written by
Kate Reynier
Kate was an early YouCanBookMe employee and loved supporting our Customers for almost a decade. She's now focused on spreading the word about online scheduling, how to improve productivity, and the Oxford comma.