How To Respond To An Interview Request
You don't get many chances to make a great first impression with a potential employer, so you have to use each one to its full advantage. Let's start with nailing your response to that interview request.

Summary
Try not to overthink your response but it's important to be prompt, show enthusiasm and include all the requested information whilst keeping your response to the point. You'll want to be clear about your availability and ensure all your latest contact details are included to make it as easy as possible for the potential employer to move forward with the interview
Key takeaways:
Be prompt with your email response and reply within 48 hours
Check you've included your latest contact information
Be clear about your availability and think about using a tool like YouCanBook.me to avoid the back-and-forth
Double check you're providing all the necessary information that has been requested
Remember one last proof read before you hit reply!
How to respond to an interview request
When you are hunting for a job, receiving an interview request is one of the most critical points in getting the position.
It's natural to feel excited and nervous; you want to make sure that your response to the interview invitation email will get the employer's attention and help you secure the role.
And, while we all know in theory a thing or two about searching for a job, like responding promptly, it can be harder to put things into practice.
In this post, I've lined up the best tips on how to respond to a job interview invitation. At SatisMeter, we receive many applications and have rounded up the feedback from our team.
The tips below are somewhat of a common denominator of what the hiring managers like to see when they're about to invite a candidate for an interview.
Review the interview information
The first step in responding to an email interview request is to:
Check the details of the request itself.
Review the information and the job description.
Reexamine your application and CV.
Your primary focus should be to identify the employer's most essential requirements and make sure you hit all the marks.

Remember that this interview request is the first direct contact you have with the employer. All candidates must take this opportunity to make a good impression.

Even if you feel you remember all the details in the job post from when you applied, you'd be surprised how many things can slip your mind.

Therefore, go back to the employer's initial job description, and write down the key points:
Employer's name
Job title
Job location
Main requirements
Main responsibilities
Pro tip - save the ad. Just take a screenshot and save the whole ad, with the URL and all the details. Sometimes an ad can be taken down right before your interview and you might be missing some important information that would help you shine!
After this, go to your CV. Identify which items on your CV best match the employer's requirements and the job's main responsibilities.
It's important to know these things, during the interview, they will help you stay focused and highlight exactly why you are the best candidate for the job.

Once you've done all this, get familiar with the interview details:
Is it an in person interview at their office or online via Zoom?
When is the interview scheduled for?
Will you be able to go to the interview location or free your schedule for the video or phone interview?
If it's a video interview request, do you have everything you need for that? Internet, a camera, a microphone, a headset? A quiet space?
Prepare your response
Once you have the facts straight, it's time to prepare your response.
Start by analyzing the details of the interview request:
Does it contain all the information you need to respond?
Do you need to ask follow-up questions before you accept the interview?
Is the person who sent the request the only one you should reply to?
Have they mentioned anyone else who is involved in the interview process? Was anyone else in cc when you received the interview invitation email?
Did they ask for any additional information, like a recommendation you need to include in your response? Do you have it? Or do you need to obtain it before the interview?
If you do not need to ask follow-up questions to give your answer to the invitation, check if you have the following information:
Who will be interviewing you? Is it one person or more than one?
Is it the same person who sent the interview request?
Will it be more than one person holding the interview?
If you don't know the above but are ready to accept the interview request, ask the person who sent the invite to give you any of the details you lack. This may also include things like the exact location, parking details, etc.
I recommend that you write down all the crucial information you review in the step above. It will help you keep things fresh and clear in your mind as you prepare your reply.
Remember to be polite, cheerful, and use key points from the job posting when preparing the response.

Referencing key points from a job posting helps show your awareness of the position, bring attention to your application and why you are the best candidate for the job.
Prepare and send your response promptly
It's now time to get cracking on drafting the response.

Take a deep breath, recollect your self-confidence, and follow this step-by-step guide to nail your reply.

The first thing you will need to pay attention to is the timing. It's important to respond promptly.

Do not let more than 48 hours pass between the time you receive the interview request and the time you respond.

Being responsive and timely is your first opportunity to show that you are respectful to the employer and committed to the potential role.

Before continuing, consider everything that you have to offer.

But even if you feel under qualified, do not worry - there is a window of opportunity to catch up on the things that the position requires.
For example, if it is a digital marketing role within an SMB, read up on small business SEO or about frameworks to grow a tech company. If it is a role in a consulting company, check out relevant YouTube videos. If it's related to email - read a guide or two on email marketing.

Do not rush your response; you have some time, so make the most of it. It can be helpful to consult with someone in your network that works in the industry.

The point is that you can still learn a lot more about the position within the 48 hour window and tailor your reply accordingly.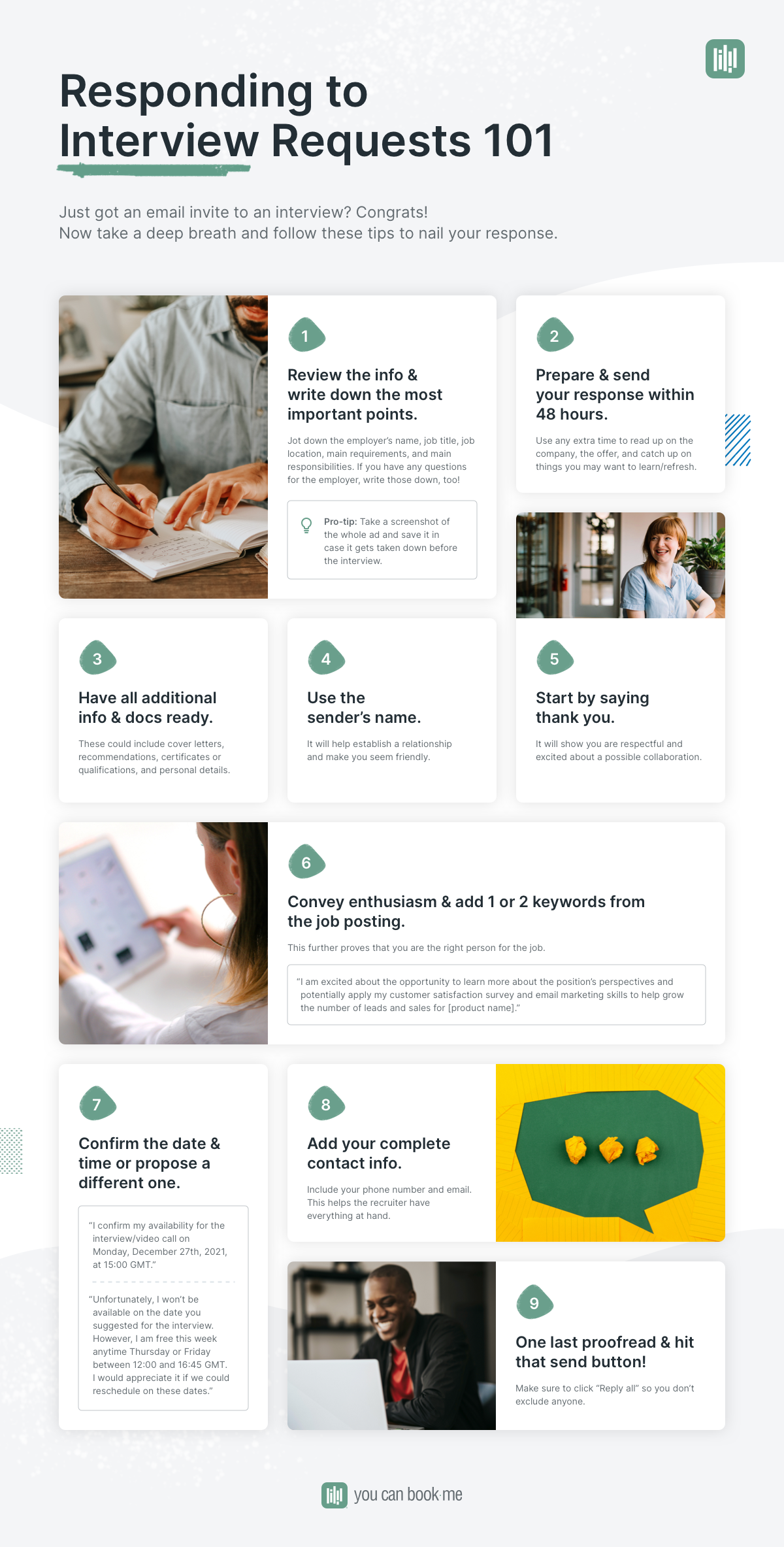 Have any additional information and documents ready
Sometimes, the interview invitation also includes a request for additional information or documents. These could include:
Cover letters
Recommendations
Certifications or qualifications
Personal details
Before you send your reply, be sure to have these things ready.

Take this chance to review them and make any necessary adjustments. Your aim is to show why the company should choose you for the job.

If it's a certification, make sure it is scanned clearly and, preferably, in color.
Color theory shows that documents and reports with vibrant high contrast colors have higher retention, so make sure that your documents will pop in comparison to those of your competitors.

If it's a cover letter or a recommendation letter, review it again to check for spelling mistakes and highlight what qualifies you for the job position.

If it is a document or some additional information you cannot get quickly, you should mention this to the employer. Mention in your response that you cannot produce the additional information right away due to circumstances beyond your control.

However, do make sure you get the information or document in time for the actual interview. And make sure to mention this to the employer, too.
Use the sender's name
Since you're replying to a request, you can leave the email subject line as is. The first step in your response will therefore be along the lines of 'Hello', followed by the sender's name.

'Hello, Tim' is more personable than just 'Hello'. It will also help establish a relationship with the hiring manager and make you look more open.

If you want to get a bit more background on the person you are talking to or start building a rapport with them, check LinkedIn, search them on Google, or use an email lookup tool to get more information.
Start with a simple 'Thank You'
It's always good-mannered to start your response to by thanking the hiring manager. It will show you are respectful and considerate that they are taking into account a potential collaboration with you.

You can say things like:
'Thank you for considering me for the position'
'Thank you for your interest in my application'
'Thank you for your invitation'
Hit all the right points but keep things short
While it may be tempting to continue your response with all the reasons you are their best choice, don't go overboard.
Keep your answer short and to the point. Start by confirming the date and time of the interview. Or by proposing an alternative that would work better for you.
Next, include a few keywords like the job title and one or two qualifications or requirements.
This can sound something along the lines of:
'Hello, Tim,
Thank you for considering me for the position of Marketing Manager at [company name].
I am excited about the opportunity to learn more about the position's perspectives and potentially apply my customer satisfaction survey and email marketing skills to help grow the number of leads and sales for [product name].'
Keep your tone professional but open and positive. Avoid being too abrupt or overly friendly. You will get a chance to become friends after you get the job.
As I mentioned, one or two key points are enough, unless the interview request also included any questions about your experience and qualifications. In this case, you can add more key points to show why you think you are a good fit for the position.
Make sure you answer the questions asked by the employer first.
Be specific about the date and time
The following words in your response to the interview request should have to do with the date and time of the interview.
If the suggested times are ok with you, confirm the details they sent.
Your next sentence in your interview confirmation email can be:
'I confirm my availability for the interview/video call on Monday, December 27th, 2021, at 15:00 GMT.'
If the date and time doesn't work for you, ask them to schedule something different.
In this case, your following sentence in the response can be:
'Unfortunately, I won't be available on the date you suggested for the interview. However, I am free this week anytime Thursday or Friday between 12:00 and 16:45 GMT. I would appreciate it if we could reschedule on these dates.'
Keep in mind that manually finding a time to meet can be an inconvenience for both you and the hiring manager.
To further impress the hiring manager and avoid the back and forth hassle of finding a suitable time, you can use a scheduling tool like YouCanBook.me.
All you need to do is connect your Google or Microsoft calendar, create a booking page and customize it to your needs.
You can block out all the times you cannot meet, and set up additional features such as length of appointments, notifications, and branding. Then you just have to copy and paste the link to your booking page into your interview request-response.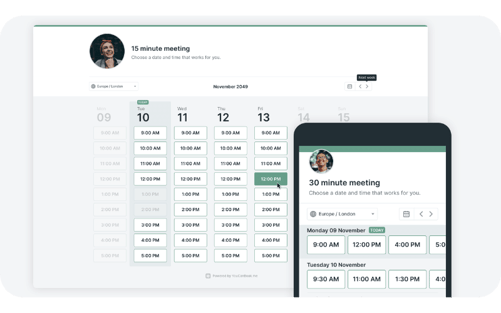 The hiring manager will be able to see all the times you are available and choose whichever works best for them.
Not only will this speed up the interview process, but the hiring manager will see that you are organized, tech-savvy, and aren't afraid to take initiative.
Start a free, 14-day trial and see how YouCanBookMe can help you simplify scheduling for job interviews and everything in between.
If you find you aren't sure about the interview date or time, use this opportunity to clarify. You don't want to find yourself in a position to miss the interview altogether or show up at the wrong time.
You can alternatively add a phrase like 'I look forward to seeing/speaking with you on [interview date] at [interview time]' at the end of your email.
Add your contact information
Although they have your email address as they sent you an interview request by email, it doesn't hurt to add your complete contact information at the end of your response, including your phone number, in case the next step of the hiring process will be a phone interview.
It helps keep you looking professional and makes things a little easier for the hiring manager.
What to avoid
When drafting your response to an interview request, avoid:
Having an overly friendly tone
Using emojis or jargon
Making inappropriate jokes
Just stay professional and positive in your tone, and you should do fine.
Before you send
Many times, the interview request will also have one or several people included in cc.

You must send your response not only to the person who sent the email but to the others, too. You don't want to leave anyone out of the conversation, so always use the 'Reply all' option.

Last but not least, double-check your spelling and grammar and the attachments. One last proofread will ensure you keep things professional and accurate.
If you want to decline the interview request
The situation could arise when you need to decline an interview request. After all, maybe you already accepted a different offer or simply aren't interested in the position.

In this case, your approach should be similar to when you do accept the interview. That is, your tone should remain professional and courteous.

If you want to decline the interview request, you can reply as follows:
'Thank you for your interview invitation for the position of [position name]. Unfortunately, I cannot continue the application process at this time due to [short reason].
I wish you all the best and hope we have another chance to collaborate in the future!'
Prepare your response to interview questions
Once you hit send on your interview request-response, you should get ready for the actual interview.
Reviewing all the application details, your CV, and everything else should come in handy for preparing yourself to nail the interview phase.
Make a list of all the essential information like:
Job title
Qualifications
Responsibilities
The skills that make you a great fit for the job
Use this list to prepare your answers to the follow-up or interview questions the employer may ask about your experience and skills.

They may also ask you about salary expectations. Take this opportunity to think about what salary you want and what compensation you would be willing to accept and have a range ready.

Other potential questions you should be ready for include questions about your career path and past positions, but you know everything about that.

When that interview request for your dream job comes in, you will be ready to nail the response and leave a lasting positive impression with the hiring manager.
Subscribe to our newsletter
Get productivity tips, news, articles and resources.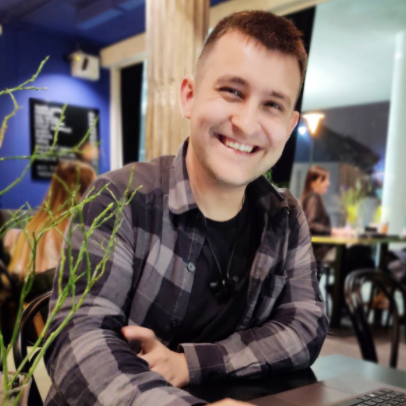 Written by
Jan Kuzel
Jan Kuzel is the Head of Growth at SatisMeter - a platform that helps you get customer feedback and grow your business.