How a sales team grew leads 25% with online scheduling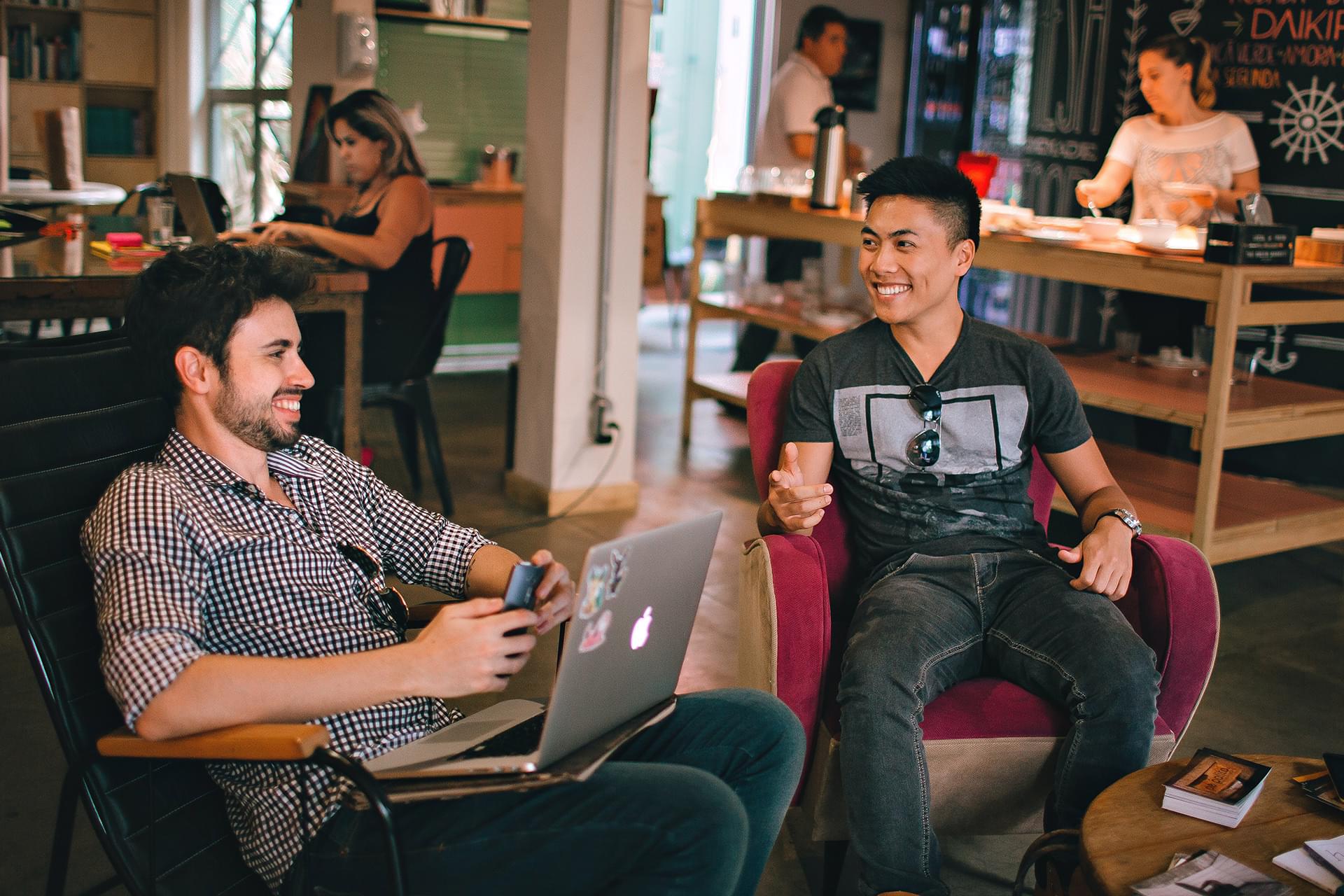 Pearl Lemon Leads is an award-winning B2B lead generation agency based in London. Founder Deepak Shukla and his team serve their clients using SEO, LinkedIn lead generation, email marketing, and cold outreach, and their clients see these campaigns drive new business and generate sales leads. Pearl Lemon's clients are located around the globe and in sectors as diverse as Education, e-commerce and Financial advice.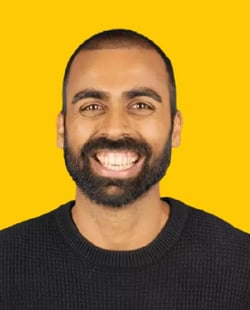 "YouCanBook.me has a clean interface, allows SMS notifications, works great for teams and is a highly effective sales and communication tool – we absolutely love it."
Deepak Shukla
Founder of Pearl Lemon Leads
"We work with so many different kinds of companies," says Deepak. "Cold calling is the fastest growing segment of our business. A lot of our clients want help generating leads and it's a really straightforward process that gives a good return. We're particularly known for SEO and that's a big part of the business. But, actually, I just really enjoy Sales. I'll give anything a go!"
There are 12-14 core members of the Pearl Lemon team, but that can flex during busy times. "As soon as we get someone new on the team they have to get a YouCanBook.me account," says Deepak. "We've standardized it and it's great. It's just very quick to get somebody set up and then added to my account."
How Pearl Lemon uses an online scheduling tool as their main call to action
With clients and prospects around the world, making sure meetings are booked, no matter the time of day, is critical to keeping the Pearl Lemon Sales team's schedule full. 'Book a Call Now' calls to action are embedded all over the Pearl Lemon website, meaning YouCanBook.me is on duty 24/7 to connect the Pearl Lemon team with prospective new clients.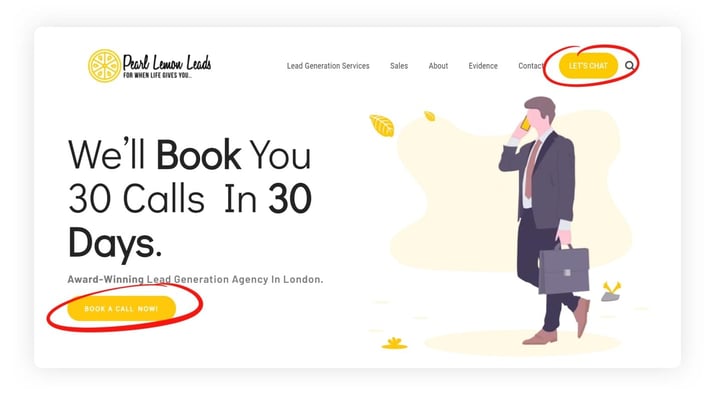 Scheduling calls via their website and other lead generation channels is an integral part of Pearl Lemon's own marketing, and it's also a big part of the lead generation campaigns they do for their clients. That means it has to be easy to set up and easy for prospective clients to use.
"Our prospects really appreciate being able to quickly book an appointment without having to pick up the phone," says Deepak. "They love the SMS notifications."
Deepak likes the clean interface and the ability to customize the pages, especially being able to redirect to a unique landing page for each team member.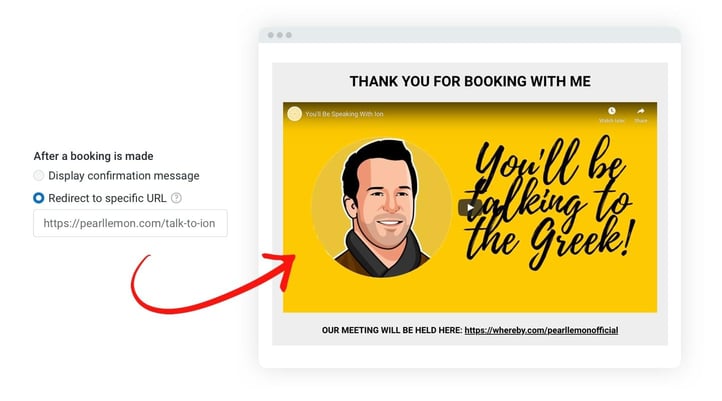 "It's the most important part of my CRM really. YouCanBook.me is the first thing I look at when I wake up – because it lets me see what leads have come in overnight and that gives me my dopamine hit! – and it's the last thing I check before I go to bed."
He has looked at other online scheduling tools, "but I just enjoy the simplicity of YouCanBook.me. And it is so embedded in our systems. It's the first point of contact on our website. It ties in with our Lemlist and Mailshake [cold email outreach] campaigns. It's fundamental to what we do."
"YouCanBookMe drives all our sales," says Deepak. "Our sales funnel starts with the website. We've got "Book a Call" buttons for booking a meeting with the team in multiple places on multiple pages. Those lead to a YouCanBook.me booking calendar, which redirects to a custom thank you page, and the prospect is then added to our email funnel."
Connecting all the tools in the sales funnel to each other is important to make sure each prospect is tracked and gets the right follow-up. For example, YouCanBookMe connects to Mailshake, which sends cold emails.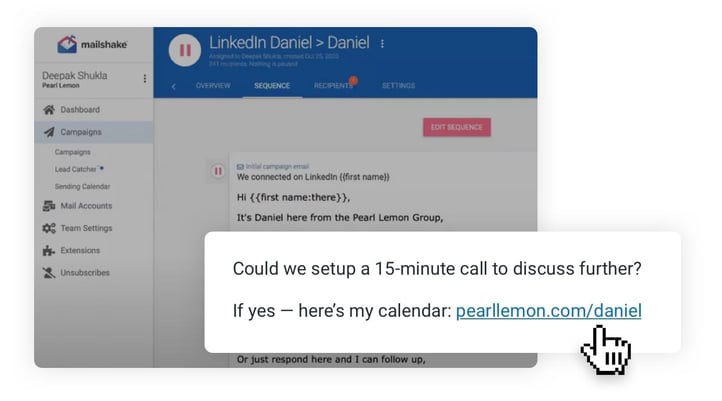 "YouCanBook.me is embedded in all our cold email campaigns, it's embedded in our website, it's in our email signatures. I have a lot of conversations on WhatsApp and I send the link through there all the time. It works really well and it drives leads."
"We'll average 5 to 15 leads a day and those online bookings all drop into our reporting," says Deepak. YouCanBook.me sits alongside the other tools in their stack, like Lemlist, Mailshake, Leadworx and Salesflare. And Zapier links them all together.
"We're constantly monitoring the data from YouCanBook.me and we can react to anything that happens."
YouCanBook.me features helped increase meeting attendance by 20%
By far the most powerful YouCanBook.me feature for Dee is SMS messaging, which is a strategic element of Pearl Lemon's workflow. They send SMS messages at three stages of the booking process: to confirm a booking, to remind bookers about the upcoming meeting and even a follow-up after the booking has happened.
"Including SMS reminders has actually increased our meetings attended ratio by about 20%. A lot of people just don't check their email! So we send a text message 60 minutes before the meeting."
The follow-up notifications are one of the features Deepak and his team relies on most. "They are a big part of our lead generation funnels. Thirty days after an appointment, and sometimes after 90 days, we send an SMS message to the prospect, regardless of how the conversation went. And that really works to get people coming back to us."
They also use the Tentative feature, so when leads come in overnight, the team can sort through them and accept the ones they know are genuine prospects.
The Zapier integration puts YouCanBook.me at the center of their customized reporting structure.
And finally, Dee really likes the customization that YouCanBook.me offers. All the Pearl Lemon booking pages and landing pages are branded and have a consistent look to match the website.
There can be no doubt who prospects are scheduling with!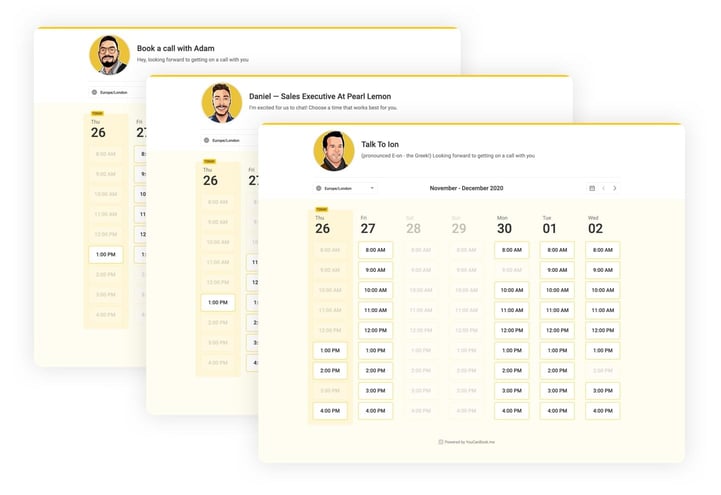 YouCanBook.me's Impact
"We generate tens of thousands of pounds [GBP] in sales per month and there is no deal closed that doesn't hit YouCanBook.me at some point. It's a central plank of our business."
And if Pearl Lemon wasn't using YouCanBook.me?
"We'd be losing maybe $4,000 - $6,000 a month if we didn't have YouCanBook.me. Specifically because of the SMS functionality, being able to embed it in our website, as well as the redirect functionality that sends people to a customised landing page."
"YouCanBook.me is easy to use, has powerful features for Team booking, automates our SMS and has a clean interface so it's easy for our prospects. They've also got really solid support. YouCanBook.me just delivers."
YouCanBook.me's simple and streamlined booking process gives Pearl Lemon better engagement with prospects from the moment they hit the Pearl Lemon website or receive an email.
"Without YouCanBook.me, we would lose 25% of our new business contract value. There would just be too much friction."
Do you want to know more about setting up YouCanBook.me for your Sales team? Take a look at our pre-recorded demo.
If you're ready to get started, let us know here – we can't wait to hear from you!
Subscribe to our newsletter
Get productivity tips, news, articles and resources.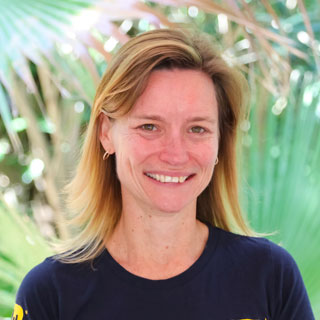 Written by
Kate Reynier
Kate was an early YouCanBookMe employee and loved supporting our Customers for almost a decade. She's now focused on spreading the word about online scheduling, how to improve productivity, and the Oxford comma.