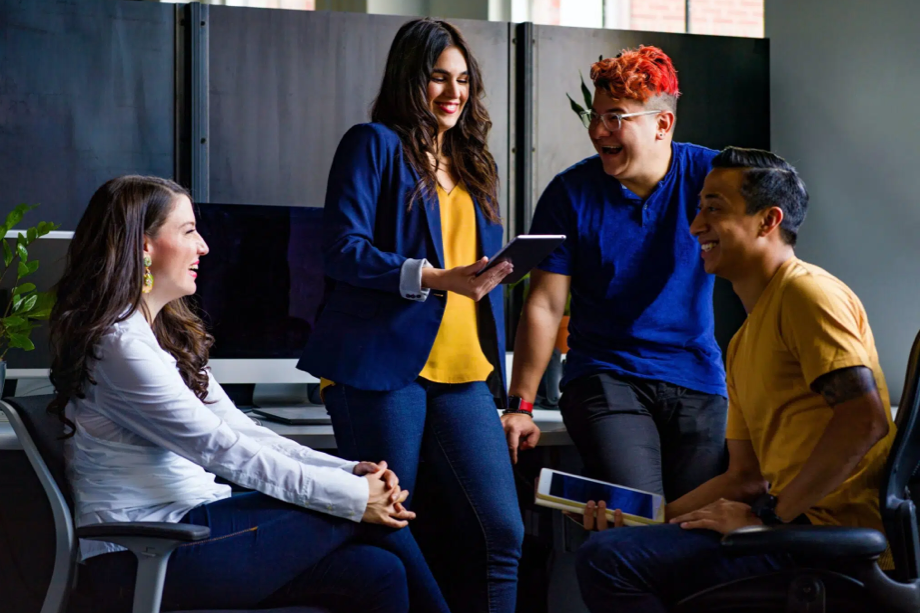 Are you recruiting someone? It's time to schedule an interview.
Did you score a promising lead? Better schedule a chat to demo your product.
Did you just land a new client? Keep them happy by scheduling their onboarding ASAP.
Holding office hours? Best to schedule your students so they don't all show up at once.
We could go on and on…but to spare you, we won't! Plus, we think you get the idea.
For many teams, including recruitment, HR, sales, customer success, UX, and university, scheduling and attending meetings is an essential part of the job.
With so much riding on the success of these meetings, finding a way to plan, prepare, and manage them is critical to job success. We're here to help.
We've gathered pointers on how your team can organize fruitful meetings using what's sure to be your new best friend: an online scheduling tool.
"I think a lot of people would be surprised at how much of their day they spend setting up appointments. If your day is at all appointment driven, this is the way to go."
- Angela Plank, Missouri State University case study
Our goal is to save your team:
time,
hassle,
and a whole lot of frustration.
As a bonus, we'll throw in some booking page, appointment type, and email templates to help you manage your meetings even better. Are you ready?
Let's start making your meetings more efficient, productive, and profitable!
How to look professional while booking meetings
So your customer, student, team member, whoever they may be, wants to book a meeting with you. Great! You'll want to make this experience as pleasant and efficient as possible.
Say goodbye to the days of sending back-and-forth messages trying to decide on a time to meet. Instead, all you have to do is send the booker (aka the person who wants to book a meeting with you) a link to your booking page, and they can choose a time that suits them instantly.
"YouCanBook.me really facilitated the equity for our students."
- Danny Ryel, Portland State University case study
What is a booking page? And how does it work?
A booking page is where the booker can see all the times you are available to meet.
By integrating your Google, Microsoft, or Fastmail calendar, YCBM reads your free and busy times and creates new events in your calendar.
From the booker's perspective, your booking page will look something like this: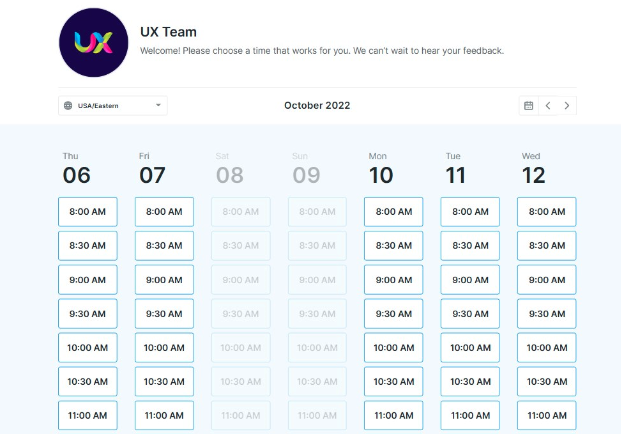 When a booker visits your page, all they have to do is click on a time that works for them, input their information into a booking form, and click "Confirm Booking."
You can create up to 30 booking pages without any added cost. Don't worry – all your booking pages will be linked, so you will never be double-booked.
You can also create booking pages for your entire team, and either randomly assign a team member to a meeting, or have the booker choose who they want to meet with.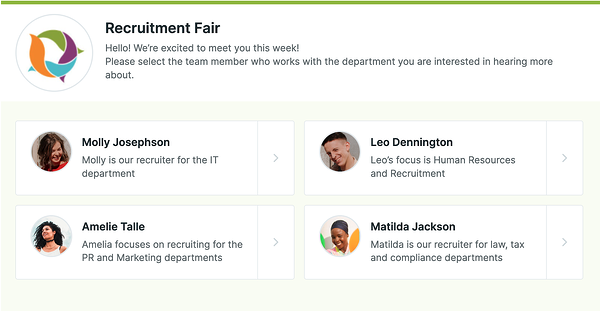 This example from a recruitment team demonstrates how beneficial it could be to create a group booking page for career fairs. With a quick description of each team member's role, you ensure that every potential candidate speaks to the recruiter that's right for them.
Check out this article for more examples of how recruitment teams can benefit from a scheduling tool.
What else can you use YouCanBookMe for?
That's a great question, so we asked our users!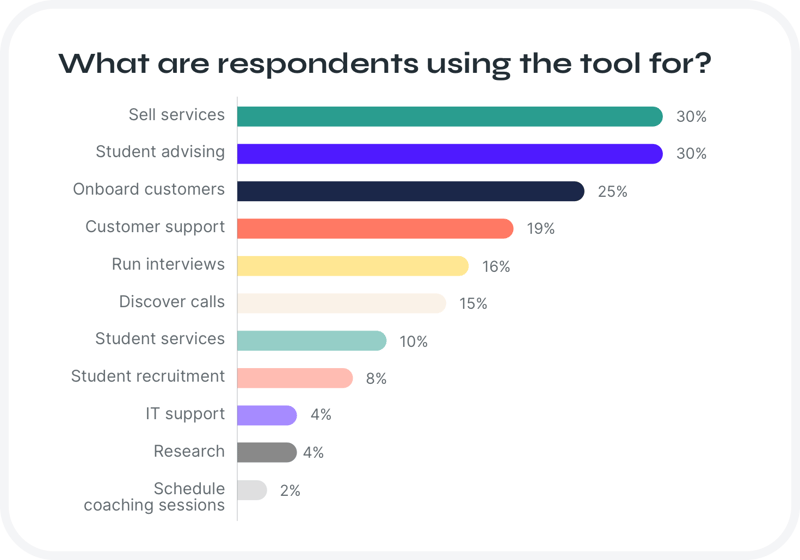 No matter what you are using YouCanBookMe for, it will create a professional and seamless experience for your bookers.
Have international customers? We've got a solution
YouCanBookMe's online scheduling tool caters to customers all around the globe.
With traditional scheduling (aka back-and-forth messaging to find a time to meet) time differences can get in the way. Each party has to wait for the other to respond, which could take hours when working in different parts of the globe.
YouCanBookMe takes the waiting out of the equation. Your customer can book a meeting that suits them day or night, without having to wait for your reply.
YCBM's online scheduling tool automatically detects time zones, which means no more pesky calculations. Additionally, booking pages can be created in 24 languages to facilitate relationships with clients in many different countries.
The result? An incredibly accessible and easy-to-use booking experience for customers around the world.
Catering to Gen Z? Remote meetings and convenience are key
In PwC's Future of CX Survey, the top two things people valued most in their customer experience were efficiency and convenience. This holds even truer for Gen Z, who expect almost instant results and a seamless transition from PC to tablet to phone.
If you want to give your customers what they crave, you have to level up your booking experience.
Luckily for your customers, YouCanBookMe's scheduling tool is optimized to work seamlessly on all devices, including the three we just mentioned above.
Your bookers will appreciate being able to schedule on whichever device suits them.
P.S. If you are dealing with Gen Z, we're pretty sure they will be using their phones!
Make the inconvenient convenient (yes, it's possible!)
Two of the most inconvenient aspects of arranging meetings are cancellations and rescheduling.
It can be overwhelming to try and figure out a new time that fits into everyone's schedule. And cancellations? No one likes being the bearer of bad news.
Thankfully, with YCBM's calendar booking software, cancellations and rescheduling are just as quick and easy as booking an appointment.
YouCanBookMe includes two handy links in each confirmation email, one to cancel and one to reschedule.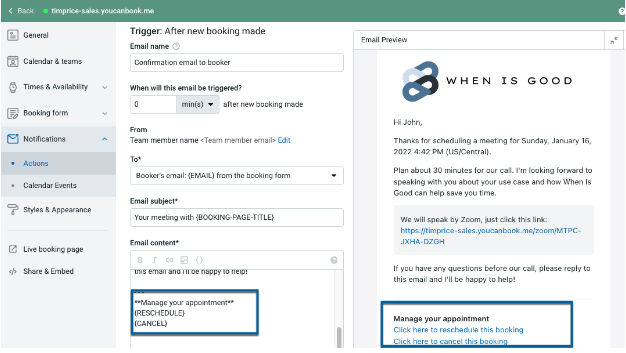 If something pops up and your booker needs to reschedule, they can click the corresponding link and are immediately brought back to your booking page to pick a new time. All without any back-and-forth messaging.
All calendar invites, confirmations, reminders, and follow-ups will be sent to match the new meeting date with no extra work for you or your customer.
In fact, 61% of YCBM users say a significant benefit to online scheduling is giving clients the ability to cancel or reschedule their bookings without having to get in touch.
Easily schedule remote meetings
Want to schedule a convenient meeting for your customer? Then a virtual chat is the way to go.
It's much easier for your customer to take the time to meet with you online rather than face-to-face.
YouCanBookMe makes scheduling online meetings a breeze by integrating with Zoom, MS Teams, and Google Meet. This means you will automatically be able to generate and send unique virtual meeting links for all your remote chats.
Subscribe to our newsletter
Get productivity tips, news, articles and resources.