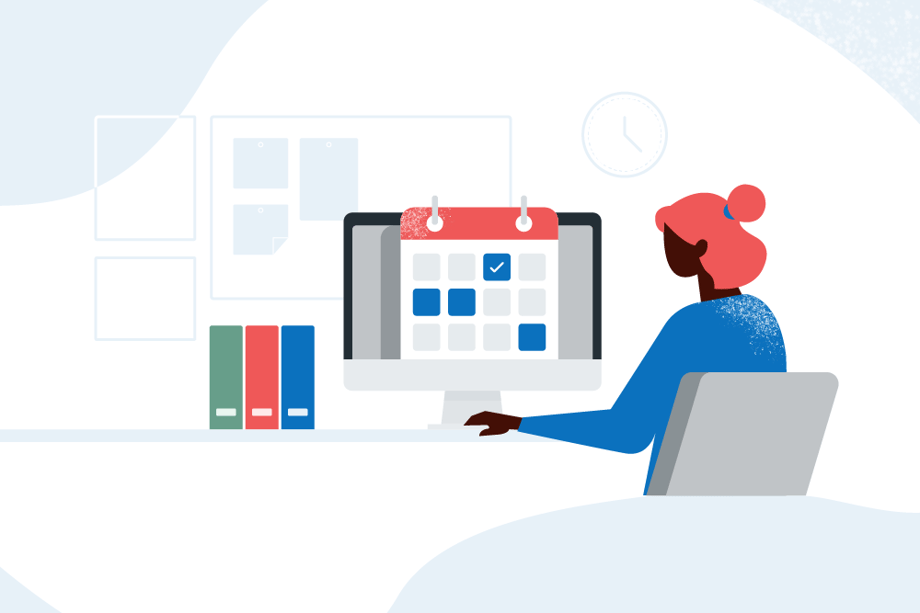 Make it easy for students to book time with you
University students don't shy away from technology for working, socializing, or shopping. But they expect the experience to be intuitive, seamless, and easy.
Using online scheduling software designed for higher education delivers just that for academic advising appointments.
Customizable booking pages
YouCanBook.me's booking pages work great on mobile devices and are accessible (WGAG 2.0 Level AA compliant). So you'll be pleased to hear you can create as many pages as you need, with each one tailored to a specific requirement.
You might have a separate booking page for each academic advisor, individual student groups, or different kinds of appointments.
This lets you ask page-specific questions on the intake form and automate custom emails for each booking.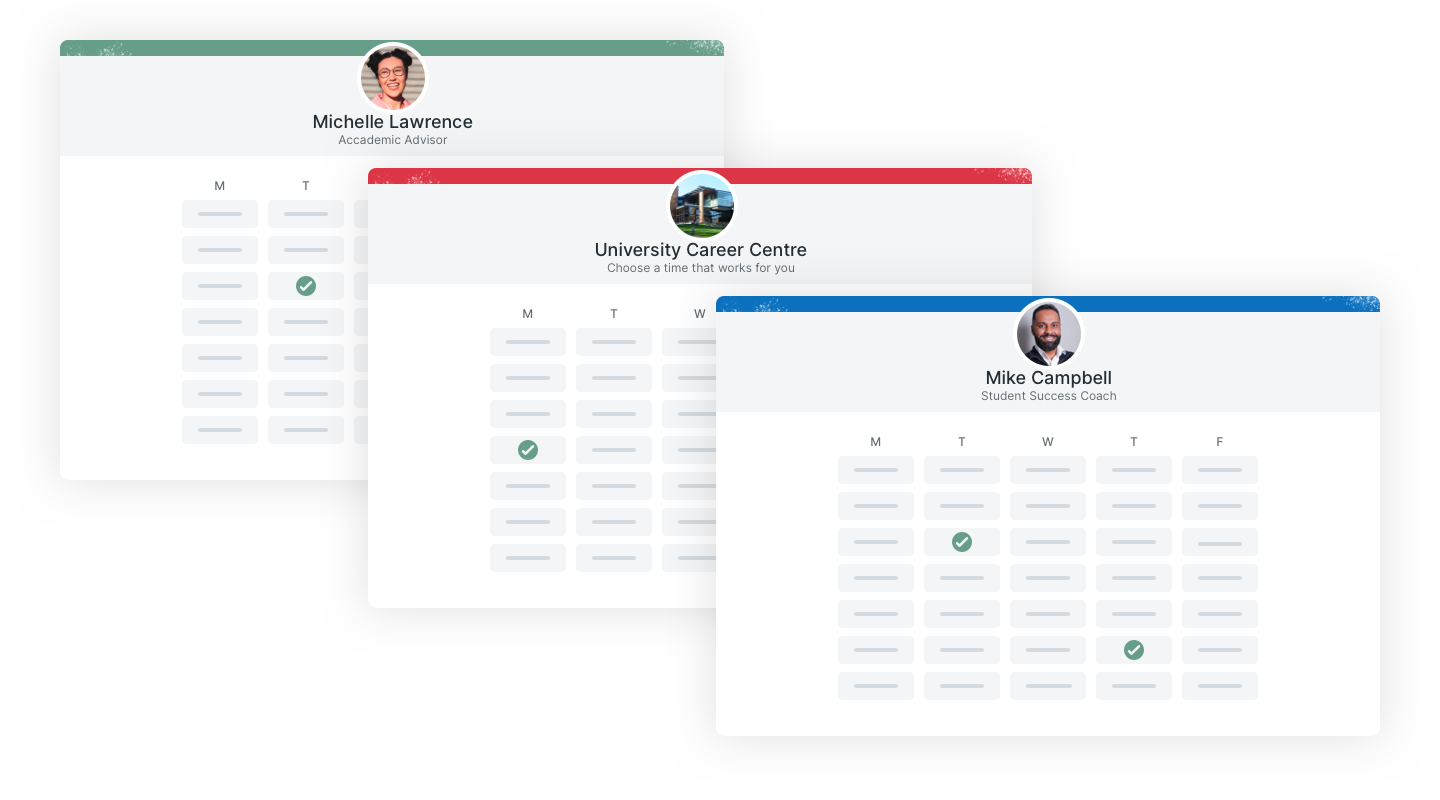 Automated video calls
Offer a choice of online or in-person appointments.
When students select a video meeting, YouCanBook.me will automatically generate a unique video link in either Zoom, MS Teams, or Google Meet.
This can be added to your emails and the calendar event that you and the student receives.
Your own branding
Add your school colors, an image of the mascot, your department logo, or a headshot to make it super clear that bookers are in the right place.
Friction-free appointment management
Reduce no-shows with one-click cancel and reschedule options.
No need for students to get in touch to let you know something has come up.
If they make a change, your calendar automatically updates and you can trigger automatic emails to communicate clearly about the next steps.
"YouCanBook.me really facilitated the equity for our students."
- Danny Ryel, Portland State University case study
Let everyone know they can book time with you!
There are lots of ways to get the word out about your online booking options.
Trigger an email with the booking link from your CRM or LMS at the correct stage of the student's journey
Add the booking link to your email signature
Add a Book Now button to your department website page
Embed the booking page directly into your website
Add a QR code to materials students access offline
Manage availability right in your calendar
While there's lots of talk about creating a brilliant student experience, if you're going to fully embrace scheduling software, it's got to be easy and impactful for you as well.
The best scheduling solutions will make your life much easier, streamlining your bookings and eliminating the back and forth of scheduling, giving you time to focus on your students.
Easily manage a changing schedule
We all know that schedules change and competing deadlines can eat up your time.
It's easy to keep your online scheduling software up to date if it syncs directly with the work calendar you use every day.
When something gets added to your calendar, it automatically blocks that time on your booking page.
Say goodbye to double bookings and hello to stress-free scheduling!
You can also designate set times for certain types of appointments. Simply add an 'availability phrase' to your booking pages.
You manage everything else directly in your linked calendar.
Set specific times for office hours and other times for advising
Easily show availability when you don't have a 'regular' schedule.
Quickly add or remove times as your availability changes.
Offer a choice of meeting options
An academic advisor is like the swiss army knife on campus.
One moment, you're talking about the financial implications of switching majors. Next, you're recommending study skills resources. Then you're helping someone navigate the seemingly impenetrable world of financial aid.
Some students want to drop in when they need you. Others like to schedule in advance.
Every student is different, so let them have meetings that reflect their needs.
Rather than take bookings from hundreds of students in the same way, a strong scheduling solution will allow you to ensure equity for all students.
Different length appointments
New students might need a longer meeting than ones that have been in the system a while. Non-traditional students may require different information and preparation.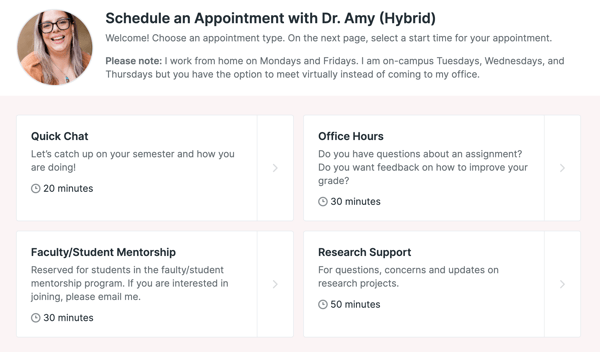 Offering appointment options on one booking page lets you ensure every meeting is the right length, with the right person, and is providing the right support.
It also gives you advance notice of the kinds of meetings you'll be having throughout the day and how to prepare.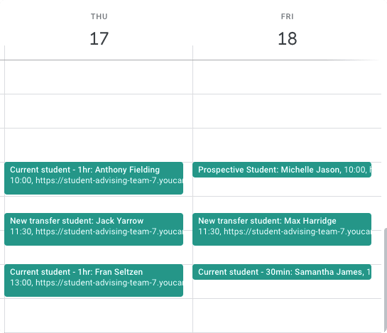 Meeting students in person or online?
With a lot of colleges and universities continuing with a hybrid model, you might be in the office one day, and working at home on others.
Non-traditional students may live further away or have commitments that don't allow them to come to campus every day.
With appointment scheduling software, you can offer a variety of meeting options that work for everyone.
Let students select whether they want to meet in person or by video call.
There are lots of ways to do this if you're WFH some days and have different schedules than when you're on campus.
If you're in the office every day, simply ask the question on your booking form.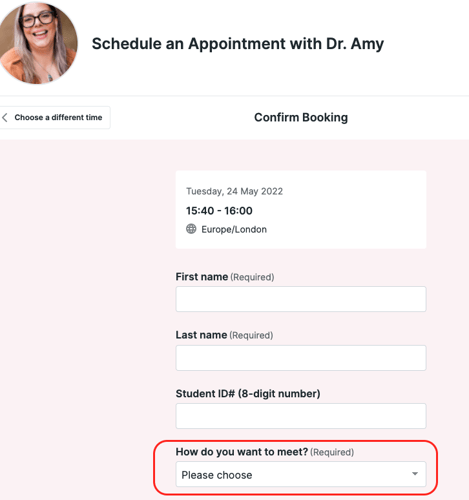 Whatever their choice, the correct information about how and where to meet can be automatically added to your emails and calendar events.
It's the vexing question of our day: Open office hours or scheduled meetings?
More and more faculty and staff members are turning away from open office hours to better manage their time.
But some students like to know they can drop in and you'll be there when they need you.
To get an answer to this age-old question, we conducted a snap survey of US students and faculty members who use YouCanBook.me.
We asked, "Do you prefer to schedule appointments or just have walk-ins?"
You can read the full results and recommendations here, but TL;DR, both students and faculty expressed a preference for scheduled meetings. Why?
"I can better prepare by reviewing their history and previous visits." - Faculty
"Scheduling is more respectful of everyone's time so appointments are more efficient and focused."- Faculty
"It creates a professional relationship with students to mimic what they can expect in the real world."- Faculty
"I'm introverted" - Student
"I like having to know that I have a secured appointment instead of walking in and waiting in a line." - Student
"There's less waiting around for others in front of you. Get there at your scheduled time and leave after." - Student
However, both groups acknowledged the flexibility of walk-in office hours, particularly for urgent matters.
So how do you satisfy the majority, who want to have pre-scheduled meetings, but also accommodate those with last-minute concerns?
One option would be to provide 'emergency' office hours at the top of your booking page:

Another is to offer a session that can be booked between specific hours on set days, but let students know they can register to come at any point in that session.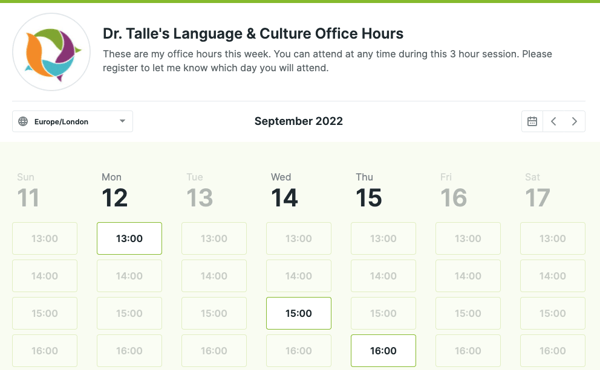 This would use the group sessions functionality outlined in the next section.
Add YouCanBook.me's custom availability feature, which allows you to easily adjust each week's office hours, simply by adding them to your work calendar.
Schedule group meetings with ease
Not every session needs to be 1-on-1. Make your appointments more scalable by holding them for groups.
As well as the open office hours option as described above, this option also works really well for information sessions, orientations, and tutoring sessions.
With YouCanBook.me, you can create booking pages for group sessions that allow up to 50 students to attend at the same time.
Provide fixed or flexible meeting durations
For some advising sessions, you might want to let the student decide how long they need with you.
If it's a quick check-in, or if the time spent depends on the amount of preparation they've done, you can set up flexible duration meetings.
When students select a time on your booking page, they will get to choose from a pre-selected group of options for how long they need.
Reject or accept bookings before they're added to your calendar
For even more control, you can make every new booking a 'request'.
This gives you the option to either accept or reject the appointment before it's confirmed.
This is a brilliant way to easily help students who have booked with the wrong advisor, or if they've skipped some steps and aren't quite ready for the meeting.
Subscribe to our newsletter
Get productivity tips, news, articles and resources.